Scotland - Facts, Figures & More
Whatever reason you have for tracking down facts about Scotland, you're going to be happy you landed on this page :)
From the geography and people of Scotland, to Scottish symbols, famous Scots and unique wildlife - the list is as fascinating and diverse as the country itself. 
Enjoy!
Scotland - Geographical Facts 
There are some very diverse landscapes crammed into this small country!
From gently rolling hills, to heavy industrialized cities, to awe-inspiring mountains and rugged and remote islands.

Scotland is the northern section of the United Kingdom


It covers an area just over 30,000 sq. miles, which is about 1/3 of the total UK landmass



Scotlands' population

only accounts for about 10% of the UK figure. Scottish government data shows that the most recent number for Scotlands' population (in 2010) is 5,222,100. That's over 2 million people, and the highest figure in over three decades.


Scotland can be divided into 3 areas....
The Upper Lowlands This is the area that lies just north of the UK/Scotland border. This is an agricultural region and has some beautiful rolling hills and greenery.

The Central Lowlands This area is the most industrial, urban, and populated, region containing the big urban cities of both Edinburgh and Glasgow.

The Highlands & Islands This region covers about 50% of Scotlands' landmass and has the wildest and most dramatic scenery. Towering peaks, cold deep lochs, and windswept islands make this area unforgettable. There are almost 800 (790 to be exact) Scottish islands, and only 130 are still inhabited by man.


The most northern group of Scotlands' Islands are the Shetland Isles, and they are culturally closer to Norway than to Scotland. They are also geographically closer to Oslo, the Norwegian capital city, than they are to London, England!

The Scotland/England border is just under 110 miles long, and mainland Scotland has just over 6000 miles of coastline



There are only 6 officially recognized cities in Scotland

- Aberdeen, Dundee, Edinburgh, Glasgow, Inverness and Stirling



Edinburgh is the capital city of Scotland

, but Glasgow is bigger in terms of population


Scotland is home to one of the oldest universities in the world, the University of St. Andrews, which was founded in 1410


The highest point in Scotland is the mountain peak of Ben Nevis. It's actually the highest peak in the UK at 4,418 ft.


The longest river in Scotland is the River Tay, at 120 miles in length


Scotland is on the same latitude as parts of Norway and Alaska, and the north of Scotland and it's islands are a wonderful place to view the Northern Lights 
Scottish Symbols
Scotland is a land overflowing with history and symbolism.
These Scottish facts cover some of the most important, or well-known, Scottish icons.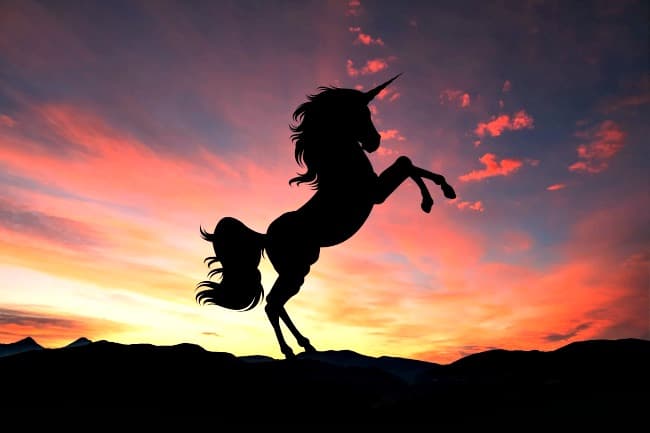 National Symbol

.......... The Scottish Thistle



National Motto

.......... 'In My Defens God Me Defend' (or often shortened to read simply 'In Defens') Seen on Scotlands' Royal Coat of Arms



National Flag

.......... The Saltire (diagonal white cross on blue background)


'

Unofficial Scottish Flag

..... The Lion Rampant (red 'rampant lion' on gold background)



Popular Anthem

......... Scotland doesn't have an 'official' national anthem, but the 'Flower of Scotland' is the most popular choice



National Instrument

..... Bagpipes



Patron Saint

............ St. Andrew. Said to be one of the Jesus' orginal Apostles.



National Poet

........... Robert ('Rabbie') Burns, 1759 - 1796



Official Animal

......... The Unicorn of Scotland


Scottish National Tree ........ Scots Pine (designated 2014)



Scottish National Dress

................... Traditional Scottish Kilts. Gaelic in origin



Tartan

.................. The checkered (or 'plaid') fabric used to make traditional Scottish clothing such as Scottish kilts


The Gaelic name for Scotland is 'Alba'
Interesting Facts About Scotland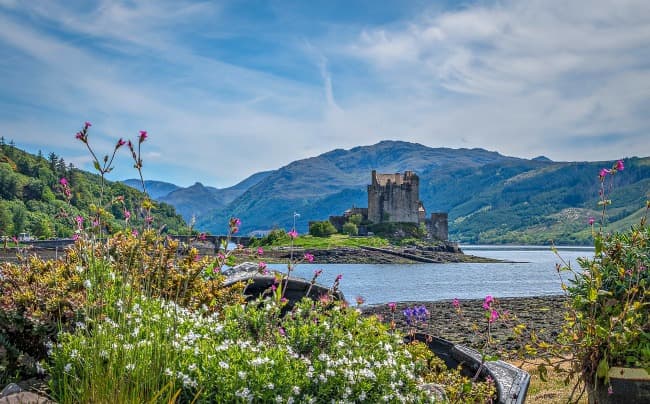 Eilean Donan Castle
Scottish Trivia & Fun Facts
Now that we've covered most of the 'serious' statistics and facts about Scotland, here are a few of the more unusual Scottish facts for you to enjoy.
I learned several new things while putting this together!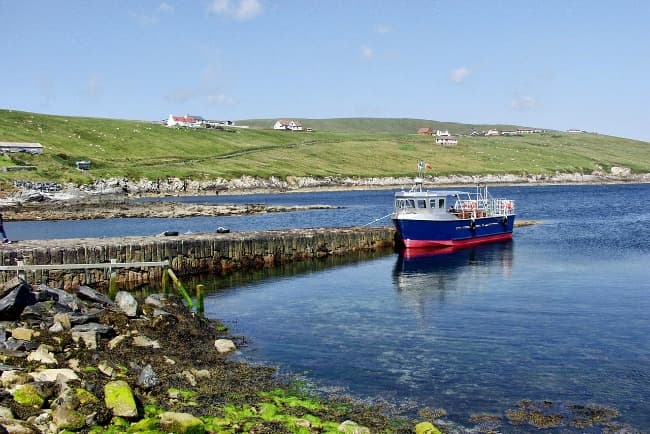 Shetland Isles, Scotland
Historical trivia about Scotland
King James IV (1473-1413) is said to have paid people to let him remove their teeth! As there weren't anesthetics at that time, I wonder how much people wanted to endure his experiment?
Edinburgh was the first city in the world to have its own fire brigade.
Fortingall in Perthshire is home to the oldest tree in Europe. It's a Yew tree which is thought to be between 2000 and 5000 years old (The Fortingall Yew)
The raincoat was invented in 1824 by a Scottish chemist from Glasgow named Charles Macintosh. Given how much it rains in Scotland I'm not really surprised that it's the home of the 'mac'.
Scotland is the Guinness World Record holder for having the oldest working post office, Sanquhar Post Office established in 1712.
The oldest football (aka soccer ball) in the world was found at Stirling Castle during renovations. It's thought to date from 1540-1570 and is now in the Stirling Smith Art Gallery and Museum.
The Declaration of Arbroath, signed in 1320, was the model used when creating the United States Declaration of Independence. Many of the Founding Fathers and original Governors of the United States were Scottish.


In Scotland, until 1929 it was legal for a girl to get married at age of 12, and a boy at 14.
Scottish trivia - Geographical
The world's shortest scheduled flight is from the Island of Westray to the island of Papa Westray in the Orkneys. It's 1 ½ miles long and takes less than one minute.
Scotland is home to the tallest waterfall in Britain. Eas a'Chual Aluinn is about one mile southeast of Loch Beag in the Highlands, and is 658 feet tall, three times as tall as Niagara Falls!
The Old Forge Pub in Inverie is the most remote pub in Britain. Situated on the northern banks of Loch Nevis, which way you approach it, it's a long trip! Accessible only by foot, or by water, as there are no roads going into Inverie. 
There are at least 20 locations in Scotland that are known to be haunted, they include castles and stately homes.
61% of American Presidents are Scottish, or of Scots-Irish descent


There are over 3000 Scottish Castles, that's about one for every 100 square miles


Between 1147 and 1482, the town of Berwick on Tweed (on the Scottish/English border), changed hands between Scotland and England 13 times (Scotland finally lost this unique tug-of-war!).
Scotlands' Shetland Isles and Orkney Islands were once owned by Norway. Geographically, the Shetland Isles are closer to the capital city of Norway than the capital city of the United Kingdom
Random Scottish trivia
Scotland is also the proud owner of the world's tallest hedge. Planted in 1745, the Meikleour Hedge in Perthshire is 1/3 mile long and 100 feet tall. This hedge is a spectacular living memorial to love.
The world's only knighted penguin lives at Edinburgh Zoo. He's a King Penguin (seems fitting) named Nils Olav. Sir Niles is also the mascot and colonel-in-chief of the Norwegian King's Guard. 
The village of Bonnybridge is located thirty-six miles northwest of Edinburgh and twenty miles northeast of Glasgow, and has an otherworldly claim to fame as it's become notorious for UFO sightings. In fact, there are approximately three hundred UFO sightings reported there every year. Bizarre! 


According to researchers, approx. 13% of Scottish people have red hair


Red Kites, a stunning bird of prey, were extinct in Scotland for over 100 years, but were reintroduced in the early 1990's. They are now thriving again


There's a tiny insect called the Scottish midge that causes havoc in some parts of Scotland during the summertime. Midges in Scotland affect the tourist, forestry and construction industries and are as annoying as they are tiny.
Scotsman William Paterson, founded the Bank of England.
11 percent of all Nobel prizes have been awarded to Scots
Scottish Freemasonry is now officially recognized as being the oldest in the world
Scotland trivia - Popular Books & Movies
George Orwell finished his novel '1984' while on the Isle of Jura in the Outer Hebrides. He sought it out for the peace and quiet. Take a look at beautiful Jura and you'll understand why!


Before her fame made it impossible for her to keep doing it, J.K. Rowling wrote some of her epic Harry Potter books at various cafes in Edinburgh where she was living at the time. 


Loch Shiel in the Scottish Highlands was the inspiration for the Black Lake in the fictional world of Harry Potter, as were many other places in both Edinburgh and the Highlands.


Other blockbuster movies or series filmed in Scotland include the (obvious) Outlander, Braveheart (also obvious!), Game of Thrones, James Bond's Skyfall, Highlander, Trainspotting, Mary Queen of Scots, Hitchcock's The 39 Steps and several other less well-known ones.
Related Pages