Balmoral Castle
Balmoral Castle that has been a favorite of the British Royal Family since the time of Queen Victoria.
This gorgeous, fairy-tale style castle set in extensive and manicured grounds is the where Queen Elizabeth II loves to spend her annual summer vacation, usually accompanied by Prince Philip and with other members of the Royal family coming and going during her stay.
I guess that makes Balmoral Castle the ultimate summer home!

Originally built as an 'Estate House' in 1390, Queen Victoria fell in love with the building and it's stunning location during a visit to the Scottish Highlands in the mid 1800's. In her journals she described it as "my dear paradise in the Highlands".
At first Queen Victoria and her husband Prince Albert, leased the original estate house, they loved it so much that in 1852 they bought it and promptly began work on their new 'Estate'.
They paid approx. 32,000 British pounds for the estate (which  would be around 4 million British pounds, or close to 5 US million dollars today). Doesn't sound outrageous today does it?  
Prince Albert had a new, 'baronial-style' castle built about 100 yards from the original building (as it wasn't big enough!) and once the new castle was completed, the older estate house was demolished.
They then placed a stone in the spot where the entry to this original home had been.
Today this Royal Estate (which now has over 50,000 acres of land) passes down by inheritance and is currently the private property of the Queen (Queen Elizabeth II).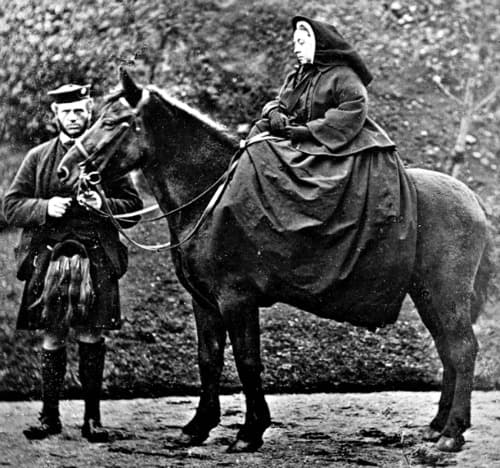 Queen Victoria at Balmoral on horseback 1863
(Public Domain image from Wikipedia)
Balmoral Castle Trivia
Queen Victoria laid the the castles' foundation stone herself on September 28, 1853.


This Scottish Castle is where Queen Elizabeth II was when the news of Princess Dianas' tragic death was announced.


It has been seen on the reverse side of £100 notes, issued by the Royal Bank of Scotland, since 1987.


Prince Edward and Sophie Rhys-Jones spent their honeymoon in a royal hunting lodge on the Balmoral Estate in 1999.


Prince Philip proposed to the future Queen of England (again Queen Elizabeth II) at the same location


Balmoral is a working estate and is dedicated to good land management standards and policies including conservation of all natural assets and resources.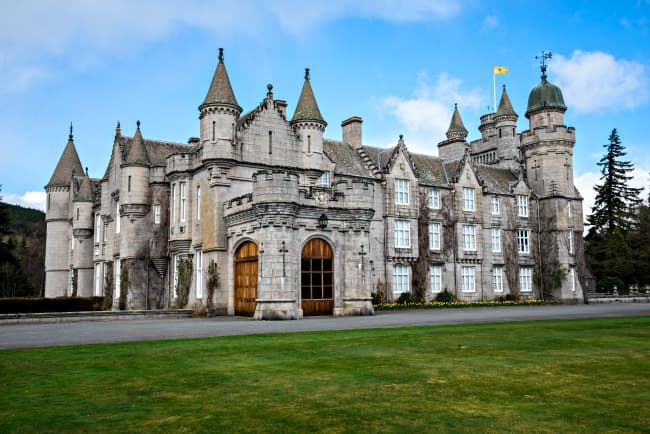 Certain areas of Balmoral Castle are open to the public between the beginning of April and the end of July. The Royal family is always in residence during part of August.
Opening hours are from 10:00am - 5:00pm but as it takes around an hour and a half to tour the public areas you probably want to arrive by 3:30pm at the latest. Last admission is 4:00pm daily.
For all admissions prior to 4:00pm you will receive an audio handset tour available in six popular European languages.
At time of writing (July 2019) you can also join one of the winter guided tours of Balmoral which are available daily daily from Monday Oct 21st through November 3rd, and from then on three times a week (Tues, Wed & Sat) until December 14th. There will be no tours November 9th, 2019. 
Publicly accessible areas of Balmoral Castle include the beautiful formal gardens, the vegetable gardens and the Ballroom. The private areas used by the Queen and other Royal family members are never open to the public.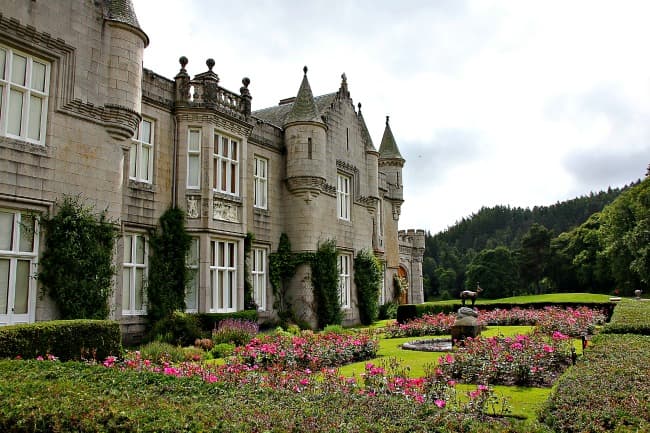 At the castle gift shop you can choose from a wide variety of awesome, and exclusive, Balmoral souvenirs including Balmoral Whisky and china that commemorates Queen Elizabeth II as Britain's longest reigning monarch (if you'd like choose from the selection of gifts online you can also check out the Balmoral's Castle Online Gift Shop).
There's also a large cafe offering a full menu of delicious hot and cold meals including vegetarian and gluten free options. My mouth started watering as soon as I took a look at the Menu!
Balmoral Castle Official Website 
Related Pages:
A little something Scottish....