Hogmanay Customs & Traditions
In Scotland, Hogmanay customs, traditions and celebrations are nothing if not enthusiastic. No one brings in the New Year like the Scots!
The word Hogmanay is Scottish for New Years Eve, with the word having it's roots either in French, Anglo-Saxon or Norse/Scandinavian (experts can't agree). Correct pronunciation is more like 'hug-man-ay' than 'hog'.
Celebrated on December 31st each year, Hogmanay is a time for clearing out the old and welcoming in the new and this is reflected in the ancient customs and traditions surrounding this transition from one year to another.

These celebrations began during the Middle Ages when religious reformation meant celebrating Christmas was discouraged (Christmas Day wasn't even a national holiday), and instead Scots celebrated on December 31st, with singing, dancing and a number of traditions and customs passed from one generation to the next. They even exchanged gifts as they rung in the New Year.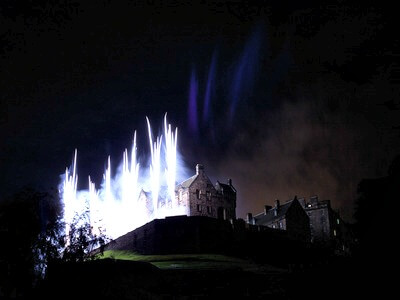 The term 'Ringing in the New Year' references the church bells which rang out in villages and towns across Scotland at midnight, to mark the change from one year to the next. 

Historians believe that many fascinating Hogmanay customs and traditions have their roots in pagan festivals such as the Norse Winter Solstice, the Viking Yule, and the Gaelic Samhain.
Although some of the more ancient traditions are no longer commonly practiced, there are still a whole host of unique, colorful and traditional  celebrations which take place all across Scotland on the evening of December 31st. Hogmanay parties and fun often carries over into New Years Day, and even beyond.
Scotlands influence on New Year's Eve extends across the world as the famous Scottish poet, Robert Burns, wrote (in 1788) the famous 'Auld Lang Syne' which is sung with such gusto when the clock strikes midnight on December 31st, wherever you may be.
Hogmanay celebrations aren't limited to one evening, or even twenty-four hours because in Scotland both January 1st and January 2nd are Bank Holidays (ie public holidays). As preparation for the impending New Year start several days, or even weeks, prior to the big day it's fair to say that the Scottish squeeze every last ounce of fun out of the big day.
First Footing on Hogmanay
Originating centuries ago, first footing may be one of the most well-known Hogmanay customs, and is still very common, especially in the Highlands and northwestern parts of Scotland.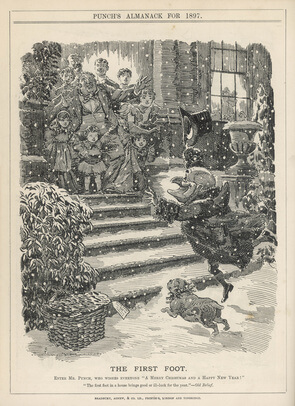 So, what is first footing on Hogmanay?

The designated 'first-footer' is literally the first person to set foot inside your home on New Years' Day. It can be a friend, relative, neighbor or even a family member BUT that person cannot be INSIDE the house when the clock strikes midnight. 
For example, if your brother or your dad wants to be your homes first-footer he needs to be outside your house before midnight and can only re-enter after the stroke of midnight has passed.
Sometimes one, or several, people are designated first-footers for a particular street/area/village and they go from house to house bringing good luck to the home and it's inhabitants... as well as gifts.
Traditionally, first-footers would carry a lump of coal, some salt, black bun (a type of pastry-covered fruitcake ), shortbread and a 'dram' of whisky. These items were believed to bring good luck, symbolically representing warmth, good food, hospitality and good cheer for the coming year. 
Who is the preferred First-Footer on Homanay?
Traditionally first-footers are preferred to be dark-haired men... this is considered lucky and a good omen for the coming year.
Historians speculate that this preference for dark haired men stems from a time when Viking invaders were a real threat to Scotland's inhabitants and finding a blonde man on your doorstep was more likely to cause fear than joy.
First footers are traditionally welcomed with abundant hospitality and offered food and drink by the homes owners.  This can make for a very filling, and often boozy, night for everyone!
Hogmanay is Time For Fresh Start 
For all of us, New Year is synonymous with a clean slate or a fresh start, and often a whole list of ambitious New Year Resolutions to tackle.
'Out with the old and in with the new' sums it up well and the Hogmanay tradition called 'Redding' , which includes cleaning house, paying bills and erasing debt fits right in. The idea is to greet the new year with a clean and tidy home and finances in order. To start out any other way is considered bad luck.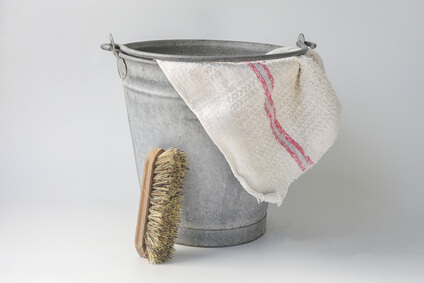 A general cleaning; tidying round, washing floors and windows and such is still often part of the party preparations on December 31st. The debt erasing not so much, but it's an excellent idea if you can pull it off.

In times gone past when every home had one, or several, coal fires it was necessary to totally clean out the fireplace and ashes and set a new fire for the coming year. 
Once the home was clean and tidy and the new fire set it was customary for someone to carry a smoking juniper branch through the home, the doors and windows were opened during, or sometimes immediately after, this ritual to make breathing easier for those inside! This Hogmanay custom was to clean the air inside the home. A chilly undertaking but I'm sure it was worth it.
Scottish Fire Festivals on Hogmanay
Fire traditionally plays a huge part in Hogmanay customs, and most likely originate from pagan rituals and celebrations which were an important part of life for Vikings, Celts and other ancient cultures. Historically fire is seen as purifying and used to ward off evil, cleanse, and bring good luck.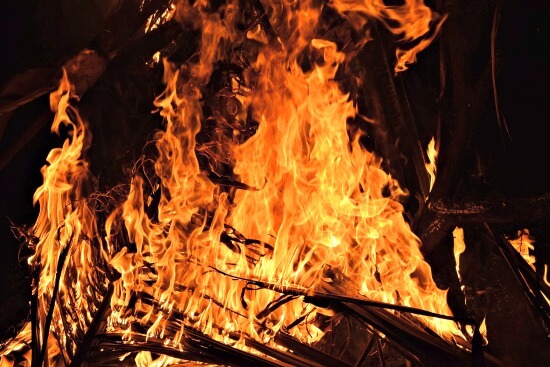 Historically, after the fireplace cleaning on December 31st, a new fire was set and it was considered good luck to have it burning brightly by midnight. This is something some Scots who have real, wood-burning fireplaces still do today.

Historically fire at Hogmanay most likely included bonfires and hand-held torches, today there are still torchlight parades and bonfires which have been joined by firework displays and fireball swinging.
Hogmanay celebrations are held in the biggest cities and the smallest hamlets, and everywhere in between. 
Edinburgh is home to a spectacular three day Hogmanay festival and there's something for everyone, and every age group including a torchlight procession, street party, candlelight concert, bonfire, and firework finale. If you're visiting Scotland at the right time of year you don't want to miss this one!
If you want to see fireball swingers in action, visit the coastal town of Stonehaven (about 20 miles south of Aberdeen) for the Stonehaven Fireballs festival.
Every Hogmanay on the stroke of midnight, Stonehaven area residents swinging flaming baskets are preceded by pipers (bagpipes of course!) march through the town to the harbor where the fireballs are ceremoniously flung into the ocean. This Hogmanay tradition is thought to have originated centuries ago to ward off evil spirits and bring good luck to the Stonehaven fishermen.
Here's just a glimpse of the festivities:
Other towns which hold popular fiery celebrations include the Highland town of Comrie where the annual Comrie Flambeaux features flaming torches made from the trunks of specially selected small birch trees, and the Bigger Bonfire which, in addition to the spectacular bonfire features music, dancing and general revelry.
Ceilidhs
The word Ceilidh is a Scottish Gaelic and basically means party, or social event.
Ceilidh is pronounced 'Kay-lee'. Just act like you're calling the name Kaylee and you'll be doing it right.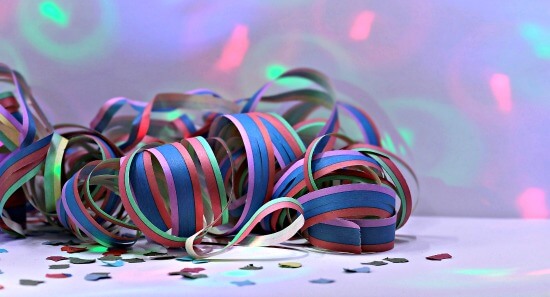 Hogmanay Ceilidh's can take just about any form, from a small family get-together to a huge street party, and more.

Traditionally a Ceilidh has folk music, folk dancing, pipers, food, drink and lots of people having a really great time.
The Hogmanay period in Scotland (anything from December 30 to January 3) is one-long party for some.
I remember Hogmanay Ceilidh's from my childhood and I only wished I'd been old enough to join in the adult fun...which in our home included several games I've not seen played elsewhere.
One such game was 'Blow the Feather'  where everyone sits around the edge of a bedsheet and holds it up at chin level. A feather is placed in the middle and you players have to blow to keep the feather away from their face. If it touches you, you lose. I'm sure the amount of drink that was consumed added to the hilarity of this game but it sounded awesome!
Singing Auld Lang Syne
Of course it's not just the Scottish who sing Auld Lang Syne on New Year's Eve, but it did originate in Scotland, being written by the famous Scottish poet Robert Burns. 
History of Auld Lang Syne
In 1788, famous Scots poet Robert (Rabbie) Burns wrote down what is believed to be his version of an ancient Scottish folk song. In letters he wrote, and which were displayed as part of the Auld Lang Syne Exhibit at the Morgan Library & Museum in New York City, Burns claimed to have taken down the words he heard an old man singing. Historians believe that these original words were altered to some degree by the poet.
Unimpressed by the original tune, in 1793 Robert Burns sent the wording to editor George Thomson for inclusion in a musical anthology he was compiling at the time, suggesting the current tune was 'mediocre'. When Auld Lang Syne was eventually published by Thomson in 1799 the original tune had been changed to the one we know and love today.
Sadly, Rabbie Burns never knew this because he died from heart disease, aged only 37, in 1796. 
Interestingly, Auld Lang Syne didn't become synonymous with New Year's Eve until much later, in 1929 to be exact.

This is when it was performed just after midnight by Guy Lombardo and his band during a New Year's Eve broadcast in New York City.
Auld Lang Syne is probably one of the most popular songs in the world and has been recorded countless times by countless artists and today it is sung around the world to welcome in the New Year.
To properly execute a Hogmanay rendition of Auld Lang Syne  in Scotland everyone stands in a circle, holding hands, while singing.... loudly.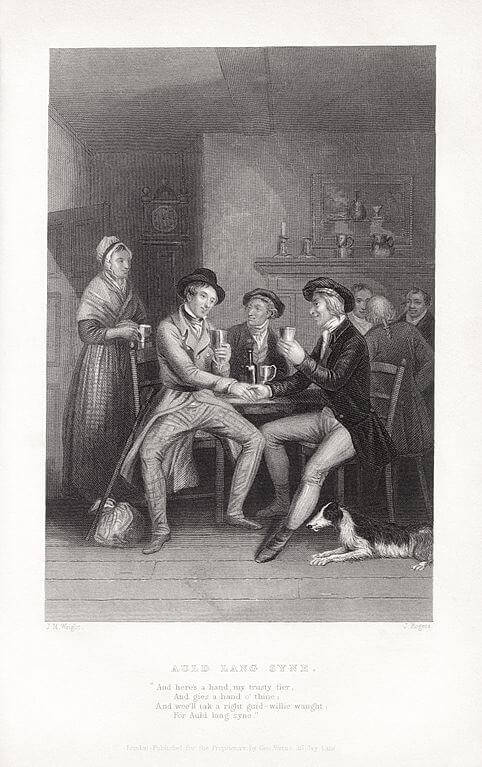 Public Domain. Wikimedia Commons
Traditional Scottish Hogmanay Food
No Hogmanay celebration would be complete without some traditional Scottish food. Food in Scotland is hearty and we love both savory and sweet dishes. There's never any shortage of delicious treats to start the  new year off right!


Hogmanay Food From Times Past
Hogmanay customs and traditions have been in place for centuries, and our ancestors obviously didn't have access the ingredients or types and quantity of foodstuffs that we have today. But that doesn't mean they didn't make a special culinary effort for Hogmanay, and enjoy every bite.
Some traditional Hogmanay foods in times past might include well-known Scottish food items such as:
Haggis
Salted fish
Soup
Oat Farles or Oatcakes (served with cheese)
Shortbread
Cakes*
* Cakes were often made with dried fruit and spices. Two popular recipes were Black Bun (a dark, heavy fruit cake completely wrapped in pastry) and Ankerstock which was a spicy, rye bread made with currants and treacle.
And of course there would be plenty of whisky to wash it all down.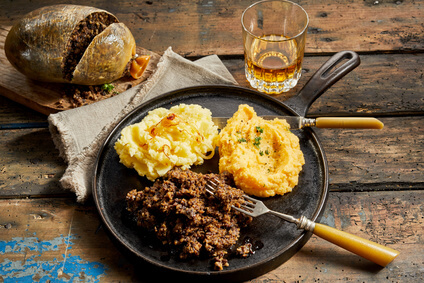 Contemporary Hogmanay Food
Everything about the new year celebrations in Scotland has historical significance and many homes still prepare traditional foods such as haggis, black bun and shortbread.
Other dishes have been added over the years, and today food served on Hogmanay can range from regular party fare to a home-cooked extravaganza. However there are a few dishes which have gradually become traditional.
A contemporary Hogmanay feast may include:
Scotch broth - a hearty meat-based soup with root vegetables & barley
Cock-a-Leekie soup - chicken soup with leeks, celery, onion & barley
Steak pie
Roasted lamb or mutton
Tatties and Neeps (potatoes and turnip)
Cranachan  - dessert made with oatmeal, raspberries and cream
Clootie dumpling (a steamed pudding) and custard
A little something Scottish....