Famous Scottish People
Famous Scottish people appear in just about every profession and activity that you can imagine.
Considering how small Scotland is, you may be a bit surprised to see how many historically significant roles have been played by famous Scots, but we're not!
Apparently we're an intelligent, resourceful, creative and dedicated group!

Famous Scots have invented (or been instrumental in the development of) many of the most enduring and popular objects/products we use every day.
They've also been 'big' in the world of music, poetry, politics, sports, drama (the acting variety!) and much more. On this page you'll find a list of famous Scottish people in history, politics, and music/literature.
Click on these links to jump straight to the category you're most interested in, or simply scroll down to be amazed by them all!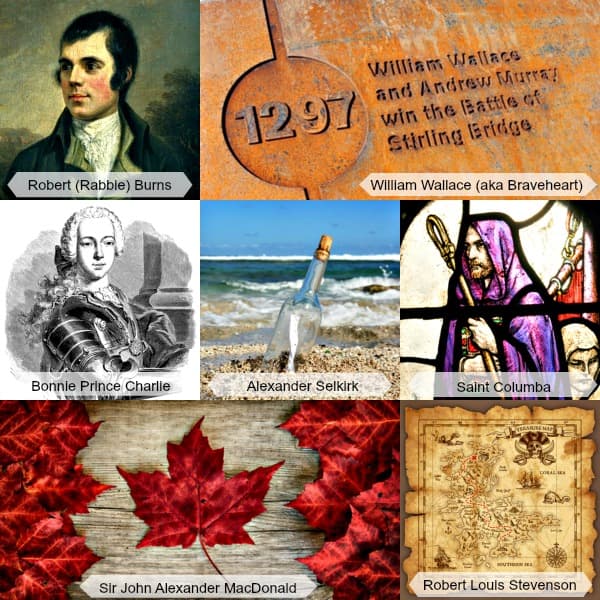 Famous Scottish Historical Figures
There are so many famous Scottish people throughout history that of course it's impossible for us to list them all!
Instead we've picked out a handful (or two) of famous Scots who have played significant roles in Scotland's past......


Charles Edward Stuart (Bonnie Prince Charlie) (1720 - 1788)

Grandson of King James VII, and a direct descendant of Robert the Bruce, also known as the 'Young Pretender'. He led a rebellion against the English which was defeated at the Battle of Culloden in 1746. Charlie fled to France, aided by Flora MacDonald.
Bonnie Prince Charlie
Flora MacDonald (1722 - 1790)

Born on the Outer Hebridean Island of South Uist. Chance events led to her helping Bonnie Prince Charlie escape to France after his defeat at the Battle of Culloden in 1746. The daring and dangerous escape is commemorated in the song 'Over the Sea to Skye'.


Galgacus (Lived around 85AD)
Also known as Calgacus He was a Caledonian tribal leader in the north of Scotland who united the tribes and led the resistance against Roman armies who were pushing north into Scotland. His armies defeated the Romans in the Battle of Mons Graupius in the north of Scotland in 83 AD. It's thought that Galgacus was the first Scot to be actually named in history.


King William I "The Lion" (1143-1214)
Crowned a Scottish King in 1165, William reigned for almost 50 years. He was red-haired, brave and full of energy, and although that may have contributed to his nickname of 'The Lion', it is more likely to have developed because he adopted the heraldic symbol of the red lion rampant on a yellow background. That symbol is still seen on Scotland's Lion Rampant flag today.


Kenneth MacAlpin (834 - 858)
The first Scottish King. Crowned as the first King of 'Alba' uniting both the Picts and the Scots for the first time in 843 AD. Considered to be the 'Founder of Scotland'.
Mary, Queen of Scots (1542 - 1587)

Born at Linlithgow Palace. Crowned Queen of Scotland in 1643 and was the last Roman Catholic monarch of Scotland. Mary was a tragic queen, daughter of King James V and cousin to Queen Elizabeth I of England. Married three times, Mary almost became one of the wives of England's King Henry VIII. She abdicated the throne in 1567, and was then put in prison by Queen Elizabeth I and executed for treason 1587. British schoolchildren still sing a 'happy little song entitled 'Mary Queen of Scots got her head chopped off' in remembrance of her beheading!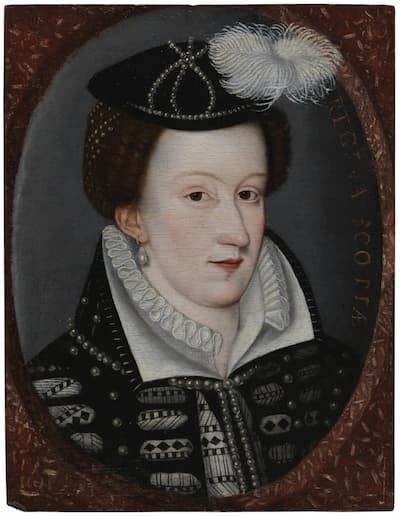 Mary Queen of Scots circa 1560-1592
Lord MacBeth (c.1005 - 1057)

Last Gaelic King of Scotland. Immortalized (although totally inaccurately) in Shakespeare's play 'MacBeth'. He was the commander-in-chief of King Duncan's army and killed the King in 1040, succeeding him to the throne where he ruled until killed in battle in 1057.


Robert the Bruce (1274 - 1329)
It's possible that Robert the Bruce was born in Ayrshire or Dumfriesshire but there are no definitive records to prove either. He declared himself King of Scotland in 1306. After a less-than-heroic start to his reign, Robert The Bruce and his army defeated the English at the Battle of Bannockburn in 1314, and resisted another English invasion 8 years later. These victories marked the turning point for Scottish independence and led to the Treaty of Edinburgh in 1328 which recognized Scotland's independence. This was one of Scotlands' greatest victories and Robert the Bruce (also sometimes known as the Guardian of Scotland' was one of Scotland's heroes.


William Wallace (1274 - 1305)

Outlaw and defender of Scottish independence. A brave and patriotic leader. Defeated the army of Edward I at the Battle of Stirling Bridge. Shortly after Wallace's execution, Robert the Bruce was able to re-establish Scotland's independence.


John Witherspoon (1723 - 1794)
Born in Gifford, East Lothian. Joined the clergy, becoming an ordained minister in 1745. Emigrated to the USA in 1786. Helped to draft the Declaration of Independence (he was also the only clergyman to signed it, but 21 of the 56 signatories were of Scottish descent).


Alexander Selkirk (1676 - 1721)
Born in Lower Largo, Fife. A Scottish sailor, he was the inspiration for Daniel Defoe's 'Robinson Crusoe'. Selkirk spent over 4 years (1704 - 1709) after being stranded on a tiny, unihabited tropical island in the Pacific.


Saint Andrew (c. 5 A.D. - c.50 A.D.)
The Patron Saint of Scotland. One of Jesus Christ's disciples, and brother of the disciple Peter. There is more than one legend surrounding this famous Scot, but the most popular has it that Andrew was crucified on an X-shaped cross (known as the Saltire Cross). Around 370 AD some of his remains were brought to Scotland by Saint Rule on the strength of a vision he had experienced. In 832 AD the Pictish King Angus II had a vision of St. Andrew on the eve of his battle with the Anglo Saxon army. The morning of the battle itself he and his army were stunned to see a huge white Saltire cross shining against the background of a bright blue sky - they took this as an omen of impending victory... and were indeed victorious. The saltire cross then became the national emblem of scotland (learn more about the saltire flag - also known as the Cross of Saint Andrew - here Flag Of Scotland) and Andrew was declared the Patron Saint of Scotland. Saint Andrews Day is celebrated on the 30th November every every year.


Saint Columba (c. 521 - 597)
Although actually Irish (he was born in Donegal, Ireland), St. Columba is seen as Scotlands' second patron saint (after St. Andrew). He was a missionary and established a monastery on the Isle of Iona in 563, and tried to convert the native Picts to Christianity. The abbey and the community established on the Isle of Iona still exist today.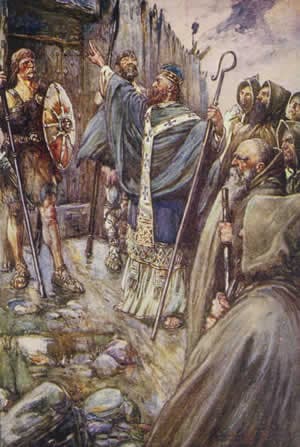 Saint Columba
Saint Mungo - also known as St Kentigern (520-612)

Believed to have been born in Fife, the son of a pagan King, he was named Kentigern. 'Mungo' means 'dear and became his nickname, eventually he was known as St. Mungo. He was a missionary and founded a monastery by the River Clyde, where the city of Glasgow stands today.He later became the Patron Saint of Glasgow. It's said that he met both St. David (Patron Saint of Wales) and St. Columba and that he performed many miracles.


Saint Ninian (c. 360 - 432)
Very little is known about Saint Ninian, but he is said to have been a Christian missionary in Scotland, preaching Christianity to the Picts. He is believed to be Scotland's first Saint.
Famous Scottish Political Figures
Famous Scottish people have appeared in political circles around the world. Here are just a few of them.........
Arthur James Balfour (First Earl of Balfour) (1848 - 1930)
Born in East Lothian. A member of the Conservative party. Held several political positions, and was elected as British Prime Minister in 1902. He remained in office until 1906.


George Brown (1818 - 1880)
Born in Glasgow. A journalist and Politician. George Brown emigrated to Canada in 1843 and is known as the Founding father of Canada. He was also the founder and editor of the "Toronto Globe" newspaper.


James Keir Hardie (1856 - 1915)
Born in Lanarkshire. James was born into a poor family, but had a strong desire for self-improvement and education. Went on to become a miner and a socialist, who fought fiercely for the rights of many socialist groups. He eventually becoming a founding member of the British Labour Party, and elected as their leader in 1906.


Sir John Alexander MacDonald (1815 - 1891)
Born in Glasgow. He emigrated to Canada with his family in 1820 and went on to become an influential figure in Canadian politics. Was elected as Canada's first Prime Minister in 1857. After the 'Dominion of Canada' was formed in 1867, Macdonald was Prime Minister twice more, 1867 - 1873 and 1878 - 1891.


John Mackenzie (1839–1901)
Born Ross-shire. Emigrated to New Zealand in 1860. He became a political figure and served as the Minister of Lands and Agriculture, in the Liberal Government, from 1891 to 1900.


Lachlan Macquarrie (1762-1824)
Born on the Inner Hebrides. Became the Governor of New South Wales in 1810, when Australia was still a penal colony. His foresight and practices transformed Australia into a modern and thriving nation, for that reason he's often called the 'Father of Australia' and is a national hero 'down under'.


John Witherspoon (1723 - 1794)
Born in Gifford, East Lothian. Joined the clergy, becoming an ordained minister in 1745. Emigrated to the USA in 1786. Helped to draft the Declaration of Independence (he was also the only clergyman to signed it, but 21 of the 56 signatories were of Scottish descent).



Famous Scottish People in the Arts
The Scots are a creative group, and Scottish culture is filled with poets, authors, singers, actors and more. Here's a selection of those famous Scottish people...

Robert Burns (1759 - 1796)
One of the most famous Scots, who's influence has touched people across the world! Born in Alloway, Ayrshire. Although born into a very poor family, Robert (aka 'Rabbie') Burns was very intelligent and excelled in many areas of academics. He's a 'huge' (metaphorically speaking), and much loved, figure in Scottish history. Poet and writer... his work was varied and could be in turn heart-wrendingly romantic, wickedly funny and satirical, down-to-earth and true-to-life and much more. The well-known song that you hear every New Years' Eve - 'Auld Lang Syne' - may be one of his best-known works. Other famous poems include 'Address to a Haggis', 'To A Mouse' (one that my nana would quote from regularly!), 'My Heart's in the Highlands' (another one I heard bitd of often!), Tam O'Shanter and 'O' My Luve is like a red, red rose'. Every year on January 25th, 'Burns Night' celebrates the birthday of one of Scotland's most beloved sons with a traditional 'Burns Supper' (usually a meal of 'haggis and neeps', plus some good Scottish whisky and the reading of some of Burns work) . Rabbie died at only 37 years old.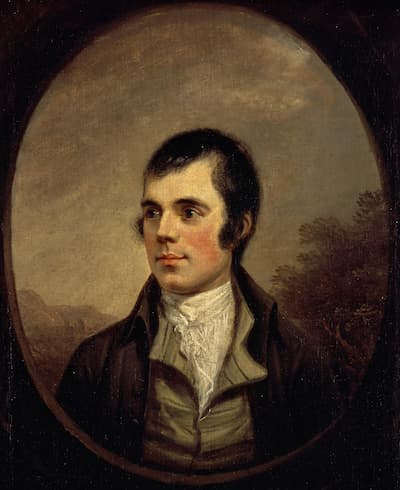 Robert Burns 1787
Sir Arthur Conan Doyle (1859 - 1930)

Born in Edinburgh. His family was interested and involved in creative works including sketching, illustration, languages and literature. He was the creator of the famous fictional detective Sherlock Holmes, (Charles was a doctor and the character of Sherlock Holmes was in part based on one of his medical school teachers). He was Knighted in 1902.


Will Fyffe (1885 - 1947)
Born in Dundee. Major entertainer being a comedian, actor and singer and radio personality. He began in the Music Halls but went on to appear in pantomimes and movies. Perhaps best remembered for the popular song "I belong to Glasgow", which he wrote and performed himself. Died from injuries sustained in a tragic accidental fall.


Kenneth Grahame (1859 - 1932)
Born in Edinburgh. Author. Best known for the world-famous children's classic,'The Wind in the Willows', which was published in 1908. He also wrote many other articles and stories including 'The Reluctant Dragon', 'The Golden Age' and 'Dream Days'.


Sir Harry Lauder (1870 - 1950)
Born in Edinburgh. 'Harry' was a popular singer and entertainer who toured the world, entertained troops during both World War I and World War II. Churchill called him 'Scotland's greatest ever ambassador'. He wrote and performed his own songs, and some of the best-known ones include 'Roamin' in the Gloamin', 'I love a Lassie' and 'A wee Doch an Dorus'. He was the first British entertainer to sell a million records. Knighted in 1919. When he died in 1950, both Queen Elizabeth I (the Queen Mother) and Mr & Mrs Winston Churchill sent wreaths to the funeral.


Norman MacCaig (1910 - 1996)
Born in Edinburgh. Famous 20th century Scottish poet and writer. Was awarded the O.B.E. and the Queen's Medal for Poetry.


Carolina Oliphant, Lady Nairne (1766-1845)
Born in Gask, Perthsire. A very popular Scottish poet and songwriter. Because at this time it was unacceptable for women in her social position to write, much of her work was published under the 'pen-name' Mrs Bogan of Bogan. Some of her best-known works are "Will Ye No' Come Back Again" and "Charlie is My Darling" and "Wi' 100 Pipers An' A'". She made it her lifelong work to preserve, and collect, the traditional songs of Scotland.
Sir Walter Scott (1771 - 1832)
Born in Edinburgh. Scottish patriot and qualified lawyer, he was a very popular writer and poet of his time.... perhaps THE most popular author of his day. Some of his best-known works include 'Ivanhoe', 'Rob Roy' and 'The Lady of The Lake'. He also was involved in the business world, and became part owner of a printing and publishing company in 1806.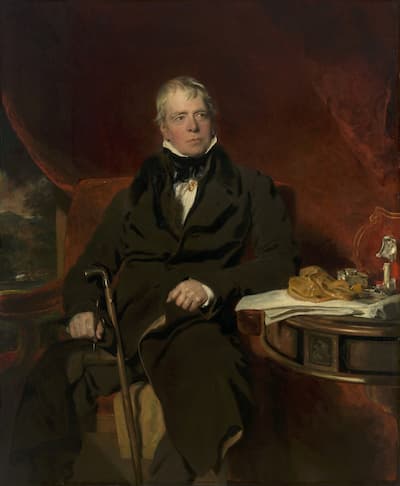 Sir Walter Scott, circa 1820's
Robert Louis Stevenson (1850 - 1894)

Born in Edinburgh. Studied engineering and law, but instead became a talented author and poet. His most famous works include "Treasure Island" published in 1882 and 'Dr Jekyll and Mr Hyde' and 'Kidnapped' published in 1886.


Famous Scottish People in 
Entertainment
There are many, many talented Scots in the entertainment industry. Here are a just a handful of the most well-known:

Ewen Bremner (1972-now)
Born in Edinburgh. As a kid he wanted to be a circus clown, but after landing his first acting role at age fourteen his acting career was in the works. At eighteen he had the lead role in a TV show entitled 'Dreaming'. Had movie roles in Trainspotting and T2 Trainspotting, Snatch, Black Hawk Down, Pearl Harbor, Alien vs Predator, Death at a Funeral, Fools Gold and more. On TV he has appeared around the world in series such as  Worriker, My Name is Earl, Banished, Snowpiercer, Faintheart and many others.


Gerard Butler (1969 - now)
Born in Paisley. Studied law, then became an actor and later a film producer. Has starred in many movies including Tomorrow Never Dies, Attila, Dracula 2000, Timeline, Tale of the Mummy, Lara Croft Tomb Raider, 300, Olympus Has Fallen (and subsequent 'Fallen' movies), The Bounty Hunter, and more. He was also the voice of Stoick the Vast in the animated movie How to Train Your Dragon. 

Robert Carlyle (1961 - now)
Born in Glasgow. After leaving school he spent a few years working different jobs and then enrolled at the Glasgow Arts Center, going on to attend the Royal Scottish Academy of Music and Drama. In 1991 he founded the Raindog Theater Company with Colin Firth and two other actors. In 1999 he was awarded an OBE for his contributions to drama during his career. Movies include Trainspotting and T2 Trainspotting, The Full Monty, The World is Not Enough, California Solo, Priest, 24: Redemption and a whole lot more. He's also had roles in many TV series including Cracker (with Robbie Coltrane), Hamish Macbeth, Stargate Universe and Once Upon A Time. He's also involved in working on a Trainspotting spin-off for TV.


Robbie Coltrane (1950 - 2022)
Born in a Glasgow suburb with the surname McMillan. Studied art at university. A hugely popular stand-up comedian and a member of Edinburgh's Traverse Theater. Appeared in some TV series including The Lost Tribe, Tutti Frutti, Nuns on the Run, and possibly his most famous role as a criminal psychologist in Cracker. Movies include  Flash Gordon, Death Watch, Absolute Beginners, plus James Bond movies Golden Eye and The World is Not Enough. Of course, you're most likely to recognize Robbie in his role as Hagrid in the Harry Potter movies. 


Sean Connery (1930 - 2020)
Born in Edinburgh. Possibly best known for his role as James Bond, in fact he was the very first actor to play the role in the movie franchise. Had multiple jobs and did a stint in the Royal Navy before becoming an actor. He appeared in a handful of TV roles before being cast as 007 in Dr No. Sean played James Bond in seven movies between 1962 and 1983. He also appeared in a multitude of other movies including Murder on the Orient Express, The Man Who Would Be King, Highlander, Indiana Jones and the Last Crusade, The Hunt for Red October, The League of Extraordinary Gentlemen and many more.


Billy Connolly (1942 - now)
Born in Glasgow. Worked as a welder and joined the Territorial Army, was a banjo player and a member of a band called the Humblebums before becoming a full-time comedian. One of Scotland's most beloved comedians and figures in spite of (or maybe partly because of!) his very liberal use of 'strong language' in his routines . Has also appeared as an actor in The Boondock Saints, The Last Samurai and The Hobbit: The Battle of the Five Armies.

James Cosmo (1947 - now)
Born in Clydebank. The son of an actor (James Copeland) and his birthname was James Ronald Gordon Copeland. Worked as a shipbreaker on the banks of the River Clyde. James has appeared in some big-time movies including Trainspotting, The Chronicles of Narnia, Highlander, Braveheart and in popular TV series such as the blockbuster Game of Thrones and the UK series Take the High Road, and Minder. He was awarded the MBE (Member of the Order of the British Empire) in 2018 for his services to Drama.

Sheena Easton (born: Sheena Shirley Orr) (1959 - now)
Born in Bellshill. 80's Pop singer. Featured in the James Bond theme song 'For Your Eyes Only'. She had several top selling singles (including '9 - 5') and albums. Still works as an entertainer, mainly in the USA.

Deborah Kerr (1921 - 2007)
Born in Glasgow. A celebrated actress during the golden age of films. She started out in theater, appearing in walk on parts and minor roles. She then graduated to film and appeared in iconic movies such as King Solomon's Mines, The King and I, From Here to Eternity, An Affair to Remember and Perfect Strangers. She also had a role as a Bond girl in Casino Royale in 1967. After the 1960's she left movies and returned to theater work with the occasional TV roles.


Katie Leung (1987 - now)
Born in Dundee. In 2005, as an unknown, Katie auditioned for a role in Harry Potter and the Goblet of Fire, and got it. She admits her Scottish accent may have helped her edge out over 3000 other hopefuls! She also appeared in Harry Potter and the Order of the Phoenix, Harry Potter and the Half-Blood Prince and Harry Potter and the Deathly Hallows. Since Harry Potter she has also been seen in a variety of TV shows and movies, including Father Brown, One Child, Agatha Christie's Poirot, Roadkill and more. She's also been seen in some additional movie and theater roles to date.


Lulu (Marie McDonald Lawrie) (1948 - now)

Born in Glasgow. Popular singer-songwriter in the 1960's. Several hit records. Became one of a 'three-way joint win' in the 'Eurovision Song Contest' in 1969 with 'Boom-bang-a-bang'. Lulu sang the title song (and acted in) the movie 'To Sir With Love' in 1966 - the title record hit No. 1 in the USA.

Ewan MacGregor (1971 - now)

Born in Perth. He studied drama, acting and music in both Scotland and England before getting his first acting role in a British TV series called Lipstick on Your Collar. He's appeared in movies such as Trainspotting, T2 Trainspotting, Black Hawk Down, Moulin Rouge,  Angels and Demons, Ghost Writer, The Island and many more. He was also Lumiere in the live-action Beauty and the Beast movie, the voice of a Rodney Copperbottom  in Robotsas well as appearing in the DC comics Birds of Prey and Obi-Wan Kenobi  in the Star Wars prequel trilogy and the recent Disney+ mini-series Obi-Wan Kenobi. He's also been a part of several London theater productions.

Richard Madden (1986 - now)
Born in Elderslie, near Glasgow. Has been acting since he was eleven years old and has appeared in theater and movie productions. He is most well known recently for his role as Robb Stark in Game of Thrones. He's also appeared as Prince Kit in Disney's live action movie Cinderella, and in the series' Medici and Bodyguard.

Kevin McKidd (1973 - now)
Born in Elgin, Moray. Had several jobs and worked in both the Macallan whisky distillery as well as a coppersmith and planned to become an engineer, changing his mind at the last minute to study drama instead. Early on he appeared in the iconic movie Trainspotting as well as several TV series and mini-series. He went on to star in movies such as Understanding Jane, Nicholas Nickelby, Dog Soldiers and Hannibal Rising while continuing to take on Tv and theater roles. He has been a staple feature in the popular US TV series Grey's Anatomy for several years. He voiced two characters in Disney Pixar's Brave, and also does voice overs in some of the Grand Theft Auto and Call of Duty video games.
Gordon Ramsey (1966 - now)
Born in Johnstone. Worked a variety of different jobs before studying hotel management at college and taking on various culinary roles in multiple restaurants. With hard work and a lot of entrepreneurial spirit Gordon found himself working with and studying under some of the best chefs and culinary experts and taking an interest in both French and Italian cuisine, becoming an international chef. In 1998 he opened his first restaurant in London, and as they say 'the rest is history'! He has won numerous awards, owns multiple restaurants and businesses around the world and is an instantly recognizable and famous TV personality due to a variety of different shows all surrounding the restaurant business and cooking.
Andy Stewart (1933 - 1994)
Born in Glasgow. Comedian, singer/songwriter and TV personality who was popular on an international scale. He had several hit songs including 'Donald where's yer troosers?', 'A Scottish Soldier' and 'Come in-Come in'. Perhaps best known for his Scottish TV show "The White Heather Club" which hosted a New Year's Eve party on TV each year.
A little something Scottish....