The Captivating Culture Of Scotland
Scotland culture and traditions literally stretch back into the mists of time, with some of the earliest relics of Scottish life dating back as far as 8500 BC (no, that's not a typo!).
And it's not only how much history there is here that makes it so fascinating, it's how wild, colorful, dramatic and just downright magical it all is.
Scotland's tumultuous past defines her culture and is at the roots of Scottish traditions, celebrations, myths, art, literature, national pride... and just about everything else you can imagine.
Once you get a glimpse of this intriguing country's culture and traditions you'll be hooked!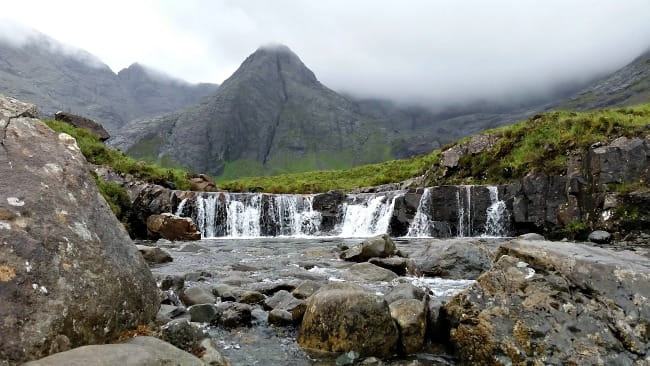 Fairy Pools on the Isle of Skye
The Scottish People
At the heart of Scottish culture is its' people, and you might find them to be as surprising as Scotlands' geography and landscape.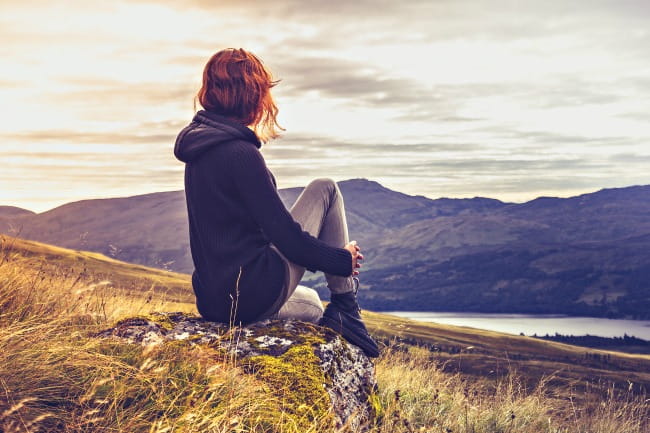 At first impression (especially to non-Europeans), the Scottish people may seem a bit 'reserved', but they're actually very warm-hearted, gregarious and friendly - with a very sharp, if dry, sense of humor.
The Scottish 'psyche' and attitudes has a lot of its' roots in an ancient, rich and varied history.
You'll find that the Scots are independent, practical, feisty, tough and proud... but they're also sentimental, superstitious, spiritual, generous, friendly and gregarious.
Want to know what Scottish people look like (hint: we don't all have red hair)? Where our ancestors came from? Or how much we're NOT like the stereotypes? 
Check out our All About Scottish People page to get all the insider info.
The Scottish Language
What language to Scots speak? Well, that depends on exactly where they live, and what their ancestry is.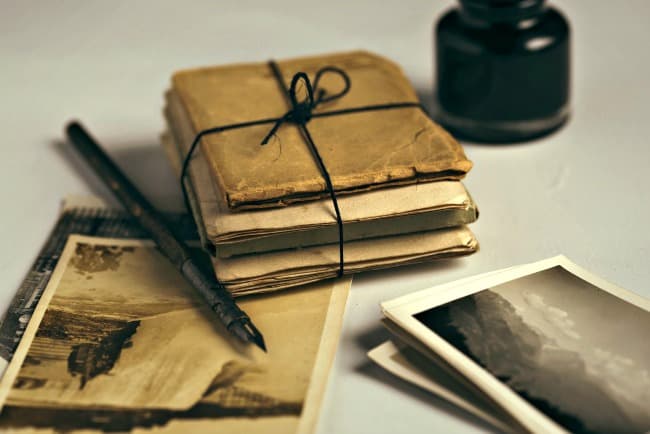 There are three languages spoken in Scotland - Scots, Scottish Gaelic and English. 
Scots was, at one time, the dominant language in Scotland (in the 17th century around 70% of Scottish people spoke Scots. The 2011 Scottish census showed approx 30% of people in Scotland spoke Scots.
Scots has a whole host of regional dialects. It was also 'imported' to Ireland during the 16th and 17th centuries by Scottish people who moved to Ulster, and today the language which has evolved from those settlers is called Ulster Scots.
On the Sheltand and Orkney Isles in the far north, the locals speech is sprinkled with odd words which are remnants of an ancient Norse language called 'Norn'.
To learn more about the Scots language and see it written, pop over to the Scots Language Center website.
Interested in learning Scots yourself?
Whether you simply want to learn Scots words and their definitions, take an Open University Course in Scots Language & Culture, this page has both of those options and more.

You can also check out our Scottish Sayings, Phrases & Words page to get a taste of everyday Scottish phrases and words... ones I grew up with!
The Scottish Clan System
Clans are a huge part of Scotland's culture, and played a vital role the country's history.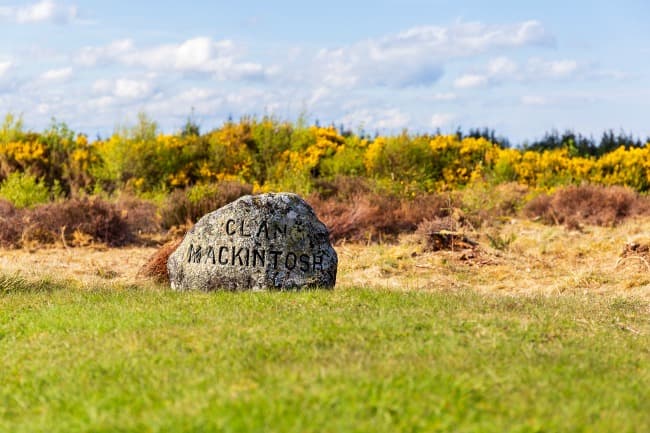 Clan grave marker at Culloden
Scottish clans originated in the Highlands and are a sort of 'extended family' group (taken to the extreme in terms of size and relationship).
Each one originally identifies with a specific area of Scotland and an individual 'Clan Chief', and are said to be descended from one ancestor.
Each clan has their own tartan which is showcased on your kilt and other clothing.
Knowing which clan you belong to is important to most Scottish people and is a source of pride.
If your family tree has roots in Scotland or you just want to know more about this fascinating, (and still thriving) tribal system, check out this page.... The Clans Of Scotland
Kilts & Tartan
The piece of clothing that we recognize as a 'kilt' most likely has it's origins way back in the 9th century, while tartan fabric wasn't associated with clans until the 18th century.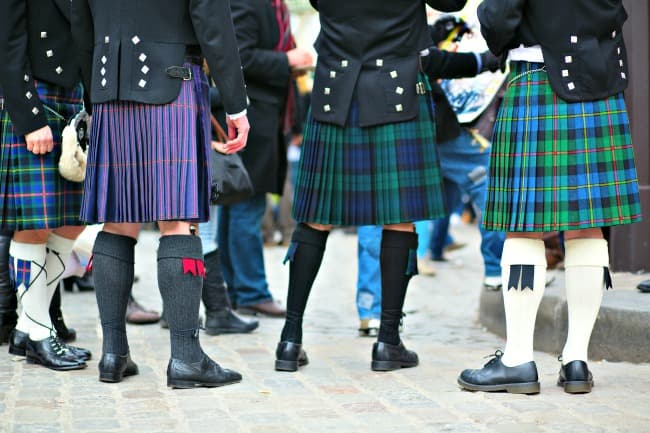 But together they're an awesome combination!
The kilt was originally a multi-purpose piece of clothing, worn on a daily basis by Highlanders. Today it's come a long way from those humble beginnings and is worn proudly on ceremonial occasions and 'big' days.
Learn more about it's history, and the importance of clan tartans on our Scottish Kilts page.
Myths & Legends Of Scotland
Like all ancient cultures, Scotland has a LOT of myths and legends.... in fact, I'd say it has more than its fair share!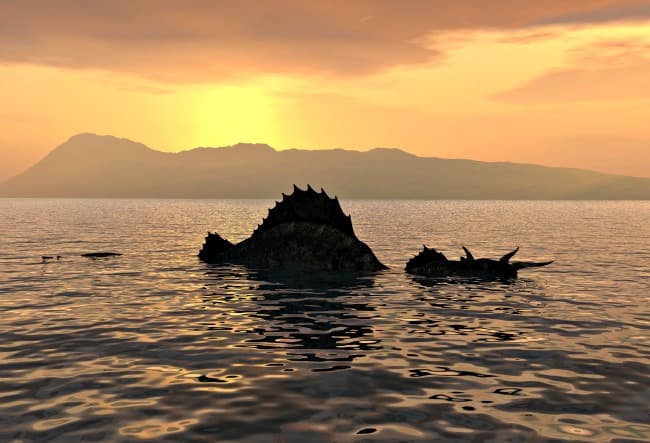 For such a practical people, the Scottish have a strong sense of superstition and a respect for what could be called the 'supernatural'.
Many Scottish myths and legends date back to Celtic mythology and folklore, and to the ancient Pictish culture.
Spirits, Goblins, Elves, Fairies (aka Faeries), ghosts, monsters and mythical beasts are also a big part of Scotlands' mythical realm.
Even today, many Scots people believe in something called the 'Second Sight', which is the ability to see into the future (and therefore predict future events).
Probably the best known Scottish legend is that of 'Nessie', the Loch Ness Monster. She's believed to live in the deep, cold water of Loch Ness ('loch' is the scottish word for 'lake'), which is the biggest and deepest loch in Scotland.
Symbols & Emblems
Scotland is awash in symbolism and pageantry and we have of emblems and symbols.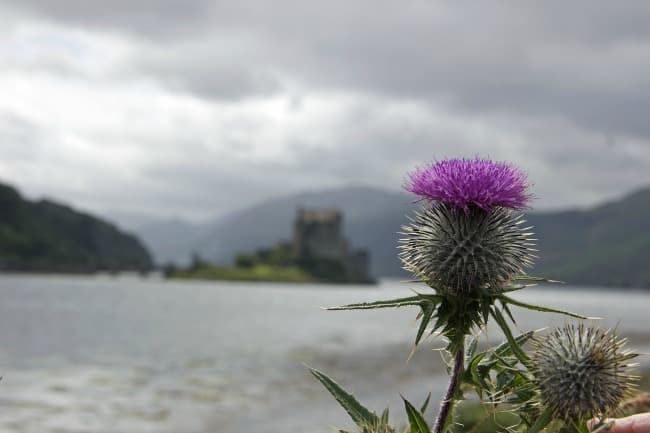 Each one is unique, important and significant. Many are world-famous.
So, what do you think of when you hear the word 'Scotland'? Bagpipes? Castles? Kilts?
These are all recognizably Scottish, but did you know that there are literally dozens of emblems and symbols woven into our history, culture and traditions?
From the natural or practical to the mythical or historic, they'll have you spellbound.
Visit our Scottish Symbols page to see the most popular ones and learn more.
Scotland's Castles
The rugged and imposing castles which are liberally scattered across this small country are incredible!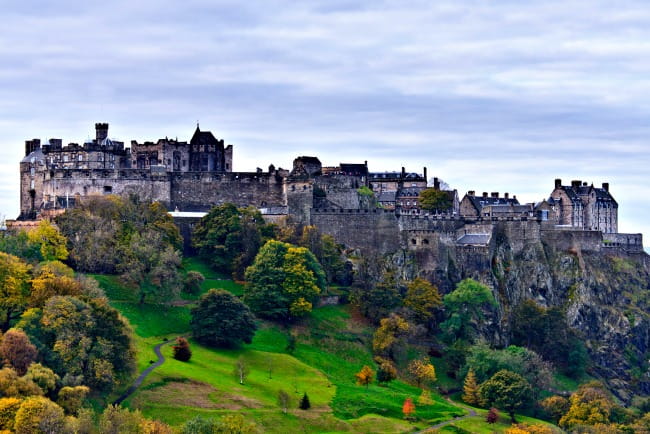 Edinburgh Castle
There are around 300 castles in Scotland, that's approx. one for every 100 square miles.
From historic ruins to fully functioning ancestral homes, the sheer range of different styles, sizes and locations of these dramatic structures is awe-inspiring.
You can literally feel the history seeping out of their walls.
No visit to this country is complete without experiencing the magic of a Scottish castle (or two, or ten).
Find out more about their history and see some of the most famous examples on our Scottish Castles page. Prepare to be amazed!
Traditional Scottish Food
When it comes to eating, the Scots know how to do it, but their traditional diet often features dishes that aren't for the faint-hearted, vegans or those who are trying to lose weight!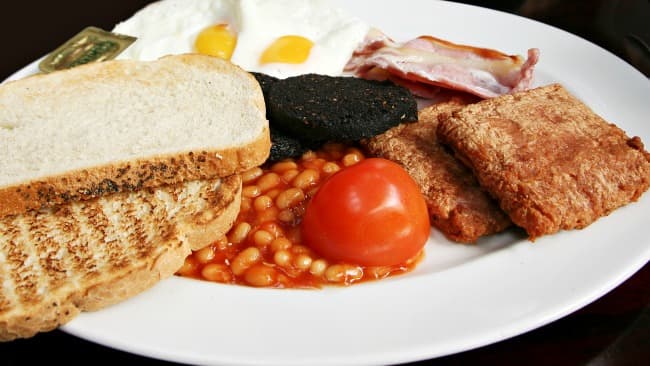 A 'Full Scottish Breakfast' might include fried eggs, bacon, sausage (patties), black-pudding (blood sausage), baked beans, grilled tomatoes and deep-fried bread.
All washed down with a cup of hot, sweet tea. It's delicious, but if you value your health I'd recommend not eating this on a daily (or even weekly) basis.
There's a huge variety of fresh, tasty items to choose from.
Including Aberdeen Angus beef, fresh fish (saltwater and sea water), traditional favorites like haggis or 'tatties and neeps'.
Oh, and we Scots love our 'sweets' - buttery shortbread is a classic favorite. 
If you want to get a 'taste' of what we enjoy (or find some authentic Scottish family recipes), check out our page on Traditional Scottish Food .
We Scots love to have a good time, and celebrating on Hogmanay (New Years Eve) is the biggest party of the year. Check out the traditional Scottish foods served on Hogmanay here.
Arts & Literature In Scotland
Scotland is much more 'artsy' than you might realize. In fact, Scottish art can be traced back to at least 3000 BC.
Because of our tumultuous history, there have been many influences and inspirations at work here.
Gaelic, Norse, Pictish and Celtic art forms have existed for centuries, and they're seeing a new surge in popularity.
Celtic jewelery and celtic tattoo designs are two of the most popular forms that are finding new fans on an almost daily basis.
Although you may not think of them as 'artistic', Scots have a huge appreciation for a good story, poetry, music, painting (even a great joke), and many of our traditions/celebrations are colorful examples of this.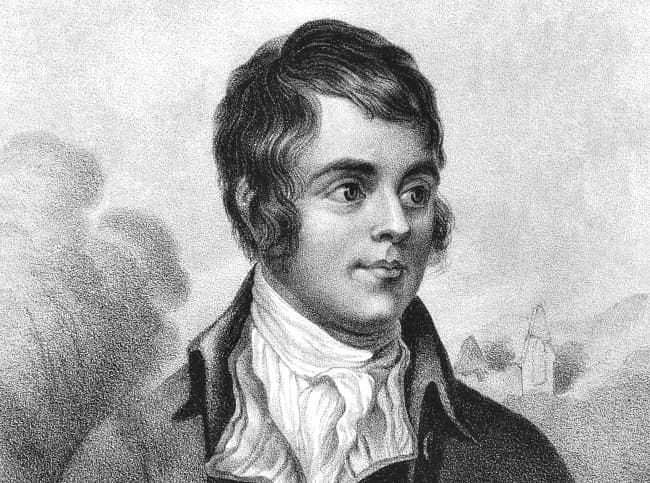 Scottish Poet Robert (aka Rabbie) Burns
Two of the most well-known Scots in terms of literature have to be Robert Burns (aka 'Rabbie' Burns) and Sir Walter Scott. Both lived and worked during the 18th century.
Today you can see a huge range of Scottish and  international art, at the Edinburgh International Festival which is held in Edinburgh (the capital city), in August each year.
It's one of the largest cultural festivals anywhere in the world (hosts over 300,000 visitors annually!) and is a spectacle that is most definitely worth seeing... but prepare to be exhausted afterwards!
And don't forget the importance of traditional Scottish music and instruments in Scotland culture.
The bagpipes and the fiddle are the most popular instruments and are responsible for the unique and stirring music that reaches right into the soul of every Scot. 
Famous Scottish People
For such a small country, we have produced more than our fair share of, not just artists, but scientists, actors/actresses, athletes, politicians and more.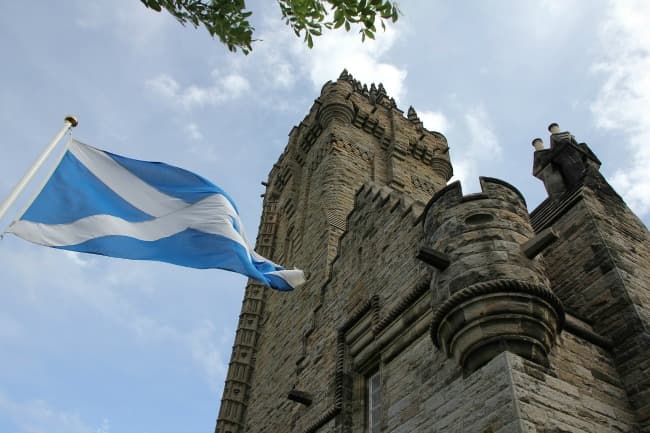 Wallace Monument
Some lived as long ago as the first century (yes, the FIRST century!) The list marches right on through the centuries and we're still adding to it today.
Heroes, politicians, artists, poets, writers, scientists, athletes, performers, politicians - we have them all.
From freedom-fighter William Wallace (you probably know him as 'Braveheart') in the 13th century, to British Prime Minister Tony Blair and actor Gerard Butler in the 21st century.
See some of our Scotland's most famous citizens on our Famous Scottish People page.
Scotland Culture Includes Sport
Scottish people enjoy sports of all types, and we're avid (or maybe that should be 'rabid' fans when it comes to our favorite, or national, teams).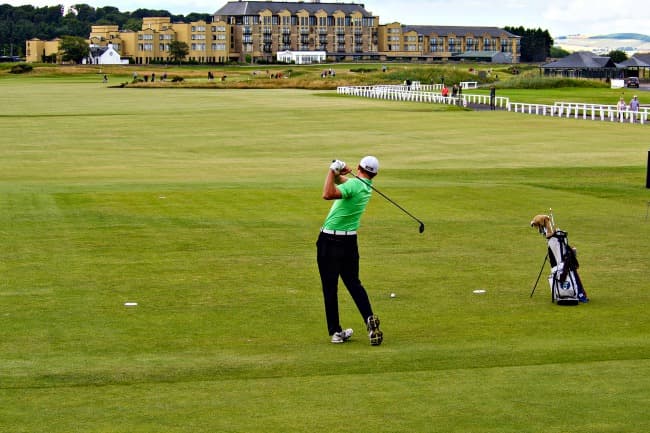 Golfing at St. Andrews
When it comes to sports, the two 'biggies' are football (NOT the kind played with the pointy ball... I'm talking about soccer. But don't call it 'soccer' if you're talking to a Scot!), and golf.
Football in Scotland dates back to 1873 when the Scottish Football Association was first founded.
There's an enormous amount of national pride in Scottish football clubs and the national team. Just about every family has their loyalties and they run deep.
Golf and Scotland are also a great fit because this is where the sport originated back in the 15th century.
Some of the greatest golf courses in the world are in Scotland, St. Andrews is a nationally recognized name and is one of the oldest golf courses in the world.
If you're a fan, check out our Golf Scotland page for tons of info. on the best courses. There's also a closer look at the history of the sport.
Other sports we Scots enjoy include curling (another historical sport, believed to have started back in the 16th century). It involves sliding heavy granite stones across sheets of ice while testing your aim.
'Shinty' is a uniquely Scottish sport which is mostly played in the Highlands, at amateur level only :) Played with a ball and sticks, it blends elements of hockey, lacrosse and golf together to produce a one-of-a-kind experience.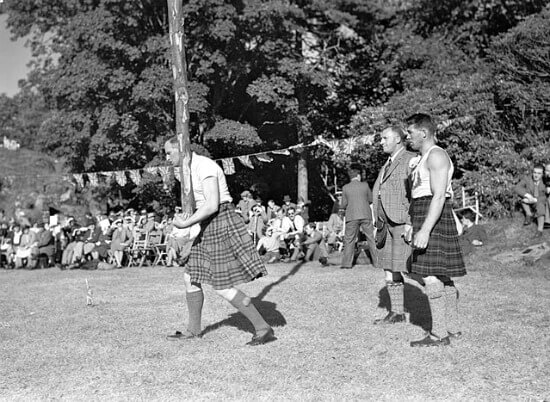 Highland Games, Isle of Skye, 1934. Public Domain Image
Then there's plentiful fishing and lots of game to hunt. Ski-ing in the winter, and the famous Scottish Highland Games which feature traditional feats such as 'Tossing the Caber' - basically a contest to see who can throw a tree trunk the furthest.

Only in Scotland.
To get more insider information on other Scottish traditions check out this page!