Scotland Weather - Expect The Unexpected!
Due to this little country's geography, predicting the weather in Scotland can be challenging!
Scottish weather can change abruptly, in fact sometimes you can feel as though you've experienced three (or even all four) seasons in just one day.
One thing that you can usually depend on though... is that it's going to rain at some point.
This may go part-way to explaining why we Scots seem to be fascinated by the weather.
We follow daily weather reports, and the ups and downs of our climate, very closely - although we often don't 'put much stock' in the weathermans' predictions!
If you're visiting Scotland, don't be surprised if the subject of the weather comes up in most conversations, no matter how brief.
Although definitely unpredictable, the Scottish climate is what makes Scotland, well... Scotland!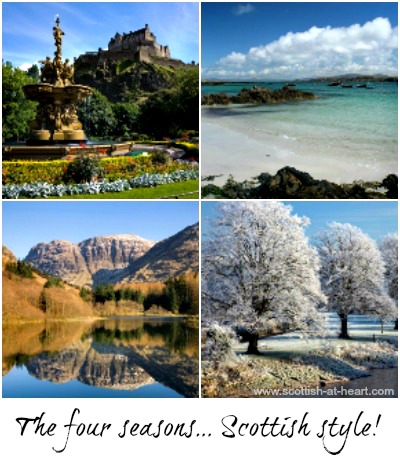 All About Our Scottish Weather
Even though Scotland is small, the weather can vary quite a bit from region to region. Here's a rough guide to what to expect and where.


That Famous Scottish Rain
If there's one thing that you can be sure about when discussing Scottish weather, it's that rain is going to play a big part in it no matter where exactly you are!
But, the west coast is usually wetter than the east coast and the further north, or north-west, that you go the wetter it's going to get.
The western Highlands are the wettest place in the United Kingdom and can get up to 118" inches of rain in a year (no, that's not a typo... one hundred and eighteen inches!!).
Out of the 365 days in every year, chances are it's going to be raining at some time during approx 250 of them.
The driest months of the year are often May, June or September... but that doesn't mean that in any given week that you won't get wet.
There are no guarantees here.


Moderate Temperatures Reign Supreme
Temperature-wise, Scotland weather is fairly 'temperate' - meaning it doesn't reach any extremes, high or low. But the weather in Scotland definitely has a tendency towards being cool rather than warm though.
Although the west coast is wetter than the east, it's also a little warmer. Late Spring and early Autumn (Fall) are the times when you're most likely to see bright, mild and dry(ish) weather.
The average daily high temperature for February is around 44F (that's about 6 Celsius), and for July approximately 68F (about 20 Celsius).
Of course, it often goes above, or below, these figures but they give you a idea of what to expect.


Snow... A Little Or A Lot!
Although you may see snow on the mountain tops from late Autumn until late Spring, in general Scotland weather doesn't feature snow-days as often as you might think.
On the higher elevations in the Scottish Highlands, snow falls maybe 100 days of the year, but other regions may only see snowflakes on perhaps 15 or 20 days annually.
Snow is exactly what's called for in the Scottish ski resorts (around Glencoe and Ben Nevis in the western Highlands, and the Cairngorms and Grampians in the eastern Highlands), and they appreciate all the snow they can get!
Most snow occurs between November and March, but as with the other elements of the Scotland climate, it can be unpredictable at best.
Tourism, Travel & Scottish Weather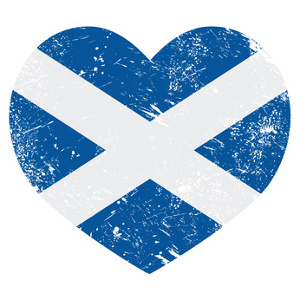 The main 'tourist season' in Scotland runs from late April through late September, with the peak tending to be between the end of July and early September when UK schools are out for summer.

It's useful to know that many popular tourist attractions, guest houses and B&B's often close during the 'off season'.
In the far north of Scotland and the Hebrides, Shetland Isles and Orkneys, late Autumn to late Spring can be difficult in terms of travel due to weather conditions and rough seas.

Although many people like to travel to Scotland over Christmas and New Year (to take part in the famous Hogmanay celebrations), the Scottish weather puts a limit on sight-seeing and other opportunities at this time of year.
Perhaps the main highlight of the year in terms of tourism in Scotland is the Edinburgh Festival which takes place in August each year.
This is a huge event and the city of Edinburgh is packed to the limits during this time.
If you're interested in visiting the festival or staying in Edinburgh during August, you'll need to book your accommodation and make travel arrangements WELL IN ADVANCE - even a year in advance isn't too far ahead!
The 'moderate' temperature can be a bit of a shock to visitors from warmer climates, so remember just because you may be visiting in July or August, the Scotland weather dictates that you come prepared.
A couple of warm sweaters and a light raincoat are essentials, and waterproof shoes/boots and an umbrella won't go wrong.
One other warning concerns the 'Scottish midges' which appear 'en masse' from May through September.
What's a 'midge' you ask? It's a tiny, flying insect very similar to the gnats we have in the US - and it's even more annoying!
Midge bites won't do you any harm (they're not poisonous or anything like that), but they are irritating and itchy in the way mosquito bites are.
You're most likely to find hordes of these little pests on the west coast and in the more northern areas and islands. There were lots of them at Glencoe the last time we were there.
You can buy 'midge spray' which often works (our US bought bug-spray seemed to work just about as well).
If these are ineffective, or the midges are really bad there are certain pieces of 'net' clothing that you can buy. Hats and a type of net-poncho being popular. 
The Relationship Between Scottish Weather & Landscape
Although Scottish weather is more bracing than balmy, the unique blend of rainfall, mist, sunshine and wind has shaped the Scottish landscape and is responsible for it's stunning beauty.
This includes Scotlands' incredible greenery, the heather covered slopes and glens, and the bluebells that carpet the forests. Not to forget the rugged and craggy coastlines, the gorgeous colors of Autumn leaves, the crystal-clear turquoise waters of the far northern islands, and the spine-tingling atmosphere and majestic beauty of the Highland Mountain Ranges.
Oh, and one last point... due to how far north Scotland lies, there is a stark contrast between summer and winter in terms of daylight hours - more so than many people realize.
In the height of summer, Edinburgh can get up to 18 hours of daylight, and in the far north of Scotland, on the longest day of the year it may never be completely dark!
Of course, there is always the flip-side of a coin, and in the middle of winter Edinburgh may be in darkness for 17 hours out of 24.
Here are some real-time Scotland weather conditions/predictions for the Scotlands' capital city of Edinburgh (on the east coast).


A little something Scottish....