The Mystical Unicorn Of Scotland
What says beauty, power and mystery more loudly than choosing the magical and powerful Unicorn as Scotland's National Animal?
A country's National Animal should represent the best, and defining, qualities of the nation who chose it.
Scots have a strong sentimental streak under that practical and reserved exterior, and Scottish culture is rich in superstitions, myths and legends. 
The Scottish people themselves have very specific traits and values, and their qualities such as courage, pride, purity and a love of freedom are mirrored in the animal we chose to represent our country.
A heraldic symbol as awe-inspiring as the unicorn just makes perfect sense.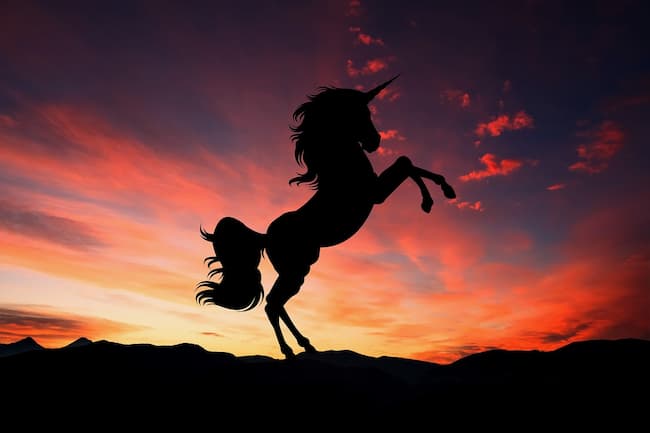 Unicorns Abound In History & Legend
The stories and legends surrounding the Unicorn go about as far back in history as the human race.
These beautiful creatures were worshiped by the ancient Babylonians, and written descriptions of them appear throughout ancient history, and as early as the first century AD.
In the 5th Century AD, interpretation of a passage in the Hebrew Old Testament described an animal that scholars believed was a Unicorn.
This may be the beginning of their association with Jesus Christ and the Virgin Mary, which is the basis for the legends that claimed only a Virgin could tame the Unicorn.
It could also explain the Unicorn's popularity in Christian Art, particularly during the Middle Ages.
Unicorns were seen in the early writings and drawings of many different countries and cultures, including Greece, Persia (now Iran), Egypt, India and Africa.
The Persians, the Romans, the Greek philosophers ,and even ancient Jewish scholars, all describe a horse-like creature whose single horn had magical properties that could heal any disease or illness.
Not surprisingly, Unicorns were considered to be very rare and precious.
They became a lunar symbol and were given differing characteristics depending on the culture and country that was describing them.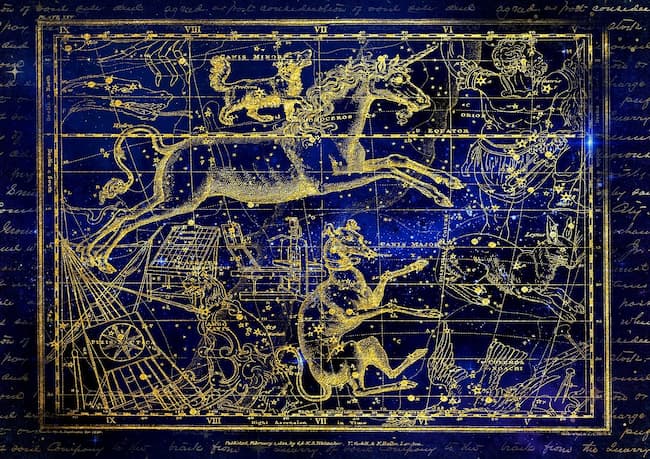 Unicorn qualities included:

Innocence
Purity
Boldness
Pride
Healing Powers
Joy
Intelligence
Virility
Nurturing Powers
Although they're often thought of as imaginary, or purely mythical animals, the appearance of Unicorns in the history and writings of so many different countries, over many, many centuries seems to me to be more than imagination or coincidence.
Even today, fantasy fiction and art is full of unicorn imagery, so that fascination continues.
There are many weird and wonderful animals alive in the world today, and many that have become extinct (even in my lifetime). So, how hard is it to imagine a horse with a single horn?
The superstitious and imaginative Scot in me believes that Unicorns may actually have lived on Earth (and in Scotland) a long time ago. How about you?
The Unicorn Of Scotland As A Heraldic Symbol
Unicorns have been associated with Royalty and heraldry since at least the time of the Romans, and over the centuries their appearance and personality traits have had more than a few 'upgrades'!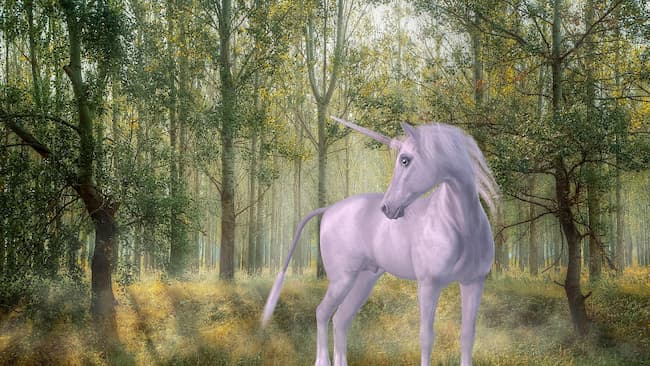 They grew to become an exotic creature... a magnificent horse with cloven hooves, the tail of a lion, and a perfect spiraled horn in the middle of their foreheads.
In Celtic Mythology the Unicorn of Scotland symbolized innocence and purity, healing powers, joy and even life itself.
It was also seen as a symbol of masculinity and power.
Two sides of the same coin as it were, a blend of male virility and female nurturing - perhaps the perfect mix!
The Unicorn was seen as
A wild, freedom-loving creature
Fierce, bold, proud and intelligent
Beautiful and courageous
People also believed it to be a dangerous creature if running free.
One that was almost impossible to capture alive - unless lured into an ambush by a virgin!
You might notice that when it's featured on heraldic symbols, the Unicorn has gold chains wrapped around it.
This is likely a nod to the medieval belief that he was a wild and strong creature, difficult to contain or tame. They may also suggest the power of the Kings of Scotland, who were able to control and harness the power of this mythical creature.
To a country as bold, fierce and proud as Scotland, one that was fighting for it's independence from 'oppressors' this was the perfect choice as the 'National Animal' that would appear on heraldic symbols.
The connection and respect for the Unicorn is clear in this 17th century description written by John Guillim in his 'Displays of Heraldry'....
'Some have made doubt whether there be any such beast as this or no, but the great esteem of his horn (in many places to be seen) may take away that needless scruple.
The greatness of his mind is such that he rather chooseth to die than be taken alive; wherein the Unicorn and valiant-minded soldier are alike, which both contemn death, and rather than they will be compelled to undergo any base servitude or bondage they will lose their lives'
One of the first times the Unicorn was used as a Scottish heraldic symbol is thought to be when William I used it on an early example of the Scottish Coat of Arms.
Since then the Unicorn has been depicted countless times (as part of the Royal Coat of Arms, or independently) in carvings, sculptures, paintings, tapestries and even furniture and dishes. This is especially true in castles and other historical buildings.
The unicorn is also a symbol of the Scots Navy. Some ships from earlier centuries used a carving of the unicorn as a figurehead, and even today ships often use the word 'Unicorn' in their name.
The carving below is in Edinburgh Castle.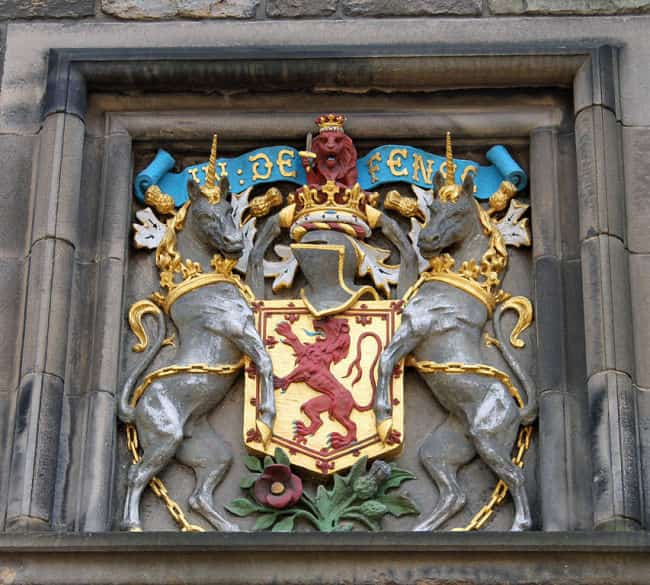 Early example of Scotland's Royal Coat of Arms, featuring two Unicorns

www.flickr.com/photos/sarahvain/9209902646 https://creativecommons.org/licenses/by/2.0/deed.en
Before England and Scotland came under joint rule, Scotland's Coat of Arms featured two Unicorns supporting a shield (see photo above).

In 1603 the reigning King of Scotland, King James VI, also succeeded Queen Elizabeth 1st of England and become King James the 1st of England. This was known as the Union of the Crowns.
Although the new country of Great Britain did not legally exist for another century, this union seemed to require a new Royal Coat of Arms, and work began on creating the design you see today which features the Unicorn of Scotland on the right, and the English Lion on the left.
This is the version used by British monarchy, including Queen Elizabeth II.
However, Scotland chooses to use a variation on that design, showing the Unicorn on the left and the Lion on the right. The image below is of a carving showing the Scottish version which is located in St. Giles Cathedral in Edinburgh.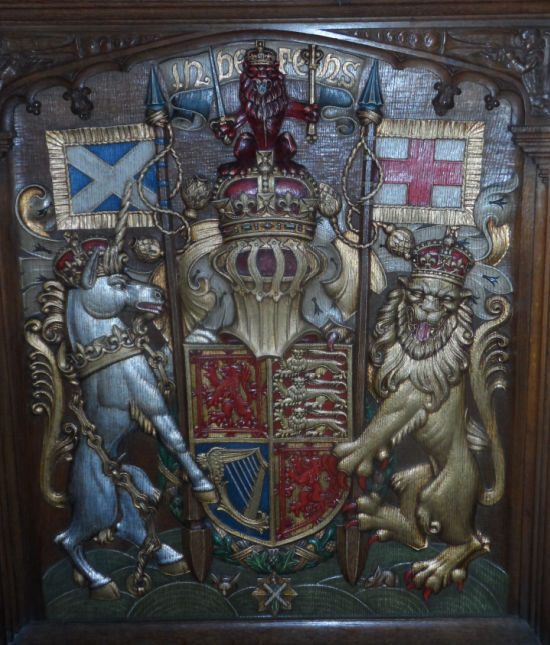 Scotland Royal Coat of Arms in the Thistle Chapel at St. Giles Cathedral, Edinburgh

By Sheila1988 - Own work, CC BY-SA 4.0, https://commons.wikimedia.org/w/index.php?curid=86310518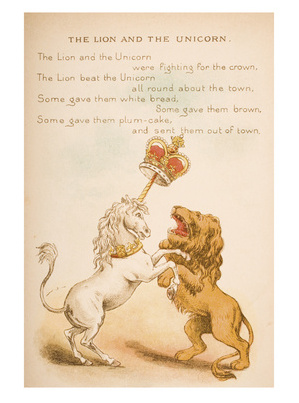 Click on image to buy or browse
The use of both symbolic creatures was supposed to symbolize the accepted union of the two countries.
But in real life the actual union was less than friendly, and this conflict was immortalized in the well-known British Nursery Rhyme....
'The Lion & The Unicorn'
The lion and the unicorn
Were fighting for the crown
The lion beat the unicorn
All around the town
Some gave them white bread
And some gave them brown
Some gave them plum cake
And drummed them out of town
By now I'm sure you can see why this mythical creature is the perfect National Animal of Scotland.
Hopefully you've also enjoyed learning a bit more about the magic and reality of this fantastic creatures' role in Scottish heraldry.
Where you can see the Unicorn of Scotland
Whether it's a carving, sculpture, painting or tapestry, representations of the unicorn abound in Scotland! Here are just a few of the locations where you can see them:
Edinburgh Castle - above the fireplace in the Royal Apartments, outside the National War Museum and infront of St. Margaret's Chapel.
The Palace of Holyrood House - on top of the stone gateposts at the palace entrance, and on the wooden doors to the Queen's Gallery.
St. Giles' Cathedral - the Mercat Cross (which means Market Cross) sits right outside the cathedral in Parliament Square in Old Town (where the city's marketplace used to be). You can also find many woodcarvings of Unicorns inside the cathedral. 
Linlithgow Palace - the three-tiered Kings Fountain in the courtyard was built for James V in the early 1500's and features unicorns and other mythical creatures. 
Stirling Castle - there's statue of a Royal Unicorn on top of The Great Hall, a Coat of Arms above the fireplace in the King's Bed Chamber, and on the walls of the Queen's Inner Hall hang seven hand-woven Medieval style tapestries featuring 'The Hunt of the Unicorn'. These were recreated to replace the tapestries of James V which were lost at some point in history.
Falkland Palace - you can find Mary Queen of Scot's coat of arms here.
Riddles Court - you can find a beautiful unicorn fresco in this former merchant's house at the top of the Royal Mile in Edinburgh's Old Town. It was also used as a dining place for King James V1.
HMS Unicorn in Dundee - this ship is almost two centuries old, and is the last example of a wooden warship left in Scotland. It's open to visitors are you can see its beautifully restored unicorn figurehead.
St. Andrew's University - there are unicorns above the pillars at an entrance to St. Andrew's University. Founded in the 1400's, this is Scotland's first university.
The Stables at Cromarty - this converted stable block at Cromarty on the Black Isle peninsual, now houses arts tuition, musicians, residences and a venue for hire and much more. There's a life-size unicorn statue in the beautiful grounds.
Glasgow - a column from the original Doulton Fountains which used to be in Balgray Pleasure Gardens, is now located in Springfield Park. It's topped by a unicorn holding a shield and is on the 'Buildings at Risk' register due to it's condition.

Inverness - you can see an ancient, but restored, Mercat Cross featuring a unicorn in the High Street, and in Falcon Square a new monument was unveiled in 2003 which is topped by a bronze unicorn. The thirty-seven foot tall sandstone pillar also features several sculptures of a falcon designed to represent it swooping down to catch it's prey.

Although these are some of the most well-known Scottish 'unicorn sightings' these enigmatic creatures are literally everywhere!
Mercat crosses are in towns all across the country, and historically they're topped with either a cross or a unicorn. Countless Scottish castles are decorated with unicorns (not just the big famous ones like Edinburgh Castle either), as are many historical buildings and monuments. 
So wherever you are in Scotland, it's quite possible there's a unicorn somewhere close by!
Bring a little Unicorn magic into your home....
Of course, unicorns are hugely popular with little girls these days, and the sparkly-er the better! But if you'd like to add a little bit of your own unicorn magic to your grown up life, here are a couple of items for you to check out...
Related Pages....
A little something Scottish....