Edinburgh Castle
Edinburgh Castle is perhaps one of the most important Scottish castles and it's certainly one of the most famous!
It sits over 250 ft above the city of Edinburgh on volcanic rock that is somewhere around 350 million years old. There was once an active volcano on this very site.
Archaeologists have found evidence that there was a settlement on Castle Rock, as long ago as 850BC, and a basic hill fort during the Iron Age. It's history as the home to many of Scotlands' Kings and Queens may have begun as early as the 12th century AD.

Up until the 16th century, Edinburgh Castle was also often called the 'Castle of Maidens' or the 'Maidens Castle'.
In 1130AD, it's believed that King David I considerably altered and fortified the original 'Castle of Maidens', which included the addition of a small, stone chapel dedicated to his mother Margaret (who was later to become St. Margaret).
Today that chapel, St. Margarets' Chapel, is the oldest surviving building in Edinburgh.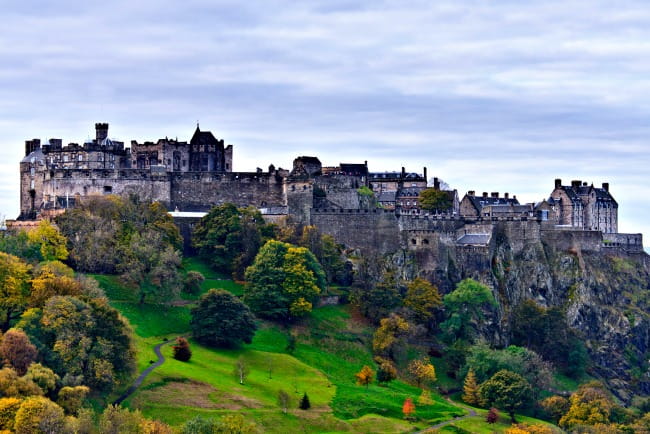 Between the late 13th century and the middle of the 18th century, this Scotland castle was at the center of the familiar tug-o-war between the Scots and the English.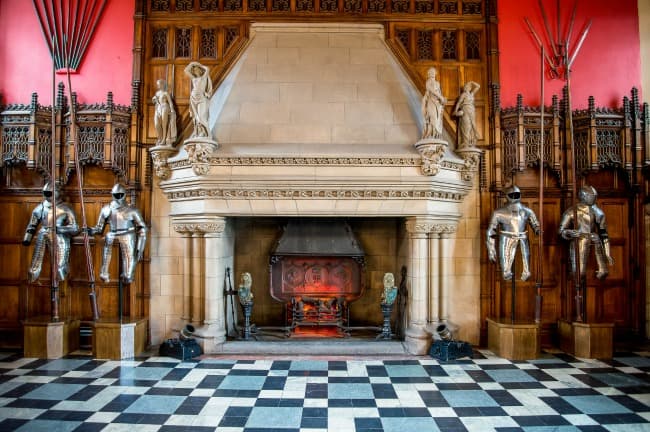 This constant conflict resulted in almost on-going repairs, renovations and additions to the castle including....

the construction of Davids' Tower in the 14th century


the Crown Square (also known as the Palace Yard) in the mid 15th century


the Great Hall and the Portcullis Gate in the 16th Century


barracks, munitions stores, Governors' House


the Esplanade in the 18th century; a Gatehouse in the 19th century


In 2010 the statue of Earl Haig on horseback (who commanded British Forces during WWI) was restored and moved from it's original placement in Edinburgh Castle's Esplanade to it's current location in Hospital Square 


Between 2017 and 2018 renovations to the iconic, cast-iron Ross Fountain which sits below the castle in Princes Street Gardens cost almost two million pounds and restored the fountain to all it's original glory. Ross Fountain was originally built in France and resembles many other 19th century French fountains


several cosmetic improvements, statues & other restoration projects during the 20th century.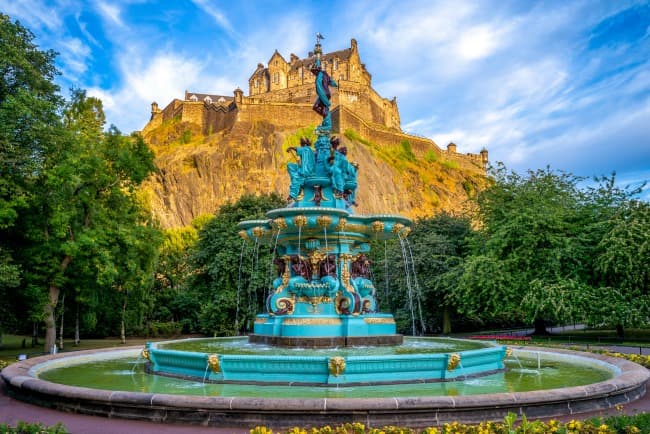 Fully restored Ross Fountain
Whew, with all that constant work, it's not suprising that Edinburgh Castle is such an imposing structure and that it has played such an important role in the military and defensive history of Scotland.
Today it houses 'The Honours of Scotland' (the Scottish Crown Jewels), is an active military base and is the site of the annual Edinburgh Military Tattoo which is centered around a stunning parade of the pipes and drums of the Scottish regiments - a spectacle that often attracts an audience of well over 200,000 people.
Not surprisingly perhaps, this Scottish castle is Edinburgh's most popular attraction, seeing over 1.25 million visitors a year.
The castle is so well-known that it has now become a recognizable symbol of Edinburgh, (and of Scotland) appearing on on the coat of arms of the City of Edinburgh, certain Scottish bank notes, and even postage stamps.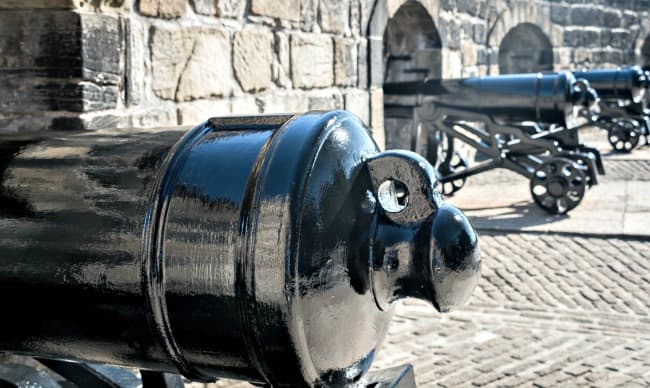 Did You Know?
Mary Queen of Scots gave birth to her son James (who later became King of both Scotland and England) in Edinburgh castle in 1566.


Charles I was the last of the monarchy to stay in this castle, this was in the mid 17th century.


The 'Honours of Scotland' (Scotland's Crown Jewels) have an exciting history, having spent 9 years buried for safe-keeping in the middle of the 17th century (to protect them from being destroyed at the hands of Oliver Cromwell). Approximately 50 years later they were locked away after Treaty of Union in 1707, and forgotten about for over 100 years - not coming to light again until 1818.


In 1720, pirates who had sailed the Caribbean with the infamous 'Black Bart' Roberts were captured in Argyll, and thrown into the dungeons in Edinburgh Castle. Most of them were hanged later that year.


This castle is also the home of the Stone of Scone, which was part of the traditional crowning ceremony of Scottish monarchs.


As with most Scottish castle, Edinburgh Castle is believed to be haunted, this time by both the ghost of a headless drummer, and a piper playing on the battlements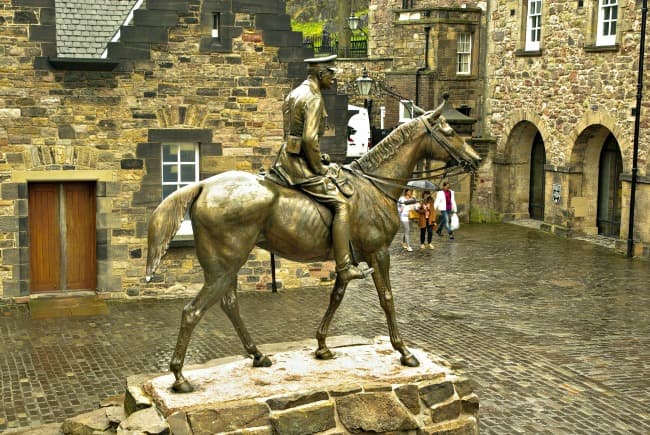 Earl Haig statue, Hospital Square
Parts of Edinburgh Castle and several exhibitions are open to the public.
Opening hours are 9:30am - 6pm daily. It's a hugely popular tourist attraction and it's best to buy your tickets online in advance to ensure you're not disappointed at the last minute. There is SO MUCH to see that you'll quite possibly want to make more than one visit!  
If you're visiting from mid November up until December 22, check out dates for the new Castle of Light spectacle. It's going to be pretty special.
Edinburgh Castle is also an amazing venue for all sorts of events including corporate and private meetings or parties.
Lucky couples can also hold their wedding in this extraordinary setting, even saying their vows in the chapel which is Edinburgh's oldest building. Both the wedding ceremony and reception can be accommodated! Find out more about Scottish weddings HERE, and check out Edinburgh Castle's website for information on event options.
Edinburgh Castle Official Website 
Related Pages: