Scottish Weddings
Even today, Scottish weddings are rich in tradition and folklore. Superstitious customs, romantic touches and historical twists make for a very unique experience, one which will be remembered for a lifetime!
Some age-old traditions which used to be an integral part of the wedding preparations, ceremony or celebration are rarely seen today. Others are still practiced regularly. 

We Scots are a superstitious bunch, heavily invested in our history and culture, and a wedding is the perfect place to display and enjoy both while maximizing our potential for good luck and prosperity as a couple.
Since the time of Queen Victoria, Scottish brides traditionally worn white or cream dresses and the groom and other menfolk often don their full Highland dress for the occasion. It can be quite a sight!
A church, a scenic location (some castles are even available to rent for wedding ceremonies), a registrars office or even Gretna Green are all locations in Scotland that are popular places to tie the knot.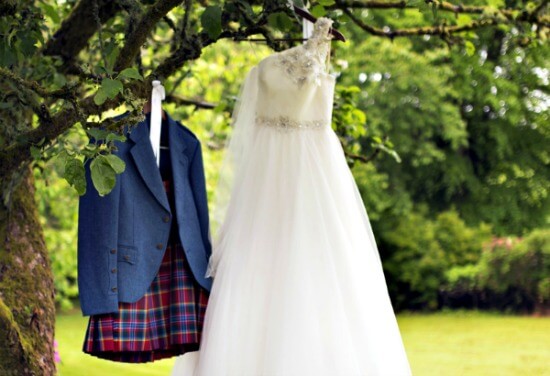 And of course you don't have to actually LIVE in Scotland to give your wedding a traditional Scottish flavor.
You can follow Scottish wedding traditions, wear kilts, have Scotland-themed wedding invitations, decor, bouquets, and favors, eat traditional wedding cake, play bagpipe music.... there are loads of opportunities to bring your Scottish heritage into play and make your big day just perfect.
Scottish Wedding Traditions
The sheer variety of traditions that surround a Scottish wedding is impressive. Some are practical, others based on superstition, and some are sheer romanticism. 
These customs are generally seen at weddings throughout Scotland, but some are more popular in certain areas. Although the majority are still practiced today, a few are fairly rare and one or two are now just memories.


Before the wedding
Here are some traditional Scottish wedding customs which take place before the big day dawns:


Crying the Banns
'Crying the Banns' is the original wording for the act of announcing an impending church wedding in Scotland. The word banns comes from an ancient English word meaning proclamation.
The banns are posted (ie notice given) at church (aka a Kirk) announcing an upcoming wedding. This can be done anywhere between three months and fifteen days before the wedding ceremony.
If there are any reasons why the marriage should not go ahead, this is the time for them to be vocalized.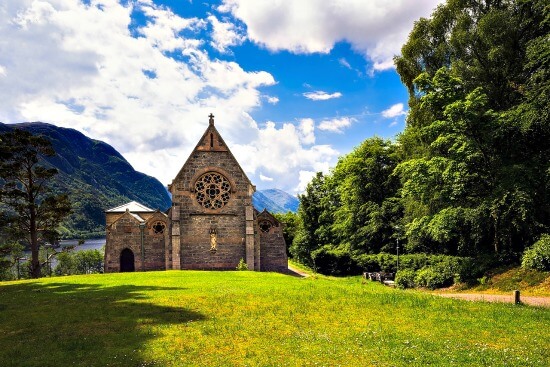 Show of presents
In days gone past, a bride would have a formal 'show of presents' at her mothers house before the wedding. This was an opportunity for family and friends to get together and view all the wedding gifts the couple had been given.
Today bridal or wedding showers are common and have pretty much replaced this tradition.


Feet washing
Bridal preparations don't generally include having  your feet washed, unless you're having a pedicure.  However, in Scotland, having her feet washed by older, married women from her community was a regular part of a bride's routine.
This Scottish wedding tradition symbolized the cleansing of the bride just prior to her wedding.


Blackening
While the bride to be got her feet nice and clean, the groom was not so lucky. Originally the poor man would have his feet covered in soot and feathers but as the tradition grew so did the number of substances used, and the body parts covered!
It wasn't unusual for a groom to find himself liberally covered in soot, tar, boot polish, eggs, feathers and more. Strangely (or maybe not) blackening still happens in Scotland today, often on the grooms Stag Night (Bachelor Party).


Gifting a Luckenbooth
The Scottish Luckenbooth is a heart-shaped brooch which can be given as a token of his affection and love.
Records show them to have been part of Scottish culture and tradition during the sixteenth century, although they may even have been around as far back as the seventh century.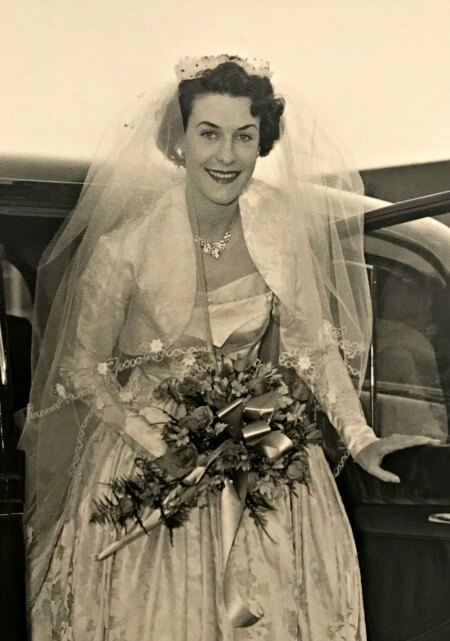 My mom on her wedding day in Glasgow, wearing a Luckenbooth necklace
A groom can give his bride-to-be a luckenbooth the they get engaged, on the wedding day, or pretty much anytime. Traditionally the luckenbooth was often seen as a lucky charm and can be pinned to a babies shawl, swaddle or clothing to protect him from harm (or as Scottish superstition goes, to prevent him from being stolen by fairies).

Adults pinned one to their clothing to protect the wearer from evil and they were also thought to reduce pain levels during labor and childbirth and to ensure a plentiful supply of breastmilk.
Designs vary from traditional to modern but Luckenbooths always feature either one or two hearts (when two they are intertwined) with a crown design (which symbolizes loyalty) across the top.
Usually made from silver (and sometimes from brass or iron, especially in the past), luckenbooths can be engraved, set with precious or semi-precious stones or decorated with a thistle, lovebirds or other symbols of love.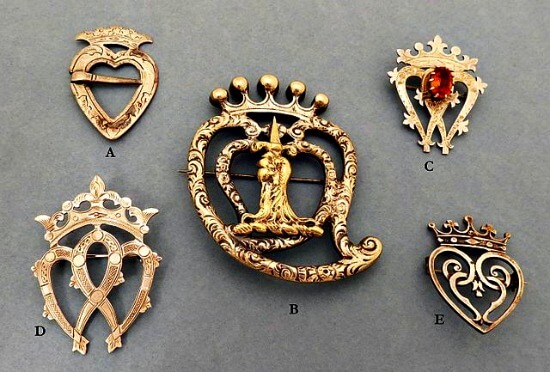 Luckenbooth brooches. Copyright Walker 14806 CC-BY-SA licence
You can find some gorgeous, authentic or antique Scottish luckenbooths on Etsy. Check out this page for loads of beautiful options.

The Celtic Tradition of Handfasting
Handfasting was a custom used during the middle ages to mark the beginning of a period of engagement between a couple (in England) but it was also, in most cases, a legally binding commitment and the couple could then be considered legally wed.
Meantime, in Scotland, this Celtic tradition created a temporary (or probationary) marriage which was usually formalized with a religious ceremony after one year. 
In Scotland, handfasting involves a witness to the wedding tying together the couples right hands, usually with ribbon/s, fabric, sash, woven cords etc. White or tartan are popular colors for the binding but you can choose any color that is symbolic to you or that matches the wedding colors/decor. This is literally 'tying the knot'!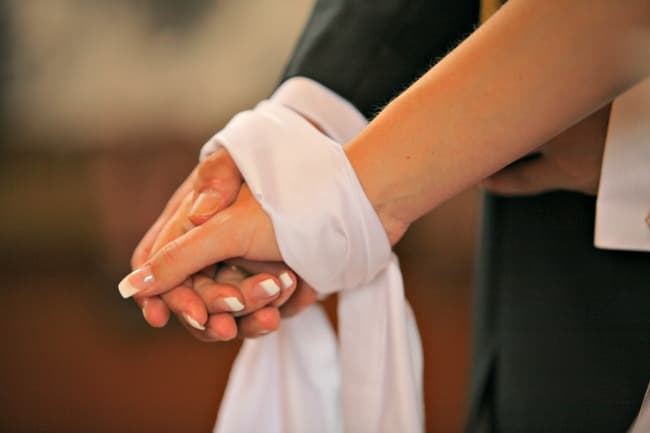 It's easy to incorporate this ancient Scottish tradition into your own wedding ceremony. Weddings held at Gretna Green often feature handfasting, and even if you're not getting married Gretna Green now offers 'spontaneous' handfasting or blessings. These spontaneous options are NOT legally recognized but are an authentic and romantic way to show your love and commitment in a historical setting.
If you'd like some inspiration for adding handfasting to your wedding, check out the celebrant directory's guide here.
Stag Party & Hen Night
If you're in the United States you'll know these as the Bachelor Party and Bachelorette Party. These can be held on the same night, or not, and usually take place fairly close to the wedding date. 
This night is when both bride and groom to be get to celebrate their last few days (or hours) of singledom with their respective friends and family members. 
The happy couple dress up and hit the town (or village) to drink, dance and party the night away. 
Scottish tradition isn't kind to the groom on this occasion and the today the blackening that I talked about earlier sometimes morphs into the groom being found the next morning without his clothing, and covered in soot, treacle, boot polish, feathers or whatever combination of items his mates could put together the night before. To make matters worse he may well be tied to a lamp post (street lamp), railing or fence!

Scottish Wedding Design & Decor
Adding a Scottish theme or twist to wedding invitations, showers, flowers, table settings, favors and much more is simple.
In Scotland the traditional symbols of Scotland such as the thistle, heather, kilts, tartan and bagpipes are a staple at weddings.
Wherever you marry, you can add Scottish flavor to your celebration by using the same items.
You can have invitations hand-made or choose online templates/downloads and print them yourself. You can even buy basic invitations and add your own Scottish twist with tartan ribbon or dried flowers. Check out Etsy here for some gorgeous and creative Scottish wedding invitation choices.
Here are three of my favorites:
The Wedding Day
So, the big day is here.... how do Scottish brides decorate, dress and celebrate on their wedding day? What is the ceremony like? Let's take a look.


Wedding attire
In a traditional Scottish wedding today, the bride wears a white, ivory or cream colored wedding dress in the style of her choice. Bridesmaids usually wear matching dresses in the color/style chosen by the bride. Some brides wear a veil, some don't.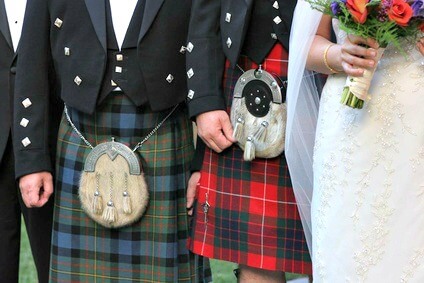 If a tiara or flowers are in the brides they might well feature heather, or even a thistle or two.
Prior to Queen Victoria's reign (1837 - 1901) Scottish brides could marry in any color dress they chose, as long as it wasn't green or black. Green is associated with fairies and black for mourning.
The groom and groomsmen may wear full Highland dress which includes Kilt with kilt pin, sporran, hose, jacket, shirt, bow tie and gillie brogues (shoes). He'll most likely  have his sgian dhubh (small black knife) tucked into his hose.
A uniquely Scottish tradition is for the bride to buy the grooms shirt (aka Sark) and in return the groom buys the brides wedding dress.
Alternatively a dress shirt and suit, or dress trousers (pants), waistcoat (vest) and jacket is worn by the men. 
Authentic Scottish Waistcoats!
If you'd like your groom (and perhaps the groomsmen as well) to bring some gorgeous, authentic Scottish flavor to your wedding, I've got just the thing for you!
..... Check out the unique,  stylish, one-of-a-kind waistcoat designs at ElaineMackenzieWaistcoats.com .
Unique Designer Harris Tweed Waistcoats
Made in Scotland
(Reproduced with permission of Elaine Mackenzie Waistcoats)
Made from traditional Harris Tweed from the Outer Hebrides, each and every waistcoat is made to measure and created to fit your unique taste and style.  
You choose the Harris Tweed pattern/color and matching or contrasting lining, you can even personalize the traditional wooden buttons with names, dates and more. Embroidered personalization is also offered. 
You're not just creating a piece of clothing, you're creating a one-of-a-kind work of art that will be cherished, and maybe even become a family heirloom.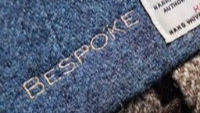 Images reproduced with permission of Elaine Mackenzie
If you're a proud American with Scottish roots, you might love the Stars and Stripes waistcoat lining. What a great way to celebrate who you are!

If you know which Clan your family belongs to take a look at Elaine's Scottish Clan waistcoats .... they're the perfect (and incredibly stylish) way for your wedding party to showcase your clans heritage on your special day. For these you have your own totally unique tartan tweed, amazing choice of linings and embellishments/personalization. 


White roses are a classic choice for bridal bouquets, which also often contain heather (white for good luck), thistles, or both. Buttonholes, corsages and wedding party bouquets often contain heather or thistles, or both as well, and tartan ribbon is a popular decoration.

If you'd like to add some authentic Scottish touches to your wedding, check out this huge selection of Scottish Wedding accessories and decor Etsy. You'll find lucky sixpences, buttonhole corsages, lapel pins, garters, wedding invitations, hair decorations and so much more!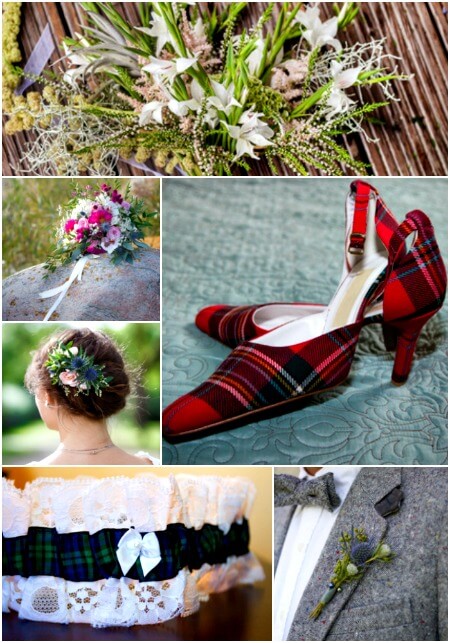 While getting dressed for the wedding, most brides still follow the 'Something old, something new, something borrowed, something blue' custom.
Our superstitious Scottish nature is to the fore again....
Traditionally the something old is a gift from mother to daughter and represented the passing on of wifely wisdom.
The something new is symbolic of the new life a bride and her groom are beginning as they get married.
Something borrowed should come from a happily married couple as that's considered good luck and the hope is that the newly weds will be just as happy.
The origins of something blue isn't quite so clear but blue was traditionally a color associated with modesty, fidelity and love and also with the Virgin Mary. Blue garters are popular.
Finally, putting a sixpence (no longer legal tender in Scotland, or the UK) but these coins can be bought online if you don't have any older relatives who have held onto a few for just this occasion) in the brides shoe is also considered good luck.
We have done this for family weddings here in the USA. Check out the Etsy listings for lucky sixpences here, they only cost a few dollars!
Scottish wedding rings come in a huge variety of styles and can include traditional Scottish or Celtic designs. Gold and diamonds are as popular in Scotland as they are just about everywhere else, but other metals such as silver, platinum and even titanium are used.
Popular Scottish wedding ring (and engagement ring) designs and decorations include celtic knots and patterns, thistles and luckenbooth symbols... and there's one to suit every taste and budget. Here are just a few examples:

If you're an Outlander fan, the skeleton key Scottish wedding ring might be fun, it's not a traditional Scottish design (historically) but is popular due to the Outlander book series!
Where the wedding is held
In Scotland an ordained minister is the only person able to perform a religious wedding ceremony.
Interestingly the minister can conduct the wedding in a church, or any other indoor/outdoor location of the bride/groom's choice because it is the PERSON who is licensed to hold the wedding, not the LOCATION.
Non-religious (civil) wedding ceremonies can only be held in an official registrars office.
Unity candles have a historic  place in Scottish weddings and are often decorated with thistles, tartan, luckenbooths and other lucky charms. Originally these candles symbolized the joining of two clans as well as two people.
Popular venues for Scottish weddings include churches, town or village  halls, gardens or other outdoor locations and even castles from time to time as certain ones are available to rent for the occasion!
Scotland Wedding Castle Venues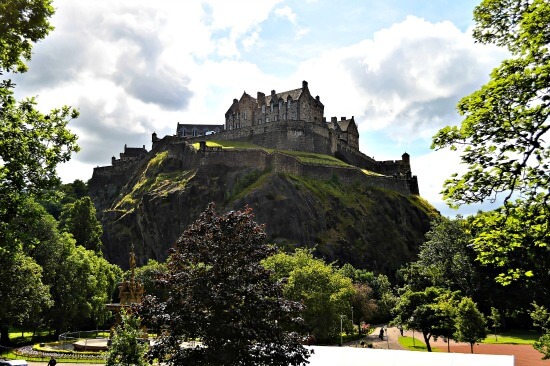 If you think a castle wedding might be for you, check out this Celtic Castles page or take a look at specific venues such as: 
Often a piper will lead the wedding party to the church, and it's considered lucky for the wedding march to cross water, twice, on the way.

After the ceremony, it's traditional for the groom to leave the church with the bride on his left, his left handing holding her right.
Folklore says that this custom dates back to the days when a bride might well have been won during battle and the groom would need his right hand to fend off any attempts by her family or clan to take her back by force!
Throwing confetti is traditional and today there are lots of different, fun colors and designs of papers to choose from.
If you want to throw tartan confetti, confetti printed with the poems of Robert Burns, the Saltire flag or even Outlander-inspired designs you can.
Another lovely idea is to use confetti made from Scottish flowers, check out Lavender-and-Rose.com to learn more about this beautiful option.
Ringing the church bells is the traditional way to declare that a wedding has taken place, and historically it is how people both local and further afield would know that a wedding had taken place. Today, for those not getting married in church, giving small hand-bells to guests to ring after the bride and groom have exchanged vows is another way to honor the custom. Scots believe that the sound of bells wards off evil, so another dose of good luck here.


Celebrations after a Scottish wedding
A Scottish wedding reception usually features a sit-down meal, toasts, speeches, wedding cake and the traditional first dance.
The bride and groom are often met by a piper as they leave the church, and he precedes them into the reception hall and across to their table.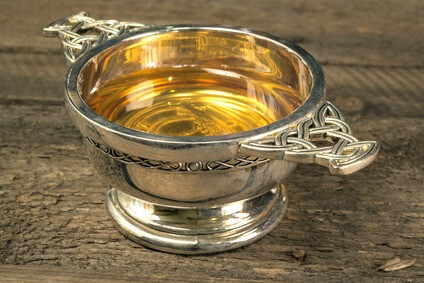 The two-handled quaich (aka loving cup) has it's place on the head table and is filled with whisky, or brandy, by the bride.
The newlyweds use the quaich for their first toast and sipped from the same cup symbolizes their bond. Check out this article for more info. on using a quaich at weddings including suggestions for toasts.
Scottish wedding cake used to be shortbread (often called the Bridescake), or a large scone, but today it's most often a deliciously dark, brandy-laced fruit cake.

This decadent cake is then covered with marzipan and topped with with traditional Royal icing. If you haven't tried it I strongly suggest that you do! FYI, Traditional Christmas cake in the UK is made pretty much the same way... and is equally delicious.
If you'd like to have someone make your wedding cake the traditional Scottish way, or you want to try to make it yourself, check out this recipe on the bbc.co.uk blog. Don't worry if it sounds a bit daunting, it IS time consuming to make, but totally worth it!
The only thing I would change is to highly recommend you make the Royal Icing (see link in paragraph above) rather than use ready-to-roll icing. There's no comparison in taste or texture and to me it's a shame to waste a scrumptious wedding cake with ready-made icing. Of course, that's just me! 
If you're using a wedding cake topper as the finishing touch check out these adorable, fully-customizable Scottish wedding cake toppers or this bride and kilted groom silhouette. 
Add a little extra tradition to the wedding cake by incorporating cake pull charms whose origins date back to Victorian times. To create a cake pull charm simply tie a tiny,  charm to a length of delicate ribbon. The easiest way to use it as part of the wedding cake ceremony is to arrange these ribbon charms on the cake board/platter with the ribbons towards the center and the charms hanging several inches off the edge. Then place the bottom layer of the cake on top of them which holds them in place.
It's then up to you who gets to tug on a ribbon and pull out a charm at the reception.  Traditionally it's a perk of being a bridesmaid but you can also include single female guests, or family members, or even pre-teen or teenage girls. If the cake pull charms are sterling silver, the bride can give her bridesmaids a silver charm bracelet for their gift so that they have somewhere to display it. 
Traditional Scottish cake pull charms include the thistle, celtic knot, celtic cross, saltire, heart, wedding bells, key.
This selection of beautiful, sterling silver Very Scottish wedding cake pull charms from Iona Bridal Studio on Etsy consists of nine traditionally Scottish symbols including the Unicorn, Thistle, Lion Rampant Shield and Luckenbooth. 
If you're from one of the southern US states, particularly Louisiana, you'll probably be familiar with wedding cake pull charms as they're often part of southern weddings.
There are usually two or three tiers on a traditional Scottish wedding cake but only the bottom tier is cut and eaten at the wedding. The smaller, top tier, is wrapped and kept in the freezer until the birth/christening of the couples first child.  
The happy couple will initiate the dancing with the Traditional Grand March. This is the first dance and begins with the bride and groom marching to a live piper, band or bagpipe music. The best man and maid of honor join next, then the bride and grooms parents and finally the rest of the wedding party and guests.

There's a vibrant party atmosphere at most Scottish wedding receptions and they are often loud, raucous and a lot fun.... you'll need stamina to keep up with the Scots too as most will go on well into the early hours of the next morning.
A little something Scottish....