Best Scottish Shortbread Recipe
A traditional Scottish shortbread recipe makes the most mouth-wateringly delicious treat.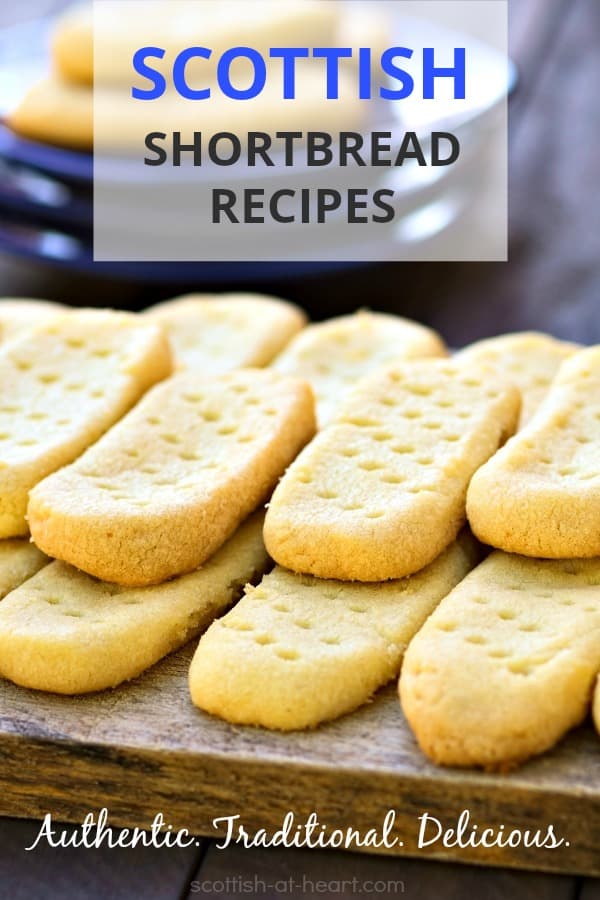 But over the centuries the ingredients used have changed quite a bit - and if a 12th century Scot was to get a taste of modern-day shortbread, he might get quite a surprise!
Today's recipes use butter and flour to produce that exquisite, melt-in-your-mouth texture and flavor.
The first shortbread was made from remnants of bread dough (hence the 'bread' part in the name) and contained oatmeal and yeast.
It was then sprinkled with sugar and baked slowly in a cool oven.
This produced a very hard, dry biscuit-bread. A handy, easily-portable snack which didn't spoil quickly. 
Try putting a piece of today's shortbread in your pocket and see what happens - it's an entirely different 'animal'!
About Scottish Shortbread
Originally the butter-shortbread variety was expensive and most people only got to taste it on special occasions.
These included weddings, Christmas, Hogmanay (New Year's Eve), Burn's Supper (a celebration in honor of the birth of Scotland's famous poet Robert 'Rabbie' Burns, January 25 each year) and other 'high days and holidays'.
Shortbread has several rituals and traditions associated with it.
Historically this tasty treat played a part in welcoming new brides in the Shetland and Orkney Isles to their marital homes.... as the bride and groom crossed the threshold a decorated shortbread (called the 'Bride's Bonn) was broken over their heads!
It is also still one of the foods offered to 'first-footers' (those going door to door on Hogmanay to welcome in the New Year).
Shortbread petticoat tails were said to be one of Mary Queen of Scots' favorites, and she is given credit for increasing the popularity of shortbread in the 16th century.

Even the way Scottish shortbread is decorated is symbolic and traditional.
The edges of the circular shortbreads are decorated by pinching with the thumb and forefinger, or making cut-marks with a knife, and it's believed that this is a nod towards the Scots early sun-worshipping days as these pinched edges symbolize the sun's rays.
The center of the shortbread circles, and the length of the shortbread bars are pricked with a fork to complete the decorations.
I'll bet you didn't know that there's also a 'National Shortbread Day', which falls on January 6 every year!
There are three different 'styles' of Scottish shortbread:
A large circle, which is divided into 'slices' (like a pizza!). These are called 'petticoat tails' - probably because the design looks very similar to the pattern used to make a full petticoat (worn under dresses) at this time. 



A rectangle which has been cut into strips or bars. These are called 'shortbread fingers'


Individual small circular biscuits (like cookies). These are called 'shortbread rounds'
Recipe #1
Ingredients:
1 lb (450g) butter
8 oz (225g) castor sugar (uperfine sugar)
1 lb (450g) sifted plain flour (all-purpose flour)
8 oz (225g) rice flour
pinch of salt - if using unsalted butter

Directions/Method:
Set oven to 375F - 190C - Gas Mark 5


Cover an ungreased baking sheet (cookie tray) with grease-proof paper (wax paper)


Mix flour and rice flour, then add salt (if you're using unsalted butter), and sift these dry ingredients at least twice, preferably three times


Cream butter and sugar together with a wooden spoon (be warned - this takes serious 'elbow grease' but produces a better end result!). Add the sifted ingredients and mix together by hand until you have a soft dough, then form it into a ball.


Recipe #2
Ingredients:
3 oz (85g) icing sugar (confectioner's sugar)
3 oz (85g) castor sugar (superfine sugar)
10 oz (280g) butter
1 lb (450g) plain flour (all purpose flour)
Directions/Method:
Set oven to 280F - 140C - Gas Mark 2
Cream the butter, icing sugar and castor sugar together using a wooden spoon.
Sift the flour 2 or 3 times, then gradually mix into the creamed butter and sugar using your hands, until a firm dough is formed.
On a lightly floured surface roll or press dough until about 1/2 inch thick and use a cookie cutter to make 'rounds' or shapes, or slice into 3" x 1" bars and prick the top with a fork.
To make a larger round for 'petticoat tails' follow instructions here.
Bake in pre-heated 280F oven for for approx 30 to 40 mins, shortbread will be a light golden color when it's ready.
Shortbread dough needs a light hand!
The shorter the time it takes to mix the ingredients, and the less handling is involved the better. When you minimize both of these you get shorter, crumblier and more delicately textured shortbread.
DON'T be tempted to 'knead' at the dough, as this will make the it 'tough' - and the finished result won't be what you are hoping for.
Scottish Shortbread Shapes
There are three different and traditional styles of Scottish shortbread:
Petticoat Tails: A large circle, which is divided into 'slices' (like a pizza!). These most likely got their name because the design looks very similar to the pattern used to make a full petticoat (worn under dresses) at this time 



Fingers: A rectangle which has been cut into strips or bars


Rounds: Individual small circular biscuits (like cookies)
Make Petticoat Tails by pressing the dough into a circle about 8 - 10 inches across, and about 3/4 inch thick.  Carefully transfer dough to baking pan of your choice.

Mark out 16 'slices' with a knife (don't cut all the way through), prick each wedge several times with a fork. Decorate by pinching the outer edges of the dough between thumb and forefinger, and then use a fork to prick the rest of the dough. 
To bake your shortbread cookies you can use a regular metal or ceramic pan (line a metal one with baking parchment or a silicone baking mat), a simple ceramic pan, or a pan made specifically for shortbread such as one of the Brown Bag range which have integrated patterns which let you turn out professional looking shortbread cookies quickly and easily.

There are several other designs too, including the Brown Bag Rose Window pan, or why not  combine your Scottish roots and American pride by using Brown Bag's American Butter Shortbread Cookie pan.
If you prefer a metal tin, the Nordic Ware Snowflake Shortbread pan is another great option, and perfect for making beautiful shortbread to snack on with a hot drink in the winter time.
Making Shortbread Fingers:
On a lightly floured surface, press (or use a rolling pin - sparingly!) dough out until it's about 1/2 inch thick, and rectangular in shape and mark into fingers that are approx. 3" x 1"  Prick the top with a fork.
Making Shortbread Rounds: You can use a simple circular cookie cutter, one with rippled edges (very traditional!) or if you don't have either the rim of a smallish glass works great too! If you aim for rounds which are approx.  1 to 1 1/2 inches in diameter that's average.
I love the traditional cutters with rippled edges, my nana always used them. Try a set of four different sized square shortbread cookie cutters, three round ones or a traditional slim 3" rectangle cutter for your shortbread fingers.
If you want to be a little fancy with your cut out shortbread, try a cookie stamp with a traditional symbol such as a Scottish Thistle shortbread cookie stamp.
Of course you can cut the dough into any shape you want, and holiday shortbread santas, bells, snowmen etc. are always popular.
Tips for Baking Perfect Shortbread:
Bake in oven pre-heated to 375F for 20 minutes, then reduce to 350F (180C/Gas Mark 4) and continue to bake until shortbread is pale golden. This could be between 45 mins and 1 hour, depending on exactly how thick you've made the shortbread.

The color is the best indicator that the shortbread is 'done'. You're aiming for a lovely pale gold all over, if the edges start to look dark then you're in danger of burning them!
Allow to cool in pan, then remove to wire cooling rack. When thoroughly cooled these can be stored in an air-tight cookie tin or container.
Smaller 'Rounds' or specialty 'holiday' type shortbread cookies need less baking time. Usually somewhere around 20 minutes. Again rely on the color of the shortbread to know when it's done. 
This can take a little practice, but is well worth the effort!
If you're using a shortbread mold, it's a good idea to dust it with powdered sugar (called 'icing sugar' in the UK) and put it in the fridge for a short while before baking.

Shortbread Cookie Recipe Variations
You can make all sorts of shortbread cookies using a basic Scottish shortbread recipe and then adding a variety of spices, dried fruit, nuts etc..... pretty much whatever you fancy, so be creative!
Not feeling too adventurous? Then try one of these variations..... simply pick whichever one you want to try and add it to either of the basic recipes above. It's super easy.
3 tbsp grated lemon/orange zest or 1 tsp. lemon/orange extract
Mix together...
2 tsp cinammon, 1/2 tsp ground ginger and 3/4 tsp allspice
Add half to dry ingredients, then use the other half to sprinkle over shortbread before baking.
You can use one, two or all three spices depending on your own personal preference.
Or try one of these:
1 tsp caraway seeds
1 tsp almond essence
4 tablespoons of finely chopped pecans
3 oz cup of dried fruit eg. raisins, sultanas, cherries, dates etc
3 oz chocolate chips 
Hooked on Scottish Goodies?
Scottish 'treats' come in all shapes, sizes and flavors. Each and every one of them is delicious!
If you'd like to taste more of the magic, check out these books for more baking and cooking recipes.....
Scottish Shortbread Recipe
A little something Scottish....