Scottish Coburg Cakes
Although some Scottish baked goods are world-famous (think scones and shortbread), Scottish Coburg Cakes are much less well known - but what they lack in fame, they make up for in taste! 
I remember these little cupcakes being a staple in our home growing up. My Nana was an incredible baker (and cook) and coming home from school to the aroma of her efforts was amazing.
Coburg cakes are packed with delicious flavor because the recipe calls for spices, cinnamon and treacle. 
They're easy to make, and Nana would top them with water-icing which contained a generous helping of cinnamon. Yum.
One of my little granddaughters only ever eats the frosting or icing from her cupcakes, but she eats every last crumb of my Coburg Cakes, that's how good they are!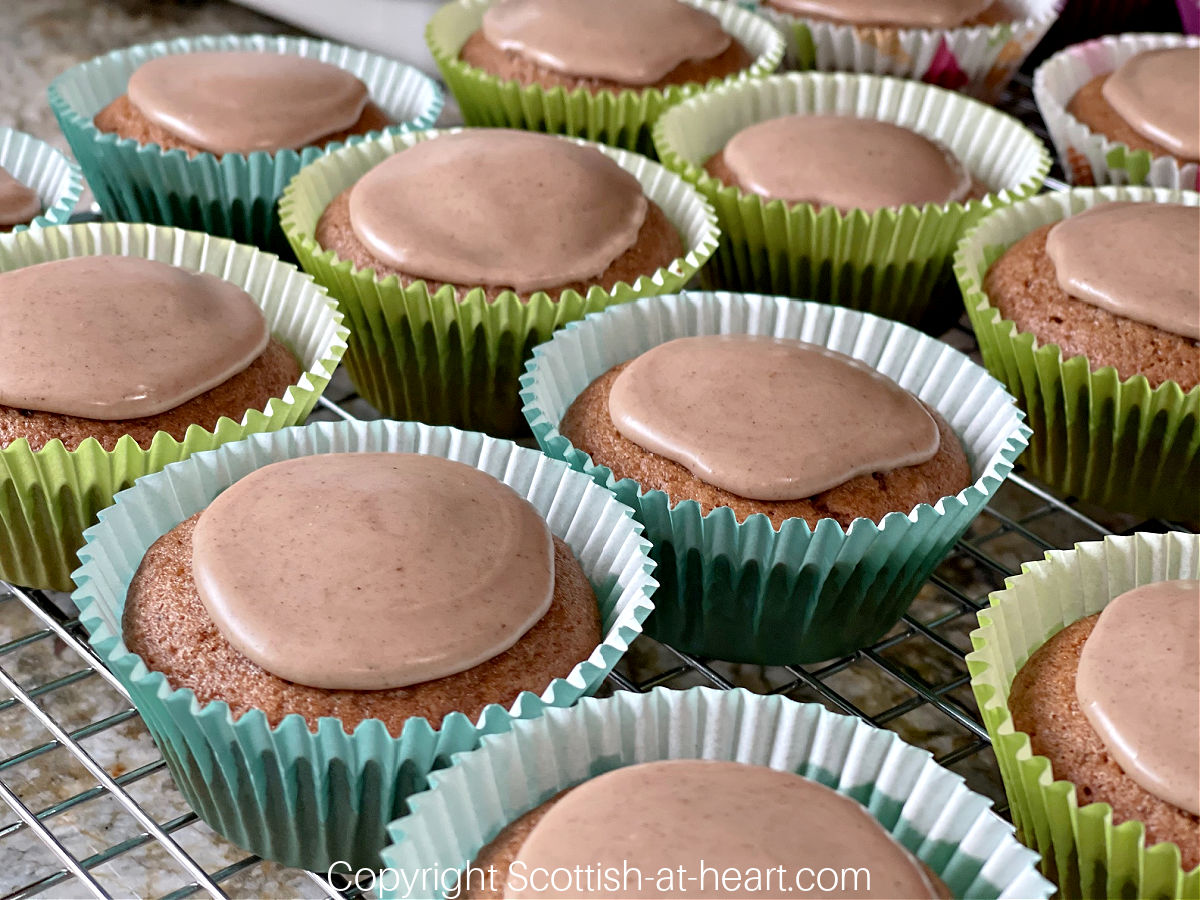 About Coburg Cakes
As with the sweet, melt-in-your-mouth Empire Biscuits, Scottish Coburg Cakes may have originated (or been fashioned after), a recipe or cake from another European country.
Coburg is a town in Germany, so logically you'd think that Coburg cakes have at least some ties there but I wasn't able to find any references to them or proof of that.
My Nana's recipe book dates back to when she was a young, married woman, and she was born before the turn of the century so these little spice cakes have been popular in Scotland for decades.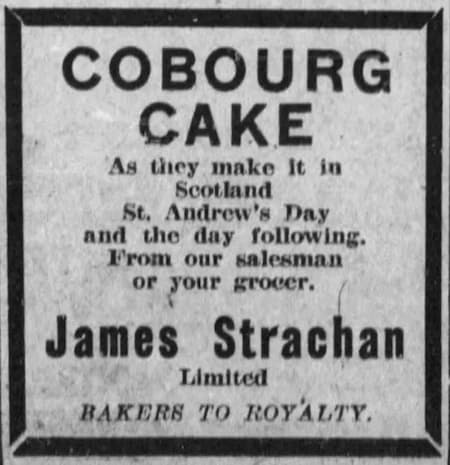 As seen in The Montreal Gazette, 1923
The clipping above is the earliest image I could find (note the slightly different spelling). A recipe for Coburg cakes also appeared in the Good Housekeeping Cook Book in the 1930's and in the Boston Globe in 1933.
A quick search online will turn up a wide variety of recipes for Coburg cake, or cakes, some include almonds, or sultanas. They all include a variety of sweet spices and treacle or syrup. None have the yummy icing Nana put on hers though!
Ingredients
The ingredients for nana's Scottish Coburg Cakes are basic sponge cake ingredients with the all-important addition of spices and treacle which gives them their beautiful color and the warm, spicy flavor.
This recipe makes approx. 18 cup cakes.
6oz self raising flour
4 1/2oz caster sugar*
4oz margarine
2 eggs (beaten)
3 tsp cinnamon
1 1/2 tsp mixed spice**
3 tsp treacle
3-4 tsp cold water
For the icing you'll need approximately
5 1/2 oz confectioners or powdered sugar
1/8 cup water
2 tsp cinnamon
* caster sugar is much finer than granulated sugar and is popular in the UK for baking. In the US it's not generally found on store shelves. You can buy it from Amazon or other outlets, examples include Judee's Superfine Baker's Sugar or Tate & Lyle's Caster Sugar. Because the texture is lighter caster sugar dissolves more quickly and produces a finer texture in your baked treats.
You can also make your own caster sugar by putting granulated sugar in a food processor for 30 seconds or so. If you're  using ounces to measure your ingredients there's no need to change anything, but if you're using cups (in the USA) then you'll want to measure your sugar AFTER you've processed it.
** Mixed Spice is NOT the same as Allspice. Mixed spice contains a variety of sweet spices such as cinnamon, nutmeg, ginger, cloves etc. Allspice is made from one single ingredient, the berry of the Myrtle Pepper Tree (found in the Caribbean). While it tastes a little like mixed spice, Allspice is stronger tasting and it wouldn't produce the flavor you want in this recipe. Allspice and mixed spice are not generally considered to be interchangeable.
I have made this recipe in a few different ways over the years (due to being in the US and trying to find comparable ingredients locally).
I've used a combination of individual spices and syrup or molasses at times. But the only way I can get them to taste like they did when nana made them is to buy the treacle she used, and a specific brand of mixed spice.
Her original recipe just says 'mixed spices' so in the beginning she may have made her own mix using cinnamon, nutmeg, cloves and other sweet spices. But in later years she always used Schwarz Mixed Spice (it's also what she used in her Fruit Bread recipe and many others).
Now, treacle is molasses, but I've used molasses and for some reason the flavor isn't the same. In our house it was always Tate & Lyle's Black Treacle (or Tate & Lyle's Golden Syrup in some other recipes, or on pancakes), just seeing the tins they come in takes me back to being a kid!
Instructions
The instructions for making Scottish Coburg Cakes are simple, it's just like making any kind of cupcake! 
I use a food processor but you can mix it by hand or use a stand mixer, whichever you prefer and are comfortable using.
Preheat oven to 350F
Put flour into a bowl and add cinnamon and mixed spice
Stir dry ingredients until combined
Cream sugar and margarine until soft and fluffy
Alternately add beaten eggs and flour mixture, stirring or mixing well in between each addition
Add treacle and beat well*
Add water until mixture drops slowly from your spoon (not runny)
Spoon mixture into cupcake cases
Bake at 350F for approx. 15 minutes or until fully risen and firm to the touch. Don't overbake or they may dry out.
Allow to cool completely before icing
* To prevent the treacle sticking to your measuring spoon simply use a little spray oil on the spoon first, the treacle will slide right off!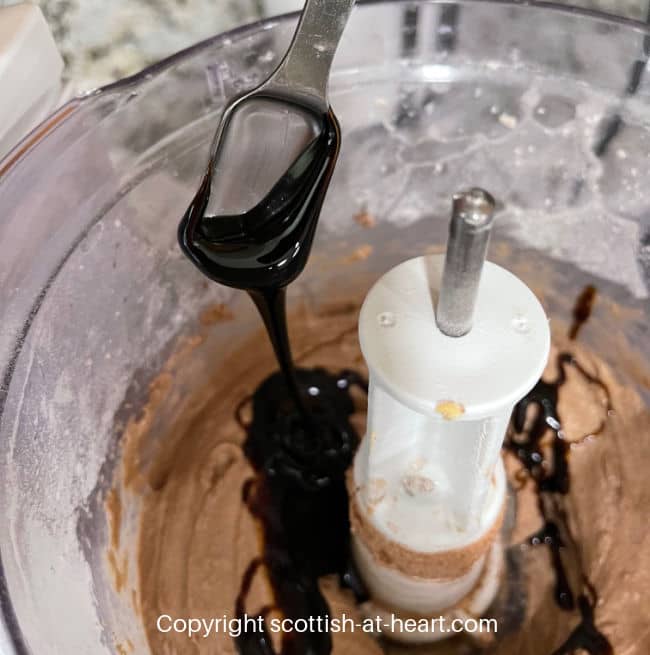 How to make water icing
It's quick and easy to make water-icing. Simply put the powdered sugar into a measuring jug or small bowl, add water a little at a time mixing as you go. I always use a butter knife to mix, and then apply, the icing.
You want your mixture to be spreadable, but not runny. With a little practice you'll be able to eye-ball it quickly.
Once you get to the right consistency add the powdered cinnamon and mix well. You may need to add a few more drops of water once the cinnamon is mixed in.
If, while you're icing your coburg cakes, the icing thickens up too much to spread you can just dip your knife in warm water and stir it up again. This is usually enough and you don't need to add more water. 
If you're new to making water-icing you may be surprised how little water it takes to liquify the sugar... so take it slow as you add water until you're familiar with the process.
Coburg cake is delicious with coffee or tea, and I hope you enjoy it as much as we do!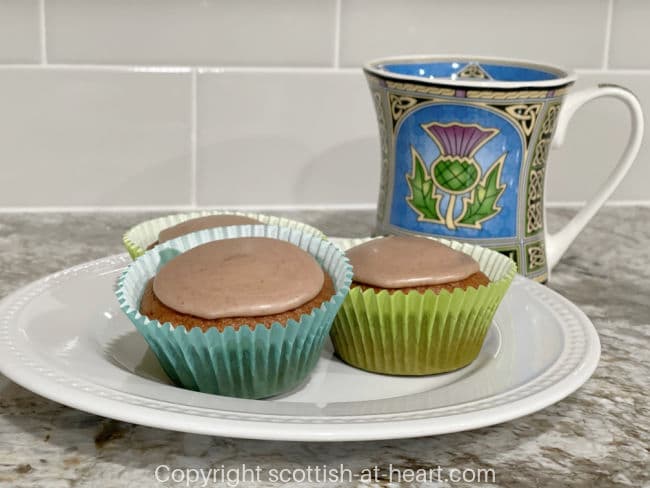 If you like my Scottish mug find it HERE I have my tea in it every day!
A little something Scottish....