Easy Scone Recipe
Here's an easy scone recipe that will help you whip up a batch of mouth-wateringly delicious authentic Scottish scones, in no time at all. Scones originated in Scotland, and I think Scottish scone recipes are the best in the world!
The correct Scottish pronunciation is 'skon' which rhymes with 'gone', and NOT 'skoan' which is the English adaptation of the word.

Originally a type of flat 'cake', made from oats or barley meal and cooked on an open griddle or in the oven, scones have been popular in Scotland for centuries.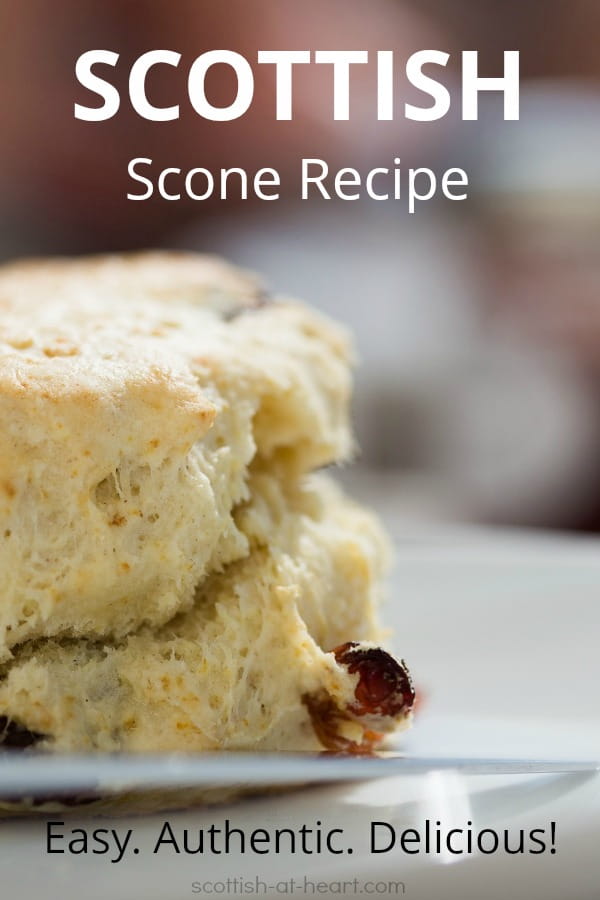 Easy Scone Recipe Ingredients
British/Imperial Measurements:
US Measurements/Cups:

1 cup Self-Rising Flour
1 tsp Baking Powder
1/4 Cup (1/2 Stick) Margarine
2 rounded tbsp Superfine Sugar
2/3 Cup Milk
Directions
Set oven to 425F - 220C - Gas Mark 7


Mix the flour and baking powder in a bowl, rub in margarine using your fingers - or cut it into the dry ingredients using two knives/pastry blender


Stir in the sugar, then add milk a little at a time while mixing to a stiff dough with a fork. Be careful not to overmix as that can make the scones 'tough' (not soft and crumbly as they should be)
   
Turn dough onto a floured surface and roll out to about 1/2 inch thick. Cut into rounds (the traditional Scottish scone shape) using a cookie cutter or into triangles if you prefer


Place on baking tray/cookie sheet and bake for about 10 minutes, or until scones are risen and golden.
Scones are at their very best when served warm with butter and jam/preserves (jelly). For a truly authentic flavor, try them with Tiptree Strawberry Conserve or Duerrs Blackcurrant Preserves.
Oooh my mouth is watering! 

Scone Ingredient Variations
There are lots of variations on this basic easy scone recipe, and fruit scones are probably the favorite alternative to plain scones.

To make quick fruit scones, simply add 2 oz (or 1/4 cup) raisins or Sultanas to the mixture at the same time as the sugar.
For a less traditional, but equally delicious, taste try adding chopped dates, dried cranberries or cherries, blueberries or grated orange peel.

Try A Devon Cream Tea...
While not a Scottish tradition, a Devon Cream Tea or a Cornish Cream Tea (Devon and Cornwall are counties in the southwest of England) features delicious homemade scones slathered with jam (aka jelly) and unique 'clotted cream' from the region.
It's incredibly delicious and served with hot tea (of course).
If you'd like to try making your own Devon Cream Tea simply follow the above recipe, then add your favorite jam/jelly and real English Clotted Cream. Enjoy!
Related Pages: