Nanas' Fruit Bread Recipe
My Nanas' fruit bread recipe is a family-favorite that's been handed down through generations.
Fruit bread is a little heavier, more dense and less sweet than fruit cake.
Unlike regular bread you don't need any yeast. It's apparently tricky to describe but tastes amazing so you'll just have to try the recipe and then you'll know what it's like.
One of the things which makes this fruit bread extra delicious is that the dried fruit is steeped (aka soaked) in strong black tea (either overnight or for a minimum of two hours) so that it's plump and moist by the time it goes into the batter. Yummy!
Scottish Fruit Bread Ingredients
British/Imperial Measurements:

8 oz (250g) Self-Raising Flour
4 oz (110g) Dark Brown Sugar
8 oz (227g) Mixed Dried Fruit (Raisins, Sultanas, Currants etc.)
1 Egg (beaten)
2 tsp (heaping) Ground Mixed Spice**
2 tbsp Marmalade
1 cup of strong, hot tea, cooled
Milk to mix as necessary
Don't forget to steep/soak the dried fruit in black tea overnight, or for at least 2 hours, before you begin this recipe!
** The flavor of the bread depends significantly on the type of mixed spice you use. I'd suggest Schwartz Mixed Spice or something similar. Be sure that whichever brand you choose includes (at a minimum) Ginger, Cinammon and Nutmeg .
US Measurements/Cups:
1 Cup Self Rising Flour
1/2 Cup Dark Brown Sugar
1 1/4 Cups Dried Mixed Fruit
1 Egg (beaten)
11g Ground Mixed Spice
25g Marmalade
285ml strong, hot tea, cooled
Milk to mix as necessary
Baking Instructions
Set oven to 350F - 180C - Gas Mark 4


Line 9" x 5" loaf pan with wax paper


Mix all dry ingredients together in large mixing bowl


Add egg, marmalade and fruit mixture/tea and stir together well with wooden spoon. Add enough milk to allow mixture to pour slowly into loaf pan


Bake for 30 - 40 minutes until golden brown


Allow to cool before removing from loaf pan
Slice and serve with butter and you'll have delicious Scottish Fruit Bread for tea time, coffee time... or anytime.
This tea-time treat never lasts long in our house :)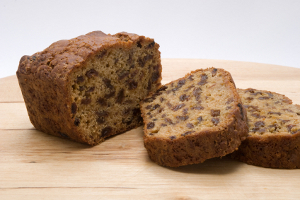 Although this fruit bread recipe is exclusively Scottish and an edible family heirloom passed down through generations, you can find similar breads in Wales.
They're called Bara Brith. Traditionally Bara Brith are made with a yeast dough (which our recipe is not) but they can also be made without it.


So glad you enjoyed the fruit bread Elaine!
A visitor took the time to let us know how much she enjoyed this recipe :) Thank you Elaine.. that means a lot to us. It IS pretty good!
'I am English, but have lived in Canada for 40 years.... I love your recipe for Scottish Fruit Bread which is delicious. 
I did have a recipe for tea bread but nowhere as nice as yours... it's a keeper!
Elaine'
Related Pages:
A little something Scottish....