Nanas' Fruit Bread Recipe
My Nanas' fruit bread recipe is a family-favorite that's been handed down through generations.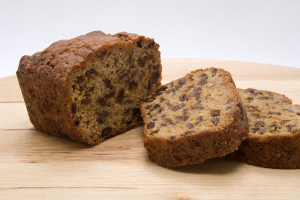 You might be wondering what 'fruit bread' is (as opposed to 'fruit cake' that is)..... it's difficult to describe but if pushed I'd have to say it's somewhere midway between the two!

Not bread in that it's more moist, doesn't require yeast, and if you're thinking 'raisin bread' you'd be way off. However, it's not quite cake either as it's heavier than cake and again, more moist.
Apparently words fail me here, so the only thing to do is to try this Scottish fruit bread recipe for yourself :o)
Even though I can't describe it, I CAN tell you it's delicious!


Ingredients
British/Imperial Measurements:
8 oz (250g) Self-Raising Flour
4 oz (110g) Dark Brown Sugar
8 oz (227g) Mixed Dried Fruit (Raisins, Sultanas, Currants etc.)
1 Egg (beaten)
2 tsp (heaping) Ground Mixed Spice - incl. Ginger/Cinammon/Nutmeg etc.
2 tbsp Marmalade
1 cup of strong, hot tea, cooled
Milk to mix as necessary
Dried fruit needs to be soaked ('steeped') in the tea overnight, or for at least 2 hours, before you begin this recipe!


US Measurements/Cups:
1 Cup Self Rising Flour
1/2 Cup Dark Brown Sugar
1 1/4 Cups Dried Mixed Fruit
1 Egg (beaten)
11g Ground Mixed Spice
25g Marmalade
285ml strong, hot tea, cooled
Milk to mix as necessary


Directions
Set oven to 350F - 180C - Gas Mark 4
Line 9" x 5" loaf pan with wax paper
Mix all dry ingredients together in large mixing bowl.
Add egg, marmalade and fruit mixture/tea and stir together well with wooden spoon. Add enough milk to allow mixture to pour slowly into loaf pan.
Tip: The mixture should settle smoothly into tin, but not too 'runny'/thin.
Bake for 30 - 40 minutes until golden brown.
Allow to cool before removing from loaf pan. Slice and serve with butter and you'll have delicious Scottish Fruit Bread for tea time, coffee time... or anytime. It never lasts long in our house :)

Related Pages:
Home

›

Scottish Recipes
› Fruit Bread Recipe