Dumbarton Castle
Dumbarton Castle (from the Gaelic 'Dun Breatainn' meaning 'fortress of the Britons') is perched 240 ft above the town of Dumbarton.
The twin peaks of a volcanic rock, known as 'Dumbarton Rock', provide the perfect defensive position!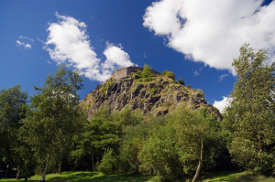 Dumbarton Castle, Scotland
This rock was home to a settlement called Alcluith (meaning 'Clyde Rock'), whose first records appear as early as 450AD. There was likely a simple fortress as part of this settlement, "Dun Breatann" meaning 'Fortress of the Britons'.
Over the next several hundred years, Dumbarton Rock was besieged, fell, was regained and fell again before the settlement there was destroyed by Viking raiders.
The second stage in the history of Dumbarton Rock begins in the 13th century, when documentation suggests that a medieval castle was built on the the summit by Alexander II of Scotland.
Only the Portcullis Arch (built in the 1300's) and the Guard House(built in the latter half of the 16th century) remain today.
The third stage of the castles' development took place between the late 17th and late 18th centuries. The was left of the existing castle structures were destroyed, and yet another castle was built on this lofty perch.
Artillery fortifications and the 'French Prison' are about all that's left today, with very little of the medieval castle (and none of the earlier one) still standing.
Interesting facts about this Scottish Castle.....
The legendary wizard, Merlin, whose fame lies in the legends of King Arthur, is said to have visited Dumbarton Castle during the 6th century. But it wasn't exactly King Arthurs' Merlin that was here, but his real-life counterpart - Myrddin Wyllt who lived between 540 and 584AD.


This Scotland castle was an important royal refuge and is said to have been the hiding place for the young Mary Queen of Scots, before she fled to France at the age of 5.


William Wallace may have been held prisoner here


The Dumbarton Rock itself is legally protected by the Scottish Government and is a recognized Ancient Monument


This may be the longest-standing military stronghold in the UK, as the first fortress may have been there at the time the Romans left Britain (approx. 367 AD), and as recently as World War II it was still home to a military base.
Dumbarton Castle is open to the public between April 1st and November 31st - BUT, this isn't for the faint-hearted or for those who don't like to expend energy.
There are 547 steps to climb in order to reach the 'White Tower Crag', but if you can do it you'll be rewarded with magnificent views and find yourself getting 'up close and personal' with some incredible history!


Related Pages:

Balmoral Castle

Cawdor Castle

Edinburgh Castle

Eilean Donan Castle

Urquhart Castle


Home

›

Scottish Castles
› Dumbarton Castle