20 Haunted Castles in Scotland
There are said to be LOTS of haunted castles in Scotland, which isn't surprising when you realize that Scottish history, culture, traditions and folklore are peppered with tales of fairies, monsters, spirits and the supernatural.
Around 1500 still exist in Scotland today - in a variety of conditions from fully restored masterpieces to enigmatic ruins, and as ghosts and spirits don't appear to be picky they can (and are) to be found in Scottish castles of any age, description or condition.
These restless souls wander the corridors, towers, staircases and dungeons of some of Scotland's most famous (and infamous) castles. 
Occasionally there is a video or photograph that claims to prove the paranormal activity, mostly the hauntings are based on legends and personal encounters or experiences.
Given what has happened within the walls of Scotland's castles during their lifetimes (battles, murders, suicides, torture and more) I don't think it's too much of a stretch to believe that a few lonely souls still live within their ancient walls.
Some of the most haunted castles in Scotland
Whether you believe in ghosts or spirits, are skeptical, or simply find ghost tales good for a laugh, I hope you enjoy learning about the haunted Scottish castles we've featured here.


Airth Castle - Stirlingshire
Airth castle was built in the 1300's and was once owned by the family of Robert the Bruce. The 14th century tower is known as Wallace's Tower after William Wallace is said to have rescued his uncle from it during the Wars of Independence.
Airth Castle is now a luxury hotel and spa (learn more about that here).
The ghosts or spirits said to haunt Airth Castle include the Green Phantom, the ghost of a groundsman who is reported to haunt the lower levels of the castle and the ghosts of a nanny/housekeeper accompanied by two children. Airth Castle is said to be one of Scotland's most haunted castles.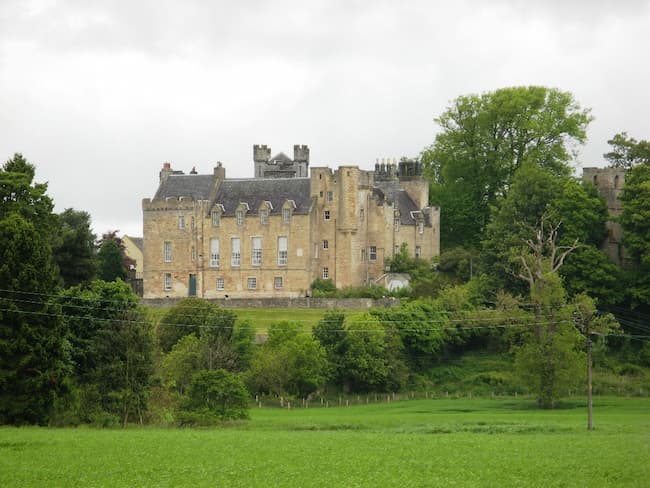 Airth Castle
The children reportedly died in a fire at the castle during the 17th century and the woman is still searching for them today. Some say that the sound of the children playing can sometimes be heard in rooms 3,4,9 and 23 or running along the corridors.

An odd photo taken in 2007 of some wedding party members in Airth Castle showed a blurred image in the background which many think could be the ghost of the groundskeeper (aka the Green Phantom). 

Other weird happenings include footsteps appearing randomly on a dusty, unused staircase and a ghost dog who occasionally nips at people's ankles.
Alloa Tower - Clackmannanshire
Alloa Tower is one of the earliest Scottish Tower Houses and is believed to have been built in the 14th century.
According to local legends, in the 16th century the Abbot of Cambuskenneth put a curse on the tower itself and on the 17th Earl of Mar (John Erskine) and his family who lived in it at the time. the tower family who lived in it, had a curse put on them.
Today, ghost stories talk of spirits who inhabit various rooms and the dungeon is said to house the ghost of a man in chains, presumably a former prisoner during the early days of the tower's existence. Some reports say he is accompanied by the specter of a servant girl.
The scariest room is the Solar Room, where a phantom man has been reported to be seen hanging. Even worse, some visitors say they have had the feeling of being strangled while in that very room!
Barcaldine Castle - Oban
Barcaldine Castle (link to Barcaldine castle on castle stays part 1 page) was built in the early 1600's by 'Black' Duncan Campbell, a famous member of the Campbell clan.
In the 18th century, Duncan's brother, Donald Campbell (the Laird of Barcaldine) lived in Barcaldine Castle, was killed by Stewart of Appin in a cowardly, surprise attack during the Massacre of Glencoe, and ghostly presence is said to be felt in the Great Hall.

You can read all about the Campbell brothers, the attack, the ghostly presence of Donald who came to Duncan prior to him knowing that his brother was dead, and more in The Legend of Duncan Campbell which can be seen, and downloaded, HERE 
Barcaldine Castle offers Airbnb accommodation which you can learn more about here.
Brodick Castle - Isle of Arran
Built using beautiful red sandstone, Brodick Castle sits at the base of Goatfell Mountain on the Isle of Arran, on a site that is believed to have been occupied since at least the time of the Vikings in the twelfth and thirteenth centuries.
It has a wild and turbulent history, having been damaged and rebuilt more than once during various clan battles.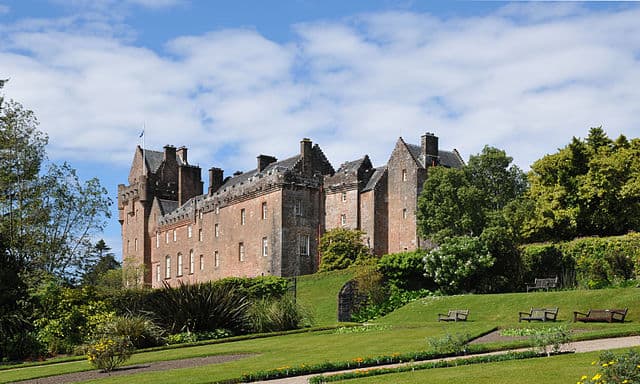 Brodick Castle
Clan Stewart erected the earliest fortress at this location (post Viking occupation) but were overthrown and the castle claimed by Clan MacDonald in the early 13th century, only to be captured by Edward I of England during the Scottish Wars of Independence at the end of that same century.
It was then recaptured by Robert the Bruce in 1307 and continued to change hands regularly until the late 17th century.

Given all that, it will come as no surprise to learn that Brodick Castle has it's own share of resident ghosts!
There is the Grey Lady who appears in the oldest parts of the castle, and has been observed close to staff members who have been totally unaware of her proximity. There are two different beliefs as to who she is. One says that she's ghost of a woman who had the plague and was left in the dungeons to starve to death, possibly alongside two other women in the same situation. The other says she is the ghost of a servant girl who became pregnant and was dismissed from her job and disowned by her family. As a result she drowned herself near the entrance to the castle.
There's also the ghost of an unknown man who can sometimes be seen sitting reading in the library, wearing a green jacket, plus a few sightings of a second ghostly male figure in the corridors.
Legend has it that a ghostly white stag can sometimes be seen in the gardens and there are also two opposing stories surrounding his appearance. One says that it usually happens when one of the chiefs of the Hamilton family pass away (this family owned the castle previously), the other that his appearance is a harbinger of good fortune. There is a beautiful sculpture of this mythical animal in the castle grounds.
Castle Fraser - Aberdeenshire
An tower house that dates back to at least the 15th century predated Fraser Castle as we know it, which was built over a period of sixty years, beginning in the late 16th century. Castle Fraser was the home of the Fraser family for almost half a century.
This reportedly haunted castle claims several ghosts including an unnamed princess who was murdered while sleeping in the Green Room, and then her killers dragged her body down the stairs of the Round Tower.
Legend has it that the bloodstains left by her body couldn't be removed from the stone steps and they were then covered up with wooden panels.
In addition the the mysterious princess, there are allegedly several other ghosts and spirits within the castle walls. They include the ghost of Lady Blanche Drummond who died of tuberculosis (called 'consumption' at that time) in 1874. She's said to roam the castle and grounds wearing a long black dress.

There are also reports of a host of other ghostly and otherworldly happenings at Fraser Castle, such as the sounds of children laughing and singing when there are no children present.
The Great Hall is sometimes the source of laughter, music and even whispers even though there it's completely empty.
Castle Mey - Caithness
Castle Mey is a 16th century castle in the far north of Scotland, with views out towards the Orkney Islands. It's most famous for being a royal residence as it was purchased by Queen Elizabeth the Queen Mother in the 1950's and was her beloved summer home right up until her death.
Castle Mey (aka Castle of Mey) is said to be haunted by the Green Lady, who is the ghost of Lady Fanny, a daughter of one of the Earls of Caithness. Legend has it that she was in love with a local ploughman, but their relationship was forbidden by her father who then locked her up in the tower.
One story says that shortly afterwards, heartbroken and desperate, she threw herself to her death from one of the windows. Another that she fell accidentally while leaning out too far when trying to catch a glimpse of her beloved.
Now, the Green Lady wanders through the old castle tower, and some staff and visitors to the castle claim to have felt her presence, and noticed unusual happenings on the top floor of the castle.
Castle Menzies - Perthshire
The Chiefs of the Menzies Clan made Castle Menzies their home as early as 1488, but it had existed for centuries before that and was added to and improved in the 16th century, among others.
Bonnie Prince Charlie stayed in Castle Menzies in 1746 while on his way to the famous Battle of Culloden.

Castle Menzies
Photograph dated 1908
By the mid 1950's the castle was in ruins. It was restored and renovated over the following decades, but maintains it's original character and unique aspects.

It's a popular venue for ghost hunters and a paranormal investigator claims to have used an EVP monitor (also known as a Ghost Radio) in Castle Menzies and received responses from the ghosts or spirits there.
During a ghost tour of the castle an orb apparently appeared in front of 40 people before disappearing down a corridor. This happened more than once to different tour groups.

In addition to these weird goings-on, reports of three ghostly women (thought to be witches) being seen in the meat cellar; cold spots in a bedroom and footsteps, clanking noises and odd sights at windows have all been reported.
I guess it's not surprising then that Castle Menzies is thought to be one Scotland's most haunted castles.
Crathes Castle - Banchory
Robert the Bruce gifted some land to the Burnetts of Ley family in 1323, and during the 14th and 15th century a wooden fortress was constructed there. Crathes Castle itself was built on this site in the 16th century.
Relics unearthed in the castle grounds have shown the area to have been inhabited as early as 8000 BC, so there is no shortage of history here.
During 18th century renovations to the castle, the bones of a child were discovered beneath a hearthstone in The Green Lady's Room.
The room's name was a nod to the ghost of the Green Lady, a young woman wearing a green dress, who had been seen cradling a baby by the fireside many times over the centuries. Even Queen Victoria is said to have seen her.
Culzean Castle - Ayrshire
As early as the 1300's, a stone tower house belonging to members of Clan Kennedy sat on this windswept cliff-top on the western coast of Scotland.
In the 18th century Culzean Castle began it's transformation into the elegant and imposing castle which can be seen today. Another of Scotland's most haunted castles, Culzean is said to be home to between five and seven separate paranormal entities including a knight in full armor, a phantom piper, the ghost of a young girl whose ghostly footsteps can be heard running through the corridors and an unexplained mist that occasionally hovers on one of the castle's staircases.
Check out this youtube video made by the "Most Haunted' team who went searching for Culzean Castle's ghouls and ghosts.
Dalhousie Castle - Edinburgh
Today the only original parts of the original 13th century Dalhousie Castle which exist are the foundations and vaults. Over the following centuries it was altered and added to, and the 15th century tower made from local red stone is the oldest part of the castle as it is now.
Dalhousie Castle has a long and fascinating history and has given shelter to many famous historical figures including King David 1st of Scotland, Mary Queen of Scots, Sir Walter Scott, and even Queen Victoria.
Given it's age and history, it's not surprising that Dalhousie Castle is said to have several resident ghosts and is one of the most haunted places in Edinburgh.
The most well-known, and frequently seen ghost, is the Grey Lady who is believed to be the ghost of a 16 year old girl known as Lady Catherine Ramsay who lived at the castle in the 17th century.
Some stories say she was mistress to one of the Ramsay Lairds, others that she was in love with a stable-hand, either way she was apparently banished to the tower and died there of starvation and/or a broken heart. Wearing a grey dress she now wanders through the towers, dungeons, stairs, and main corridor.
Dalhousie Castle is now a hotel and spa and some guests have reported hearing weird and unexplained noises including footsteps, as well as seeing Catherine's ghostly form walking around, or waving from windows. A piper at the castle, Andrew Sharp, claims to have seen this Grey Lady many times, and even snapped a photo of her at a wedding in 2004.
You can see a short video of what one visitor experienced when she went searching for Lady Catherine's ghost right, and also see the photograph taken by Andrew Sharp here 

Another famous ghost at Dalhousie Castle is that of of Sir Alexander Ramsay (who was starved to death there by an enemy, William Douglas, during the 14th century).
Drum Castle - Aberdeenshire
Built in the mid thirteenth century, Drum Castle is believed to be one of the oldest Scottish tower houses in existence, as well as possibly the oldest, continually occupied castle in Scotland.
Drum Castle. 1829
It's the ancestral home of the Irvine family, who were gifted the tower house and surrounding forested estate by Robert the Bruce in 1323. Since then, twenty four generations of Irvine's have called Drum Castle home.

Drum Castle has been the sight of many supernatural occurrences and ghostly sightings.
The old stables and nearby gardens are said to have a weird atmosphere and women's laughter and voices have been heard when no one else was around.
The ghost of Anna Forbes, wife of the 20th Laird of Irvine who died in the year 1900) is said to haunt the castle, along with her son Alexander, who died at only six years old in 1865.
Edinburgh Castle - Edinburgh
Edinburgh Castle is one of Scotland's most famous landmarks, the most well known Scottish castle, and one of Edinburgh's prized tourist attractions.
The combination of it's long and colorful history, and Edinburgh's numerous supernatural stories, legends and haunted places, means this castle appears on many a list of haunted castles in Scotland.
It's possible that building began on Edinburgh Castle as early as the 12th century, and archaeological finds prove that there was a human settlement on Castle Rock (the elevated volcanic rock on which the castle is built) as far back as 850BC. As with all Scottish castles, Edinburgh Castle has a long and rich history.
In 1566 Mary Queen of Scots gave birth to her son James at the castle. King Charles I stayed here in the mid 17th century, and the pirate named 'Black Bart' was imprisoned in the castle's dungeons in the early 18th century.
One story claims that there are hidden tunnels running from Edinburgh Castle to the Royal Mile which are haunted by a piper who disappeared in the tunnels several hundred years ago. Other ghost stories associated with Edinburgh Castle include those of a headless drummer boy and a group of French prisoners who were held in the dungeons during the Seven Years War which took place around the middle of the 18th century.
There are also reports of visitors having experienced paranormal activities or signs in the castle, such as sudden and unexplained temperature changes, the feeling of being touched, the sight of ethereal figures and more.
Falkland Palace - Fife
Originally a 12th century hunting lodge, Falkland Palace was a Medieval castle during the 13th century and was added to and extended over the following centuries to become an example of Renaissance architecture.
Falkland Palace was a very busy place over the years, and a favorite with Mary Queen of Scots. A fun fact is that Falkland Palace has what are believed to be the oldest tennis courts in Britain, which were built for James V in the 1500's.
There are said to be ghosts who haunt Falkland Palace, one of whom is believed to be the ghost of the first Duke of Rothesay, David Stewart, who was help prisoner at Falkland Palace by his uncle and died of starvation there in 1402.
There have reportedly been sightings of a White Lady, a Grey Lady and even the ghost of Mary Queen of Scots wandering the castle, as well as faces appearing at the window of the Queen's Room.
Is it possible that these sinister faces are in some way related to the death mask of Mary Queen of Scots which hangs above the doorway to the Queen's Room? Who knows, but it's spooky for sure!
Glamis Castle - Angus
Glamis Castle sits on land that is of historical importance to Scotland as far back as the 11th century when King Malcolm II was murdered there.
The castle itself was established in the 14th and 15th centuries, although most of what you see today was built in the 17th century. The castle and it's grounds are stunning, and almost fairy-tale like.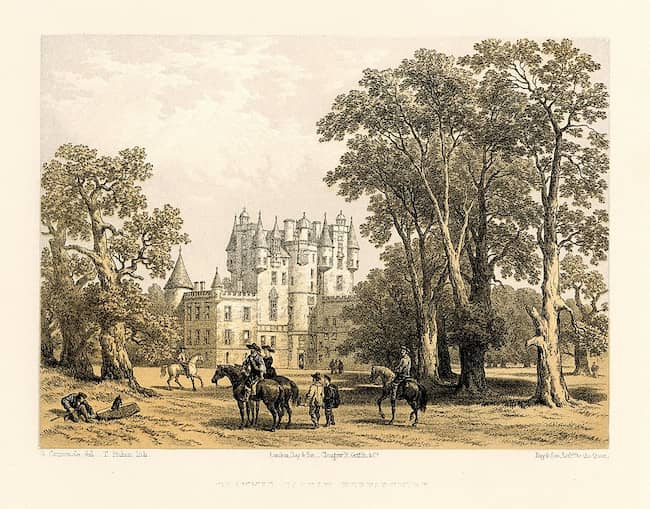 Glamis Castle
Lithograph dating from mid 1800's
In addition to it's well-deserved reputation for being haunted, Glamis Castle has several down-to-earth claims to fame, one being home to the Bowes-Lyon family and the childhood home of the Queen Mother, and another as the inspiration for Shakespeare's Macbeth.

There is a legend that surfaced in the mid 1800's surrounding 'The Monster of Glamis', who was said to be a deformed Bowes-Lyon child who was claimed by the family to have died at birth but instead spent his life in a hidden, secret room in the castle... you can read more about this legend here.
As far as ghost stories go, Glamis Castle is said to be one of the most haunted Scottish castles, and the site of paranormal happenings going back hundreds of years, to the time before the castle existed at all.
There are stories of a Grey Lady, said to be the ghost of Lady Janet Douglas who was burned at the stake as an accused witch in 1537 and who now haunts the family chapel. To this day there is a seat always a seat left empty at the back of the chapel as it's kept for Grey Lady.
There's also Earl Beardie (which Earl he is/was isn't clear but most likely Alexander Lyon the second Earl of Glamis, or Alexander Lindsay, the fourth Earl of Crawford) who lost his soul to the Devil in a card game, and whose ghostly spirit can be heard throughout the castle as he shouts, cusses and rattles his dice.

More gruesomely, there have been reports of a tongueless woman seen wandering around the castle grounds with blood pouring from her mouth. This ghost is said to have once been a castle maid who discovered a secret and an Earl had her tongue cut out to prevent her from sharing it. He may also have had her killed.
The image of a young girl was also seen at a castle window one evening, and then disappeared without a trace.
Inveraray Castle - Argyll
Looking out over the picturesque Loch Fyne in western Scotland, Inveraray Castle is the ancestral seat of Clan Campbell, and was first built on this site in the mid 15th century.
In the early 18th century John Campbell, the second Duke of Argyll, wanted to upgrade the existing castle and employed an architect to design a grand home incorporating several different styles which were popular at the time.
This work, combined with some other additions in the late 19th century produced what we see now, a beautiful, elegant castle with turrets, towers and conical roofs.
Mary Queen of Scots and King James V have both been guests at Inveraray Castle, and it is also famous for being featured as the home of the titled Crawley family in the hugely popular TV series, Downtown Abbey.
There are many restless spirits associated with Scotland's Inveraray Castle including a Grey Lady, and the ghost of a young boy who was once a harpist at the castle. Legend says he can be heard playing when a member of the family is close to death. I
nveraray itself and the surrounding area is thick with stories and legends of paranormal activities, sightings and ghosts. Inveraray Jail, built in the 1800's and less than a mile from Inveraray Castle is known as one of the most haunted places in Scotland and has it's own gruesome tales and many reports of odd happenings, spectres, unusual appearances and more.
Kellie Castle - Fife

Early historical records show Kellie Castle in existence as early as the mid 12th century. The oldest part of the castle today only dates back as far as 1360, with the bulk of it being from the 16th and 17th centuries.
In the 14th century it was for a while the home of a daughter of Robert the Bruce, and in1617, King James VI stayed in Kellie Castle at the invitation of the then owner, Sir Thomas Erskine, who had been childhood friends with the James.
After falling into disrepair in the following century, it was totally, and beautifully, restored by the Lorimer family who were architects and artists.
Kellie Castle is reported to be haunted by two ghosts. One is James Lorimer who has been seen in the castle's corridors. The other is the spirit of Anne Erskine, who was killed by a fall down the castle stairs during a visit.
Although she isn't seen often, her footsteps are heard on the stairs fairly regularly.
Kellie Castle has even been exorcised once, but it did not seem to stop the hauntings!
Skibo Castle - Dornoch
Nestled in the Scottish Highlands, Skibo Castle was originally the home of the Bishops of Caithness, possibly from as early as 1211, and continued to be so until 1545 when it was gifted to a man named John Gray.
Like many of the old castles in Scotland, Skibo Castle changed hands several times until it was leased by the prominent and wealthy industrialist Andrew Carnegie in 1897, who bought it outright the following year.
The changes in ownership continued when almost a century later, another businessman, Peter de Savary, bought Skibo Castle from Carnegie and turned it into a private members club, and then sold it in 2003 to Ellis Short.
Today it is still known as 'The Carnegie Club' an exclusive, private members club. It'll come as no surprise to you that Skibo Castle has had it's fair share of important guests from Edward VII to Rudyard Kipling, Lloyd George, the Rockefellers, Michael Douglas, Sean Connery and more. Madonna and Guy Ritchie even got married there.
The 'private' designation didn't seem to deter the spirits which are said to haunt Skibo Castle!
These included the White Lady, who was said to be the ghost of a young lady who had visited the castle early in it's history and was believed to have been murdered by one of the castle's keepers. She was sometimes seen wandering the castle while partially dressed.
At some time during castle renovations a woman's skeleton was discovered hidden in one of the castle walls. These particular hauntings ended once the body had been buried, leading stories to claim that her soul was finally at rest.
Skibo Castle Website (aka Carnegie Club)
Stirling Castle - Stirling
Built on Castle Hill, where evidence suggests occupation of the area as far back as Roman times, Stirling Castle was a strategically important historical castle from a defensive standpoint and it is both one of Scotland's largest castles, and a popular visitor attraction.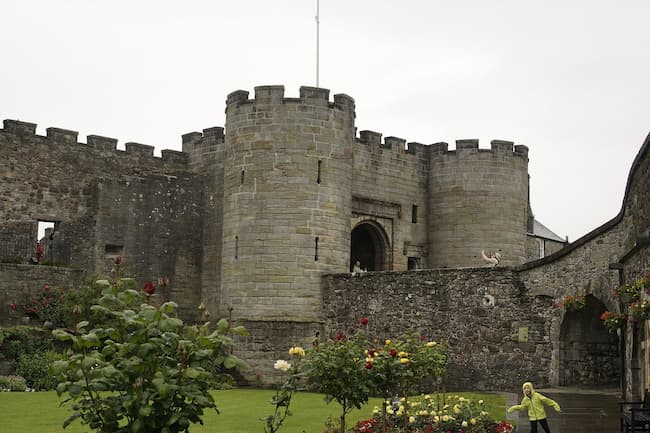 Some of the current Stirling Castle dates back to the 14th century, other parts to the 15th, 16th and 19th centuries. It has a rich and fascinating history having been the focus of a siege at least eight times over the centuries, and bore witness to battles, births, deaths, executions and more.

It has many royal connections, including (among many others) being where King William I died in 1214, was home to several Steward Kings during the 15th and 16th centuries and was where Mary Queen of Scots was crowned in 1543.
Stirling Castle also has no shortage of hauntings, laying claim to several female ghosts including a Black Lady, Pink Lady, a Blue Lady, a White Lady and a Green Lady.

One legend surrounding Stirling Castle's Green Lady says that she is the ghost of a local servant girl who foresaw danger for Mary Queen of Scots and kept watch over her while she slept in the castle one night. She fell asleep and when she woke up there were flames in the bedroom from a candle setting fire to bed linens.
The brave girl carried the unconscious Queen to safety while her green dress smoldered and her skin burned. Mary survived but there's no details as to what happened to the servant girl... except that her spirit now haunts the castle, and she's believed to reside in a small room at the base of the Prince's Tower.

The Blue Lady of Stirling Castle is said to be the ghost of a spurned lover of King James IV, and she is also said to be a harbinger of doom. The Pink Lady is believed to be the spirit of the sole survivor of one of Stirling Castle's sieges (that of King Edward I in 1304) who is still searching the castle for her husband.

Another ghost at Stirling Castle is that of a man wearing a kilt who is sometimes mistaken for a guide, he has been seen walking through a solid stone wall into the dungeons. There used to be a door in the wall at the point he passes through it, but it has been bricked up for decades!
A sentry who died while on guard duty at the castle during the early 19th century is said to still be making his rounds and his footsteps have been heard on several occasions during the 20th century... walking across battlements that haven't existed since the mid 1800's.
Tantallon Castle - East Lothian
Tantallon Castle is another of Scotland's castles with a fascinating history and spectacular location.
Built in the 14th century Tantallon Castle is the last Scottish castle constructed in the Medieval Curtain Wall style, and it stands on a rugged rocky outcrop (Bass Rock) with views which stretch across the Firth of Forth. This site may well have housed a previous fortification, at least in the 13th century if not before.
It was a stronghold of the Red Douglas family, and was under seige at least three times, eventually being all but destroyed by the troops of Oliver Cromwell in 1651.
Although standing in ruins today, Tantallon Castle is still an imposing spectacle, and it is one of only a few Scottish castles that has offered photographic evidence of it's ghostly inhabitants.
In 1977, the Lamb family were visiting Tantallon Castle and Grace Lamb was taking some photos of her husband and children. When she developed them, one of the photos showed a shadowy figure high up in one of the windows. The Lambs didn't think much of it until another similar happening decades later.
Incredibly in 2009, Christopher Aitchison was taking photographs at Tantallon Castle's ruins and unwittingly also captured the image of a mysterious figure peering out from behind the bars of one of the windows on an upper level.
Experts who reviewed the photograph don't believe it was tampered with, but of whether it was a ghostly figure or not there's no proof.
You can learn more and see Christopher Aitchison's photo here and the photo taken by Grace Lamb here.
At the time of writing (August 2022) there is no access to the castle ruins themselves due to ongoing masonry safety inspections, but the grounds are open.
Tulloch Castle - Dingwall
Another of Scotland's Highland castles, Tulloch Castle is thought to have been first built during the 1100's, by the Vikings or Norsemen who had arrived in the regions at that time.
Written documentation shows that by the 16th century this castle was home to the Bayne family, and then around two hundred years later it was sold to the Davidson family.
It changed hands several times over the next two centuries until eventually being turned into the Tulloch Castle Hotel and Conference center in 1966.
Several stories claim that Tulloch Castle is haunted, and there are multiple reports of sightings of different ghosts including those of a young girl, a young boy, a middle-aged woman and a man wearing tartan.
There is also a Green Lady who is reported to have been seen many times, and is believed to be the ghost of Elizabeth Davidson whose family once owned the castle.
You can check out this interesting account of a night spent at Tulloch Castle and the spirits encountered by a clairvoyant medium in 2004.

If you like photographic evidence, you will be amazed by the photograph taken in 2008 by fourteen year old Connor Bond who was attending a family wedding and taking photos in and of the castle.
He didn't notice anything strange at the time but when the photos were developed one image very clearly showed a hand on the banister of the castle's spiral staircase, and seemingly attached to an ethereal and misty white shape. It's astounding.

There are way too many haunted Scottish castles for me to be able to feature them all on this page, but if you found it interesting these books can take you even further into the world of Scottish castles and their ghost stories.
Enjoy!

Haunted Castles in Scotland
A little something Scottish....