The Queen Mother's Castle in Scotland
A much loved second home and summer retreat, Castle Mey, the Queen Mother's Castle in Scotland, is located in Caithness, just a few miles from John O'Groats which is the most northern point of mainland Scotland.
Castle Mey sits looking out over the Pentland Firth, which separates the mainland from the Orkney Islands which can be seen in the distance, and it has been perched there since the middle of the 16th century.
It is the most northerly castle in the UK.
The Queen Mother bought Castle Mey in 1952, after the death of her husband King George VI. 
The castle was run down and in disrepair when she bought it, and the Queen Mother invested her own funds to repair and modernize it over the next three years, turning it into a place where she loved spending time every year during the months of August and October.
The Queen Mother visited Castle May twice a year, for almost a month in August and for two weeks in October, between 1955 to 2001. She did this every year, without fail and her final was less than six months before she passed away at the age of 102.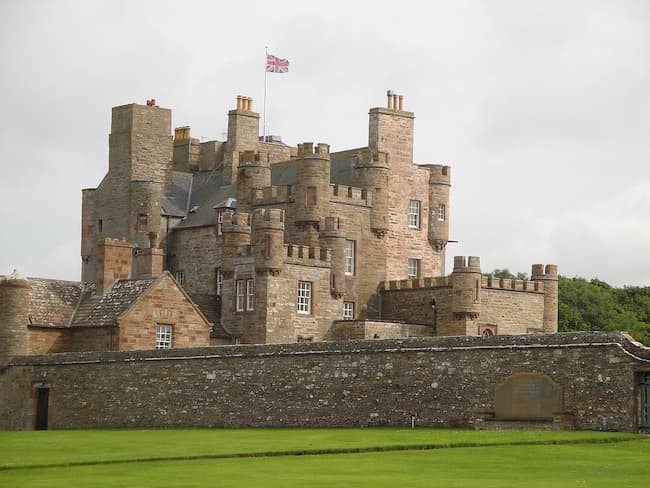 Castle Mey
Attribution: Orikrin1998, CC BY-SA 3.0 via Wikimedia Commons
In 1966 she transferred the castle, castle grounds, adjacent Longoe Farm and land (which she had also bought), to the Queen Elizabeth Castle of Mey Trust, whose President is Prince Charles.
The Queen Mother made this move to protect the castle and to make sure it remained functional, and accessible to visitors, after her death.
In 2019, this trust came under the umbrella of the Prince's Foundation, a move which the trustees hope will secure the safety, and long term future of both Castle Mey's trust, and the castle itself.
The History of Castle Mey
Like all the castles in Scotland, the Queen Mother's Scottish castle has been around for hundreds of years, and it has a lot of history.
It was built sometime between 1566 and 1572 by George, the fourth Earl of Caithness for his son, William Sinclair, but William did not get to enjoy it for long.
In 1573, while visiting his family's ancestral home (Castle Girnigoe) he lost his life in some pretty serious family drama.
William's older brother, John, was being held prisoner in Castle Giringoe by his father for some transgression (historians are still not sure exactly what it was he had done, or why he was locked up).
While visiting, William learned that John was planning to escape and told his father. John somehow then killed William, and was subsequently killed himself.
Castle Mey was given to another son, George, who promptly changed it's name to Barrogill Castle, and it became the seat of the Earls of Caithness until the fifteenth Earl of Caithness (another George) died in 1889.
This George died young, at only thirty, and as he had no wife or family, he left the castle to a friend named F G Heathcote... with the requirement that this friend agreed to change his name to Sinclair! 
Barrogill castle was eventually sold again in 1929  by the friend's widow, this time to Captain F B Imbert-Terry, who in 1952 sold it to the Queen Mother, and she reinstated it's original name of Castle Mey.
Scotland does history right!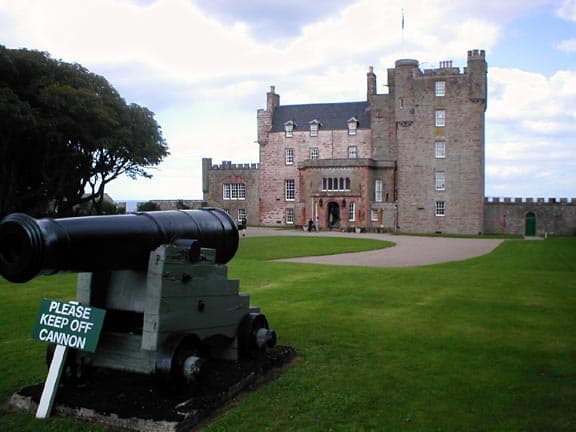 Attribution: Dorcas Sinclair, CC BY-SA 2.0 , via Wikimedia Commons
About Castle Mey
Given that it's several centuries old, it's not surprising that the Queen Mother's castle has gone through several changes and updates over that time.
Originally built in the mid 1500's, some historians believe Castle Mey was built on the site of an even older fortification, possibly a granary. It was a simpler version of the castle you can visit today.
Built on land that belonged to the Bishops of Caithness, it was a typical castle of the times, designed in the Z-plan style with one primary tower, and towers or wings at diagonally opposite corners. There was  an open courtyard, and the front of the castle looked out over the ocean.
During the 17th and 18th centuries, as Barrogill Castle, the structure was changed, added to and altered.
In 1819 the twelfth Earl of Caithness hired an architect named William Burn to update the castle, which resulted in a new gatehouse which effectively changed the main entrance to the castle from the ocean side to the landward side. He also added a grand dining room.
When the Queen Mother bought her Scottish castle it needed a lot of work to make it habitable and turn it into a comfortable. She set about doing so quickly, and once the castle was in shape she turned her attentions to the grounds.
Electricity and running water were installed, plus many less major upgrades. The Queen Mother appreciated the history of the castle and didn't modernize it too much, but she added a whole host of personal touches.
After the original renovations she wasn't inclined to update things which were fully functional just because they were outdated.  This means that a wander through Castle Mey today gives you the impression that it was a much loved, and comfortable, vacation home which belonged to an older person. Which it absolutely was.
Since her death, very little has been changed. In fact, the Trust goes out of it's way to keep Castle Mey as it was during the Queen Mother's time.
Prince Charles is now responsible for overseeing the upkeep and management of Castle Mey and it's grounds via the Prince's Foundation.
He also has followed his grandmother's tradition of spending time at Castle Mey during the summer each year. Castle Mey is annually closed to visitors for ten days at the end of July/beginning of August while Prince Charles (also known as the Prince of Wales, and in Scotland as the Duke of Rothsay) and the Duchess of Cornwall are staying there.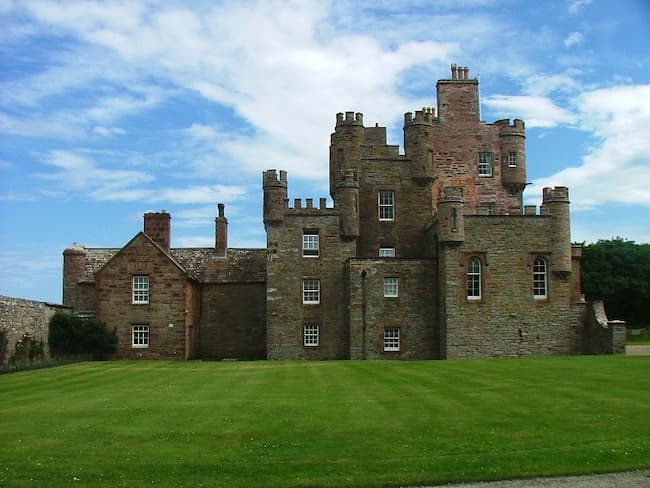 By jack_spellingbacon - originally posted to Flickr as Castle of Mey Scotland, CC BY 2.0, Wikimedia Commons
Castle Mey - did you know?
No one knows for sure how much the Queen Mother's Castle in Scotland cost Her Royal Highness. Rumors suggest anything from being given it for free (it was almost derelict at that point and due to be abandoned), to £1, or maybe £100.


When she purchased the castle, many people thought her decision unwise and called it a 'widow's folly'.


Castle Mey was the only home the Queen Mother ever owned.


When younger, Princess Margaret (Queen Elizabeth II's older sister) called Castle Mey 'mummy's drafty castle'.


Castle Mey is said to be haunted by a 'green lady' show is believed to be the tragic ghost of Lady Fanny, who had been imprisoned in one of the attic rooms by her father, the fifth Earl of Caithness. This was done to prevent her from marrying a local ploughman, and the heartbroken young woman threw herself to her death from one of the upper windows.


Princess Margaret thought the castle was too cold and not luxurious enough to stay in, so when visiting she would sleep on HMY Brittania (Her Majesty's Yacht Brittania) which would dock at Dwarwich Pier in Caithness.


If you plan on visiting Castle Mey, you can stay in one of the ten rooms available at the beautiful, yet cozy, Granary Lodge Luxury Bed & Breakfast in the castle grounds. It was opened by Prince Charles in 2019 in a renovated grain distillery belonging to the castle. 


Being as Castle Mey is so far north, it is sometimes possible to see the Northern Lights (or Aurora Borealis) from the castle, grounds or B&B.


The Queen Mother owned a prize-winning herd of Aberdeen Angus cattle whose home is Castle Mey. You can see them if you visit the castle. They have the distinction of being the most northerly herd of Aberdeen Angus cattle in the world.
Queen Mother's Castle Scotland
A little something Scottish....