Stay in a Castle in Scotland #2
Here are more amazing venues where you can stay in a real-life castle in Scotland. They're all different, so there's literally something for everyone.
If you're planning a visit, or a special event like a family reunion or wedding, a Scottish castle vacation could be exactly what you're looking for.
Under each listing there is a link which will take you directly to the castle's own website for more information and to book.
(If you found this page first and would like to visit Page #1 of our guide to staying in a Scottish castle, CLICK HERE)
Glengarry Castle Hotel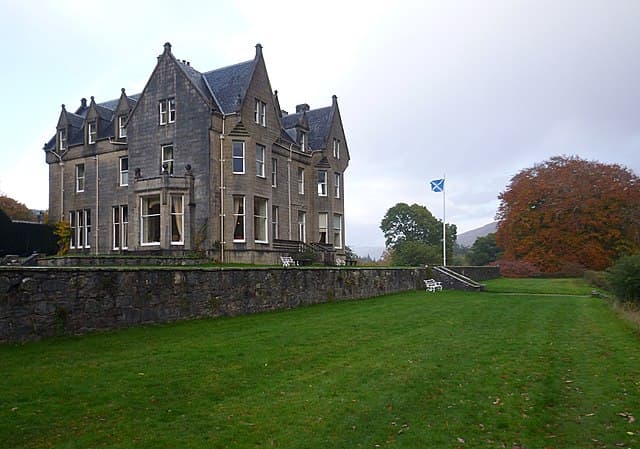 Glengarry Castle Hotel
History:

What is now the Glengarry Castle Hotel used to be Invergarry House which was built in the 1860's for a local landowner and politician. Between then and now Invergarry House had several owners, including Sir Mortimer Singer, the son of the inventor of the sewing-machine. In 1960 Invergarry House became the family-owned Glengarry Castle Hotel. 
Even though Glengarry Castle Hotel itself isn't very old (by Scottish castle standards anyway), there is a lot of history attached to the ruin of 17th century, Invergarry Castle which sits on 'Raven's Rock'  on the grounds of the hotel. Invergarry Castle was built by the MacDonalds at the beginning of the 17th century and was the seat of Clan MacDonald until 1746. Bonnie Prince Charlie visited Invergarry Castle more than once, the last time being on April 17, 1746 the day after he and his troops were defeated at the Battle of Culloden. The castle was destroyed by his pursuers, and has been in ruins ever since.

Location:
Glengarry Castle Hotel is a Highland hotel, located in the Great Glen, on the western shore of Loch Oich, surrounded by 60 acres of woodland and overlooking the waters of the loch. Inverness is just under 45 miles north along the western shore of Loch Ness, which is a beautiful drive.

Amenities:
Glengarry Castle Hotel has twenty-six bedrooms with en-suite bathrooms. There are twin, double and family bedrooms, some have loch views and some have four poster beds. There are no rooms on the ground floor and there isn't an elevator so bear that in mind if you have mobility issues. There are flat screen TV's in all rooms and free wi-fi throughout the hotel.  There is also 'North Lodge', previously a gate house, which is now a two-bedroom, self-catering property on the estate. There is also a library, and a lounge with wood-burning fireplace. Meals are served in the dining room and feature local produce and traditional meals.
This hotel is not open year round.
Glengarry Castle Hotel is only open to visitors from late March through early November each year.
Activities Nearby:
Glengarry Castle Hotel is perfectly located for visiting Loch Ness and the ruins of Urquhart Castle on it's banks, you may even get a glimpse of the famous Loch Ness Monster! The spectacular and charismatic Glencoe is  thirty-five miles away, and the most photographed castle in Scotland (Eilean Donan Castle) is forty miles. You can even take a trip to the beautiful Isle of Skye. There's also fishing, golf, horse-riding, jogging, boat trips and more. 
Visit the Glengarry Castle Hotel website at www.glengarry.net
Glengorm Castle - Isle of Mull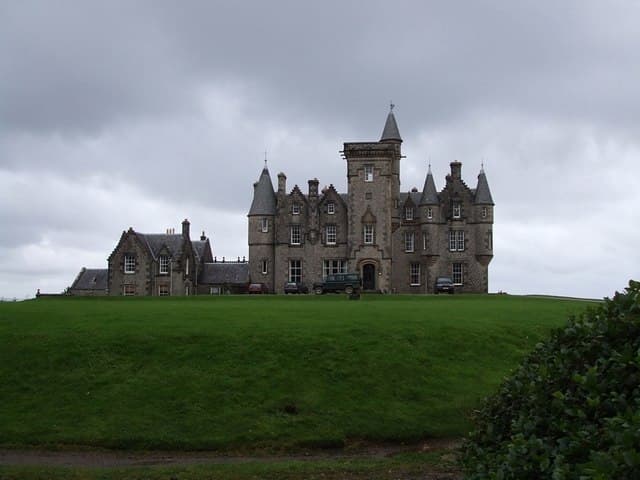 Glengorm Castle
History:
Glengorm Castle was built by James Forsyth of Quinish (aka 'of Dervaig' or 'of Dunach')  in 1860, on land that had previously housed the township of Sorne. It was once known as Glengorm at Sorne House. In order to clear the land to build his own castle and estate, Forsyth had crofters and residents removed from the land (including burning their homes). In a ironic twist, he felt the area had an unusual color in the air and named his new home 'Glengorm' (meaning 'blue glen'). What he didn't know was that the blue tinge to the air may have been a result of the smoke produced by the burning homesteads and land. Or it might have been produced by the fires burning in the hearths of the homes he later destroyed. Glengorm Castle is now privately owned, and while the owners and family live full time in the castle, they also offer B&B in the castle itself, as well as self-catering cottages on the estate.

Location:
Glengorm Castle at the northern tip of the Isle of Mull (Inner Hebrides), with sweeping ocean views. The Isles of Canna and Rum are within sight, with the Outer Hebrides behind them. Glengorm Castle is just under five miles from the island's capital, the fishing port of Tobermoray, and is surrounded by forests, moorland, hills and lochs. It takes approximately four hours to get to Edinburgh or Glasgow.

Amenities:
Glengorm Castle offers Bed & Breakfast in the hotel,  two serviced apartments, plus several self-catering apartments and cottages. There are five B&B bedrooms with en-suite bathrooms, and one bedroom that has an adjacent bathroom. Decor is simple and tasteful, and the bedrooms comfortable and relaxing. Several choices of bed configuration and different views (all amazing) from each room. Bed & breakfast guests have full access to the breakfast room, main hall, sitting room, library. In addition to the B&B option, there are four self-catering cottages on the estate, as well as one apartment in the castle itself, and another in Tobermoray. Each one with it's own style and personality. Last, but not least, there are two serviced-apartments, one in the castle and one in the beautifully renovated former-stables. There is a coffee shop and farm shop on the estate.

Activities Nearby:
The gorgeous location of Glengorm Castle offers lots of outdoor activities in a spectacular setting. Fishing, shooting, horse-riding, whale-watching, cycling and more are easy to find. There are no shortage of beautiful walks or hikes to be had, including guided ones. 
Kilmartin Castle - Argyll and Bute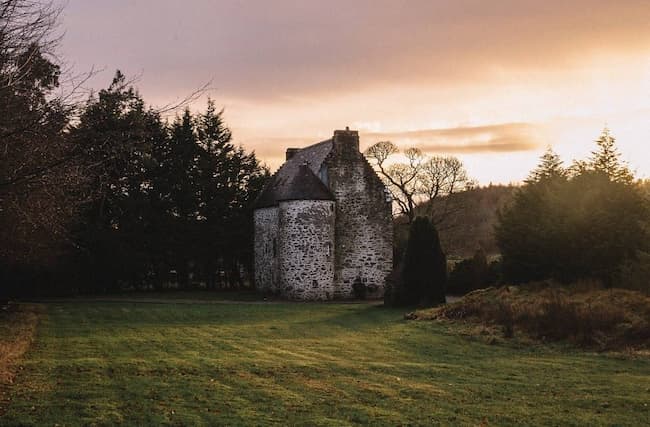 Kilmartin Castle
History:
Kilmartin Castle was built in 1550 for John Carswell, the local Rector. In 1565 Carswell moved to another 16th century castle, Carnasserie Castle which was less than two miles north of Kilmartin. Clan Campbell took over ownership of Kilmartin Castle for the next two hundred years. By the late 18th century the castle was in disrepair (although still in partial use as a school), and over the following two hundred years the it sat unused, falling into ruin and without a roof. In the late 1990's a couple fell in love with it and bought it, spending a decade repairing it and turning it into a simple country home. Then in 2019 it was bought by a young couple, Stef and Simo, who spent a couple of years pouring their heart and soul into renovating Kilmartin Castle and it's grounds, and turning it into a unique and very special B&B experience. It's a small castle by comparison to many other Scottish castles and castle hotels, but what it lacks in size it more than makes up for in personality and style. Kilmartin Castle is available for B&B as well as for exclusive hire, including potentially a small wedding.

Location:
Kilmartin Castle is located in Kilmartin Glen, in the Argyll and Bute area of Western Scotland, surrounded by rolling hills and beautiful, unspoiled Scottish scenery. The city of Oban is only thirty miles north, Glencoe only sixty. This area of Scotland is incredibly rich in history, ancient history, around 8000 years of it to be exact. It is rich in archaeologically important sites and findings including standing stones, burial tombs, ancient rock carvings and more. 

Amenities:
Kilmartin Castle has four incredibly unique and individually designed  bedrooms available for Bed & Breakfast.  Each one has en-suite facilities as well as modern comforts such as luxury bedding, copper tubs,  underfloor heating and of course super-fast wi-fi. Stef and Sibo have done a wonderful job of maintaining the authenticity and atmosphere of a real Scottish Castle, while also making it comfortable, welcoming and truly a one-of-a-kind experience. There's an outdoor area for eating, a swimming pond, garden, orchard and more.

Activities Nearby:
If you enjoy history, there are so many sites and interesting things to visit in this area including the Kilmartin Museum, Kilmartin Church, standing stones and cairns throughout the Glen, Dunadd Fort (from the Iron Ages) and more. Visit Inverary, Oban or a couple of nearby islands. Other outdoor activities include cycling, hiking, fishing, cruises etc., plus there's always the local pub or cafe when you need a break and something to eat or drink. 
Kincraig Castle Hotel - Ross-Shire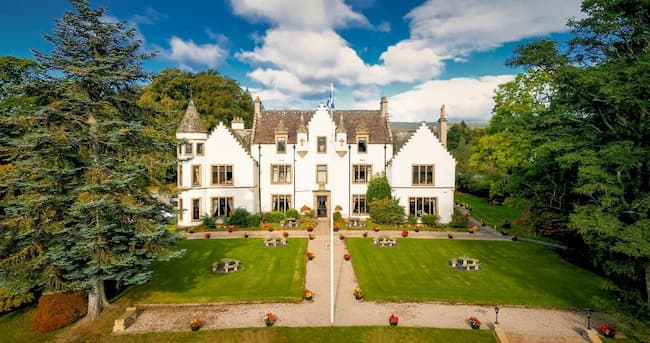 Kincraig Castle Hotel
History:
Like several other Scottish castle hotels, Kincraig was originally built as a baronial-style mansion, rather than a castle. However over the centuries it has undergone many transformations and updates and now appears as a stunning, and imposing, castle with strong historical ties to Clan MacKenzie.
The land and villages in the Kincraig area were owned by members of the MacKenzies as far back as the early-to-mid 1600's. Kincraig House was built around 1800, and in 1872 it was altered to include a tower, bartizans (corner turrets) and a new main entrance, among other updates. It is now an award-winning, luxury Highland hotel.

Location:
Kincraig Castle Hotel is a Highland hotel, located in north east Scotland, close to the east coast. The hotel is approx. one mile from the Cromarty Firth, and less than twenty-five miles north of Inverness (known as the 'capital of the Highlands'). It sits in ten beautiful acres, with sweeping views towards Cromarty Firth to the Black Isle. 

Amenities:
Kincraig Castle Hotel is a four-star, luxury hotel and has fifteen beautiful bedrooms. Each one in unique, but all have a Highland theme and the decor is tasteful, traditional and relaxing. Choose from a Classic Room, Highland Estate Room or go full-on luxury and book a Highland Deluxe Room (you can even ask for a four-poster room, a turret feature or a fireplace, subject to availability). All rooms have en-suite bathrooms, free wi-fi, digital TV's and all the modern-day conveniences we can't live without. There are plenty of dining options including Kincraig's award-winning restaurant, casual dining in the cozy Dalmore Snug or try one of the innovative 'Dining Domes' on the front lawn. After dinner, get comfy in the Kincraig Lounge where there's a huge log fire burning on chilly evenings. Kincraig Castle Hotel is available for private or corporate events or weddings, as well as exclusive use.

Activites Nearby:
The Highland scenery around Kincraig is stunning, and you can't fail to enjoy walking, hiking, fishing, golfing and generally just soaking up the beauty and atmosphere. Quad-biking near Aviemore in the Cairngorms National Park is a fun activity for adults and kids alike, and only 50 miles from the hotel. The world famous Loch Ness (and Nessie) are just over 30 miles away, you can visit local whisky distilleries, and there are several castles and other historic landmarks within easy reach.
Inverlochy Castle Hotel - Fort William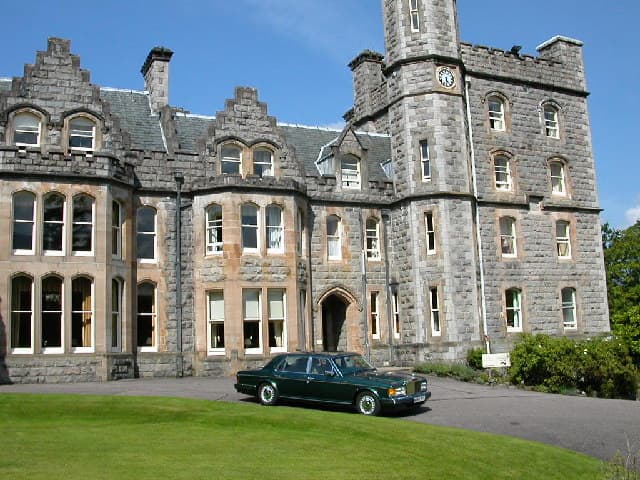 Inverlochy Castle Hotel
History:
Inverlochy Castle Hotel is another Scottish Baronial Style mansion which was built in 1863 for the third Lord of Arbinger, William Frederick Scarlett. Lord Arbinger named it Inverlochy Castle, although the original 13th century Inverlochy Castle sits about half a mile north of his new home.  Fast forward to 1944 when Canadian entrepreneur Joseph Hobbs bought the mansion and converted it into a hotel which welcomed it's first guests in 1969. Inverlochy Castle Hotel is now owned by a hotel management company and is now a luxury, 5-star country hotel set in gorgeous surroundings. The hotel is also available for private or corporate events, weddings and other festivities.

Location:
Inverlochy Castle Hotel is located at the head of the Great Glen, on the west coast of Scotland, in the spectacular Scottish Highlands. There are towering trees, a private loch, manicured lawns , and the famous peak of Ben Nevis (the highest mountain in the entire British Isles) is just a handful of miles away. The popular Highland town of Fort William is less than five miles southwest of the hotel, and Loch Ness and Urquhart Castle are approx. 45 miles north. This area is truly stunning, even Queen Victoria once said of the Inverlochy area 'I never saw a lovelier or more romantic spot'.

Amenities:
There are seventeen unique bedrooms and suites, each has their own individual character but all feature traditional decor with modern touches and color palettes. All rooms have en-suite bathrooms, flat screen TV's, complimentary wi-fi and more, plus views of either the hotel grounds or the beautiful natural surroundings. There is also the two-bedroom Gatehouse, which provides self-contained accommodation, with access to the rest of the castle hotel. You can enjoy absolutely delicious (and somewhat elaborate) meals in Inverlochy Castle Hotel's Albert and Michel Roux Jr. restaurant 'Seasgair' (Gaelic for cozy/warm/comfy) , or for more casual dining and afternoon tea in the lounge and other public rooms.

Activities Nearby:
There's no shortage of activities around this Highland hotel. Make the most of the beauty of the area by spending time outside, there's something to suit every activity level. Choose from walking, hiking, wild-life or photography tours, mountain-biking, rafting, shooting, fishing and more. You can even charter a yacht or cruise, there are several lochs and waterways to choose from. For the children there are indoor activities at Inverlochy Castle Hotel, including a games room, billiard room and a selection of videos, games and Playstation. There are also kid-friendly walks and boat trips on the private loch. The area has a colorful history and you can find castles, historical sites and markers all over. Check out the ruins of the original Inverlochy Castle (now called 'Old Inverlochy Castle', which gives you a glimpse back through the centuries. It's said to be haunted by the souls of those lost in battles across the centuries. Like many of the ancient ruins and sites scattered across Scotland, when you're there you may even be able to 'feel' the history yourself.
Mingary Castle - Kilchoan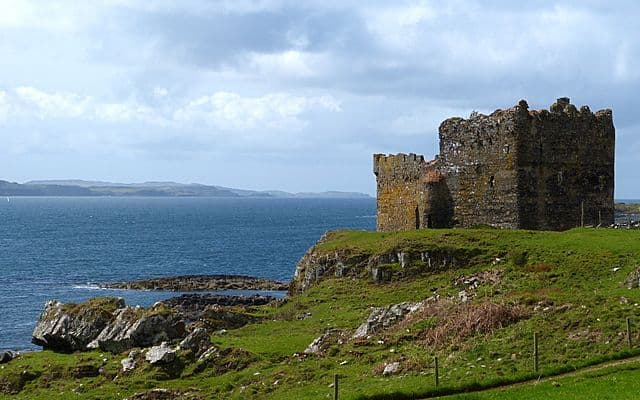 Mingary Castle
Visitors should know that there is now a modern hotel incorporated into this historic castle which can only be glimpsed from this angle!
History:
Although the exact date Mingary Castle was established isn't known, it's believed that a timber fort was built at this location at some point during the late 12th century. In 1265 Clan MacDougall replace the wooden structure with a stone castle. It also underwent additional alterations and additions during the 16th, 17th and 18th centuries. If you'd like to say in a Scottish castle which has strong clan ties, this is the one!
The clan history surrounding Mingary Castle is complicated, with it changing hands many times.Towards the end of the 15th century, King James IV occupied Mingary Castle while battling Clan MacDonald for control of the Hebrides. In 1499 the ownership of Ardnamurch estates (including Mingary Castle) were gifted to Clan Maclain as reward for supporting James IV in his efforts. But the matter didn't end there! In 1515 Mingary Castle was beseiged by the MacDonalds of Lochalsh who were successful in seizing control of it two years later. In 1519, Clan MacLain tried to reclaim it, but failed, and their Clan Chief was killed in the process.
The next hundred years are a little unclear, with MacLain's repeated trying to regain ownership of Mingary Castle by different methods. However, by 1612 the castle passed into the hands of Clan Campbell. It was taken from them by Clan MacDonald in 1644, and then seized by Alexander Leslie (the 1st Earl of Leven) in 1647. By the mid 1700's Mingary was no longer in regular use and was left to the mercy of the weather and open air.
In 2013 the castle underwent major repairs, additions and a total refurbishment and is now an elegant and historically fascinating hotel which is open  to guests Tuesday through Sunday, between April and December.


Location:
Mingary Castle (aka Mingarry Castle, and originally Mingarie Castle) is the most westerly castle in the whole of the UK. Surrounded by ocean on three sides, it sits on the Ardnamurchan Peninsula, high above Kilchoan Bay with stunning views out across the serene Sound of Mull, towards the Isle of Mull. You almost feel as though you're on an island, and you're surrounded by the authentic and rugged wildness of Scotland's far northwest coastline.
Amenities:
Set in a remote and wild location, Mingary Castle is a relatively small hotel, offering four suites, all with four poster beds and private, en-suite bathrooms. Each one has it's own unique style and decor, but all are traditional in looks and are steeped in history. The MacDonald Suite is a self-contained apartment and is also pet friendly; the McCain Suite has two rooms (each with it's own four-poster bed) and a family bathroom. 
You can eat breakfast, lunch and dinner in the elegant restaurant which features delicious local and sustainable produce as much as possible.


Activities Nearby:
The remote and wild Ardnamurchan peninsula and estates is a very special place to explore and there are plenty of outdoor activities including nature expeditions, otter adventures (there are many otters in and around the waterways), hiking and nature walking opens up more stunning views and gives glimpses of local wildlife. Visit Sanna Bay a beautiful and remote cove, with the white sand beach and aquamarine water that is synonymous with some of Scotland's most northerly coastlines. It's only about seven miles from Mingary Castle. The Ardnamurchan Natural History Visitor Center displays local history and wildlife information and also has a cafe and gift shop. Or take a tour of the Ardnamurchan Distillery, or Ardnamurchan Lighthouse.
Stonefield Castle - Loch Fyne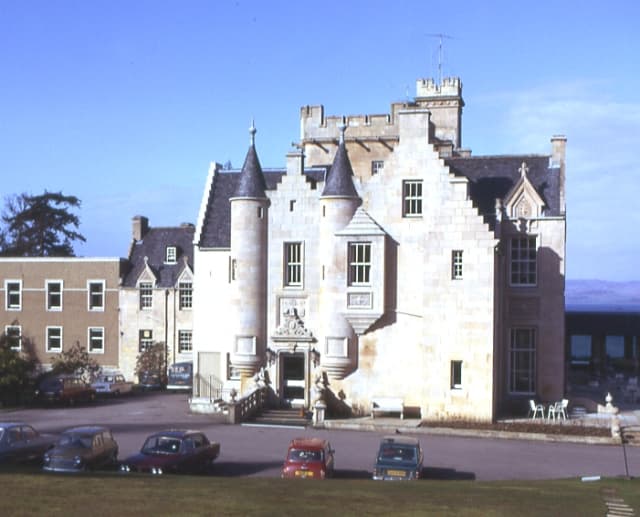 Stonefield Castle
History:
Built in the mid 1830's on the site of a much older structure (possible an earlier tower or house), Stonefield Castle is a mansion in the Scottish baronial style. The area/estate was originally known as 'Barmore' or 'Parmoir', and owned by Clan MacAllister. In the mid 1700's it was sold to Clan Campbell, who changed the name to 'Stonefield' and were owners of the estate until 1948. Not long after that the castle was transformed into a hotel.

Location:
Stonefield Castle sits on the shore of Loch Fyne, a large sea loch on the northwestern coast of Scotland. The castle has sixty acres of grounds and woodland and has spectacular views over the loch and surrounding area. The city of Oban (known as the capital of the West Highlands) is just under fifty miles north of Stonefield Castle, and the pretty village of Tarbert is only a short five minutes drive away.


Amenities:
Stonefield Castle has thirty-eight beautifully decorated and luxuriously appointed bedrooms. All have en-suite bathrooms, digital TV's, Wi-Fi and more. Choose from twin rooms, double rooms, deluxe rooms or Principle rooms (with sitting area). Pet friendly for an additional fee.  Enjoy the best of Scottish food prepared from local produce and seafood whenever possible. There is also a cozy bar, lounge and drawing room with open log fire. Stonefield Castle is also available for weddings and offers an elegant and stunning location for both ceremony and reception.

Activities Nearby:
You can enjoy the serenity of nature in the beautiful gardens and woodlands surrounding the hotel. The area is also a great place for hiking, walking or cycling. Or you can hop in the car for the five minute drive to the viallage of Tarbert where you can see the 13th century ruins of the Tarbert Castle (also known as Robert the Bruce's castle), visit the picturesque harbor or Shell Beach at the end of Pier Road. The city of Oban is a little bit further (approx. fifty miles) but is well worth a visit. Not only is it the capital of the West Highlands it's also the seafood capital of Scotland, and also known as the Gateway to the Isles. There's a LOT to see and do in Oban, including historical sites, museums, boat trips, shopping, eating that famous seafood or visiting Oban Distillery.
Thirlestane Castle - Scottish Borders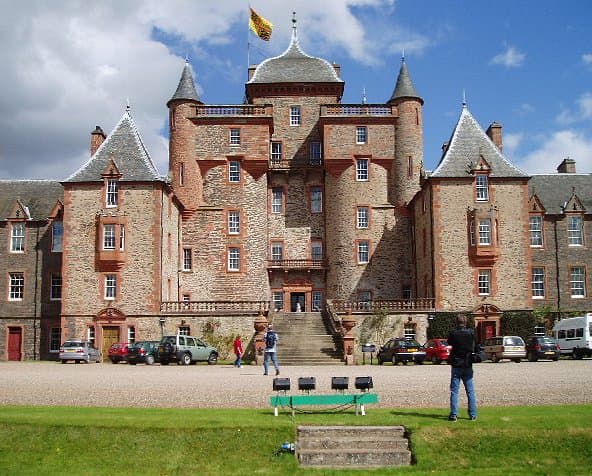 Thirlestane Castle
History:
Situated on Castle Hill in the Leader Valley, Thirlestane Castle was built in the 1300's on land that is just a stone's throw from the original peel tower (a fortified keep or tower house) of Old Thirlestane Castle which was built mid 12th century.  Towards the end of the 16th century, the land became the property of the Maitland family and the core of today's castle was built by John Maitland (then Lord Thirlestane). It  underwent extension and remodeling multiple times during the 17th,  18th and 19th centuries.  Bonnie Prince Charlie stayed at Thirlestane Castle in 1745 after victory at the Battle of Prestonpans. The castle and estate are now in the care of a charitable trust, although it is still the Maitland family home.  In 1984 Thirlestand Castle became one of the first historic houses to be made open to the public. In 2012 it was reinvented as as a hotel, and also as a venue for weddings, events and private hire.

Location:
Thirlestane Castle is situated on high ground, overlooking the River Lead and the serene countryside of the Scottish Borderlands. It's a little over twenty-five miles from the city of Edinburgh and seventy miles from Glasgow.

Amenities:
This 5-star hotel offers five, luxury, self-contained Castle Suites , where you can choose from one, two, or three-bedroom options. Each one has it's own unique style and decor, and all have private bathroom/s, a sitting room and fully equipped kitchen in addition to the bedroom/s. These apartments are located in the South Wing of Thirlestane Castle and can be booked individually. There's also the option of booking the entire South Wing (including uses of courtyard, vaulted cellars and Victorian kitchen) for events, family gatherings etc. The five suites combined can sleep up to sixteen people. There are conference rooms and multiple areas suitable for every kind of event, corporate or private, including weddings.

Activities Nearby:
You can take a wander through the history of Thirlestane Castle on a  guided tour, or explore the beautiful grounds, without having to even get in your car. There are also loads of public events held in the castle and on the grounds throughout the year, check the 'What's On'  page on the castle's website for information. Under your own steam you can enjoy outdoor activities such as hiking, walking, horse-riding, shooting, fishing and more. Of course a visit to Edinburgh, Scotland's capital city, is a must.
Traquair Castle - Peeblesshire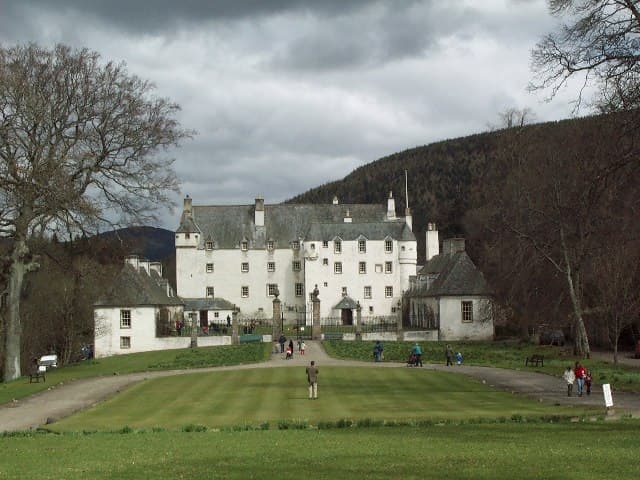 Traquair Castle
History:
Traquair Castle (also known as Traquair House) is the oldest continually inhabited house in Scotland. Not unsurprisingly, it has a rich and fascinating history! The name 'Traquair' comes from a blend of the the Celtic word 'tret' or 'tre' meaning a dwelling place and the local burn (stream) named the Quair. Today, Traquair Castle is lived in my descendants of those who first owned it almost 1000 years ago. The first version of this incredible house existed prior to 1107, but not exact date is known for when it was built. At that time it was a  hunting lodge, a place where Scottish royalty would come to visit and hunt. During the Wars of Independence between Scotland and England, Traquair Castle had a fortified tower and was part of a chain of beacons used to alert Scots of English invaders. Mary Queen of Scots spent some time at Traquair Castle in 1566 and Bonnie Prince Charlie visited in 1744. The main bones of the castle have changed little since it was completed in 1695 (but interior remodeling and repairs were done), although after the 19th Lord of Traquair inherited it in the 1930's it underwent considerable repairs and renovations over the next two decades. In 1953 it was made open to the public on a small scale. In the last decade of the 20th century it became a Bed & Breakfast hotel (there are also self-catering options) as well as hosting a whole slew of annual events.

Location:
Traquair Castle is in the Scottish Lowlands, surrounded by the characteristically picturesque hillsides and woods this area is known for. The River Tweed flows past just a few hundred feet from the castle. It's is just over five miles from the historic town of Peebles, and seventy miles from Glasgow. 

Amenities:
A uniquely authentic location, with history meeting you at every turn. Traquair House offers four spacious, and beautifully decorated bedrooms, each with an en-suite bathroom. A full hot Scottish Breakfast sets the day up right (vegetarian options available).

Activities Nearby:
The grounds of Traquair Castle are perfect for a stroll (including ancient Yew  trees and a walled garden) and you can also explore the incredible 1500-tree maze while you're enjoying your surroundings. Still on the grounds, visit the Traquair House Brewery which was rediscovered and brought into use in 1965. The beautiful market town of Peebles is only a fifteen minute drive from the castle and yours to explore. There you'll find a whole host of outdoor activities including fishing, golf, horse-riding and cycling. If you'd rather be indoors, there are plenty of shops, restaurants, pubs, museums, art galleries and more. The bustling and charismatic city of Glasgow takes about one and a half hours to drive to, but it's obviously definitely worth the trip!
Tulloch Castle Hotel - Dingwall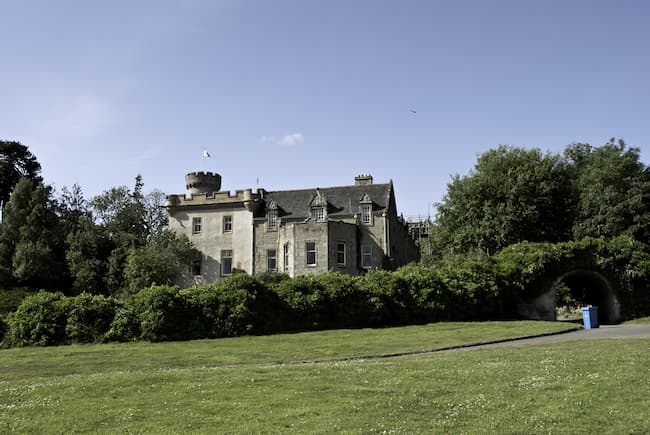 Tulloch Castle
History:
Tulloch Castle dates back to the 12th century when it's believed that Norsemen established an ancient keep or tower. The Tulloch family may have owned the land and estate originally but the Bain family were in possession of it from 1542 to the mid 18th century, which is when it first appears on a map of this area.  It became the property of Henry Davidson at that time and was owned by Clan Davidson up until 1917. As with all the Scottish castles and mansion houses featured on this page, Tulloch Castle underwent many major, and minor, renovations, additions and upgrades over the centuries. It was also used as hospital for WWII wounded and a dormitory for female students at a local academy before becoming a hotel in 1996.
Tulloch Castle is said to be haunted by a 'Green Lady', one of the few ghosts to have ever been captured on film! There are also other reported sightings of different spirits or ghosts. Paranormal investigators have spent many hours in the castle and have on record several unexplained phenomenon. In 2005, a northern Scotland TV service did a program exploring these unusual, and paranormal, happenings.

Location:
This Highland castle hotel is located in northeast Scotland, surrounded by lawns and trees, with views out over Cromarty Firth towards the Black Isle. It sits on the outskirts of the historical harbor town of Dingwall which was an important town during the time of the Vikings. Inverness is approximately sixteen miles south of Tulloch Castle, and Loch Ness just a few miles further, the northern fringe of Cairngorms National Park is about thirty miles away.

Amenities:
There are twenty-two comfortable and tastefully furnished bedrooms available in Tulloch Castle. They come in a variety of sizes and styles, including single and family rooms, some with four-poster beds. All have en-suite bathrooms, satellite TV, free wi-fi and more. The accommodation is pet friendly (additional fee required). You can get breakfast and dinner in the elegant Turret Restaurant which uses fresh, local Highland produce. There's also the Green Lady bar with wood burning fireplace.

Activities Nearby:
You can enjoy fresh air and the incredible natural beauty of the Scottish Highlands in multiple ways. If you're a golfer, or have one in the family, they'll be thrilled to find three Championship golf courses within a 30 mile radius of Tulloch Castle. You can walk or hike in the Culbin Nature Reserve or the Cairngorms National Park, go dolphin spotting on the Moray Firth, visit Loch Ness (and maybe get a glimpse of the world-famous Nessie) and so much more. There is plenty to do in Dingwall itself from exploring the pretty harbor, to shopping, dining and checking out another Norse-built castle, the 11th century Dingwall Castle. If you enjoy castles, both Brodie Castle, Cawdor Castle and Urquhart Castle are less than thirty miles from Dingwall (and are entirely different experiences). It takes less than thirty minutes to drive to the city of Inverness (which is just three miles from the the northeastern tip of Loch Ness) which is the cultural capital of the Scottish Highlands and has plenty to keep you busy for days!
Sherbrooke Castle Hotel - Glasgow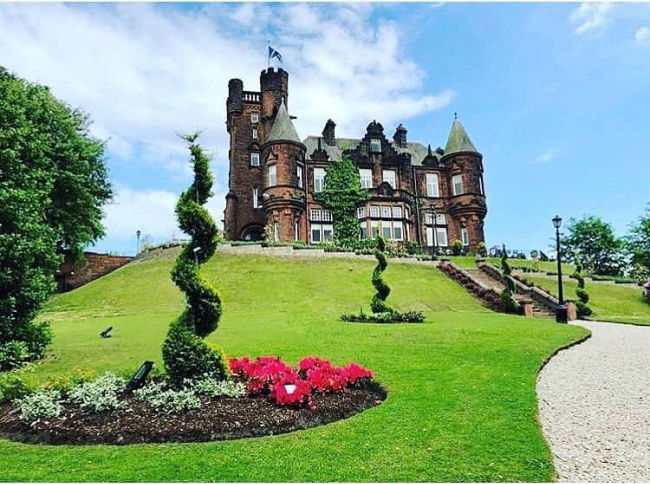 Sherbrooke Castle Hotel
History:
In 1896, Sherbrooke Castle was built as a Scottish baronial style mansion for John Morrison, a partner in one of Glasgow's most important contracting companies at the time. It became a hotel a short while before WWII. During the war it was used as a training center for the Royal Navy, and then returned to functioning as a hotel again in 1954.

Location:
Sherbrooke Castle Hotel is located in the attractive Pollokshields residential area in Glasgow. The beautiful red sandstone building is surrounded by landscaped gardens. The center of Glasgow is only five minutes away, and it's only ten minutes to Glasgow Airport.

Amenities:
The Sherbrooke Castle Hotel has a variety of stylish and comfortable rooms available to rent, including Executive Rooms and a variety of suites. All have en-suite bathrooms, free wi-fi, TV's and all the comforts of home. The Restaurant is available for breakfast, lunch and dinner and features fresh, local Scottish produce. This Scottish castle hotel is the perfect location for all sorts of celebrations and events, from birthday or Christmas parties, through corporate meetings all the way up to fairytale weddings! It's also available for exclusive hire for any of these occasions.

Activities Nearby:
Being that Sherbrooke Castle Hotel is located in Glasgow, there's no shortage of things to do right on your doorstep! Of course that includes plenty of shopping and lots of dining options. On top of those there are many parks and historical sites/buildings to explore, plus museums, theaters, art galleries, parks and much more. You can also pick from a whole slew of tours, both in and around Glasgow and those that venture further afield. 
Stobo Castle Hotel & Spa - Peebles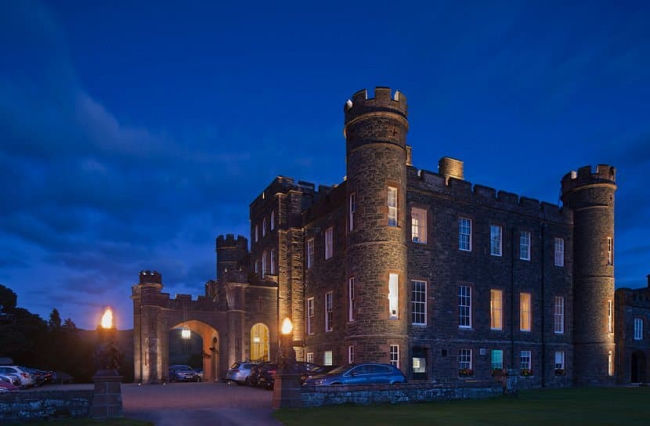 Stobo Castle Hotel & Spa Resort
History:
The first Stobo Castle is believed to have been built during the twelfth century, and prior to that there may have been a simply tower house on that site. The current Stobo Castle which houses this luxury hotel and spa resort was built at the beginning of the 19th century. Since then it has changed hands many times and been added to, renovated, and altered repeatedly. In 1975 it was sold to the Winyard family who opened a health resort in the castle, and in 2003 further extensions were built and it became a luxury hotel and spa. Currently it's the only residential destination spa in Scotland.

Location:
Stobo Castle Hotel & Spa is located in the Scottish Borders area of Scotland, approximately 30 miles south of Edinburgh and 60 miles southeast of Glasgow. It's perched on a hill, surrounded by the serene and beautiful hills, water and woodlands that are typical of this area.

Amenities:
There are no shortage of elegant and luxurious rooms to choose from at Stobo Castle Hotel Resort! Single rooms, double rooms, deluxe rooms, a suite that's the ultimate in luxury, plus the Castle Lodge which is within walking distance of the castle itself and offers a range of contemporary bedrooms to choose from. In keeping with the health resort vibe, dining at Stobo Castle Hotel features delicious seasonal dishes prepared with the best local produce available. Breakfast, lunch and dinner are available. You can also enjoy your favorite cocktail in the vacation themed Cocktail Lounge. The Spa is world-class and offers a huge range of treatment options, plus a swimming pool, sauna, fitness room and hair studio. Outdoors, the Stobo Castle Hotel Resort grounds are gorgeous, and offer more than one experience. You can enjoy the peaceful natural beauty of a loch walk, the zen-like Japanese Water Garden, or work off some stress on the tennis court.

Activities Nearby:
The beauty of it's natural surroundings are one of the joys of staying at Stobo Castle Hotel. Walking, hiking or cycling are all great ways to experience the peace and stunning landscapes. If you want to venture further afield, a visit to Edinburgh shouldn't be missed as there is so much to see and do there. 
CLICK HERE to visit the Stobo Castle Hotel website


Stay in Castle in Scotland
A little something Scottish....